In this tutorial, we will list out all the Warframe Tusk Thumper spawn locations. This is a third-person cooperative online action game and the entire scene is set up in an evolving sci-fi scenario. With Grineer and their large set of groups creating havoc on the planet, it is up to you and your epic task force to combat this deadly enemy. In this regard, there are quite a few weapons and combative tips available that you should make full use of. With such challenging and intriguing gameplay and quests, this game has quickly upscaled the charts of becoming everyone's favorite.
There are quite a few heavy armored enemies in the game. One of them is the Tusk Thumper. They usually give you some great rewards, hence user are lookig for different ways to kill them. However, finding them is no easy task. We are also seeing many users having trouble in finding this enemy, as evident from online forums. But with the help of some quick thinking and the correct spawn locations known, you could easily find these thumpers. So without further ado, here are all the Tusk Thumper spawn locations in the Warframe game.
Also Read: Fix Follow Loid Bug in The Heart Of Deimos quest in Warframe
Warframe Tusk Thumper Spawn Locations Guide
For the unaware, Tusk Thumper is a heavily-armored Grineer quadrupedal enemy. They are found in the Plains of Eidolon, mostly during the daytime. Its stronger variant also exists, namely the Tusk Thumper Bull and the Tusk Thumper Doma. Engaging in combat is worth a shot as you get some hefty rewards upon their killing. But to start a fight with them, you will first have to know their location. Today, we will list out all the spawn locations of Tusk Thumper in Warframe.
Tusk Thumpers Spawn Locations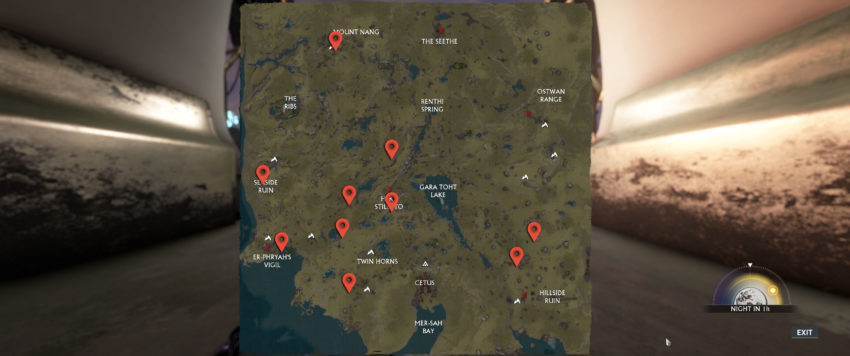 To begin with, we have marked all their locations on the map with the red pin. When you reach the place, you might have a random encounter with any of the thumpers. They usually spawn when you are near him. Furthermore, for reaching these spawn locations, you might use the Archwing. This flying vehicle makes it easy to reach your preferred destination.
So hop onto the Archwing, visit the first location, and see if the tusk thumper has spawned or not. If it is yet to spawn in that place, don't wait for him, rather go to the next location on the map. By the way, these creatures take a near about 3 minutes to respawn, so if you want a cooling period, land near a spawn location and wait for the Tusk Thumper to appear in Warframe.
How to Kill these Tusk Thumper
Now that you are aware of their locations, the real question stands that how could they be killed. The best method in this regard is to aim and shoot at the armor plates off their legs. After that, the glowing green points underneath that armor will be visible. Try and shoot at that location, it is their weak point. But do keep in mind that the three variants of thumper have different health. the Tusk Thumper is easiest to kill, followed by Tusk Thumper Bull and then the Tusk Thumper Doma.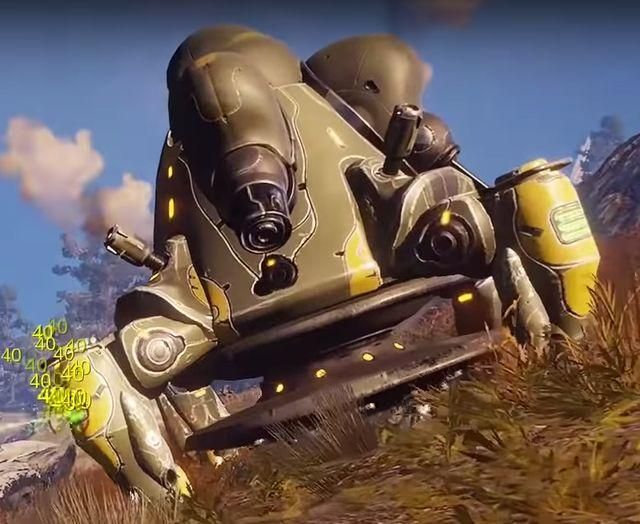 Depending on the global map level of the Plains that you are on determines the type of thumper that is likely to spawn. For example, in the basic free-roam session, you are more likely to meet the basic thumper. Whereas if you are on a Level 5 Bounty, then you might have to deal with the strongest thumper Doma. Talking about the weapons that you should use while heading on for the kill, you have a plenitude of options to chose from. However, the Catchmoon Kitgun might prove to be among the most efficient ones. They are pretty strong and could easily pierce through heavy armors.
Resources you get after killing Tusk Thumpers
As already mentioned, these tuskers could reward you with some pretty nifty resources. More often than not, you are likely to find the below mods: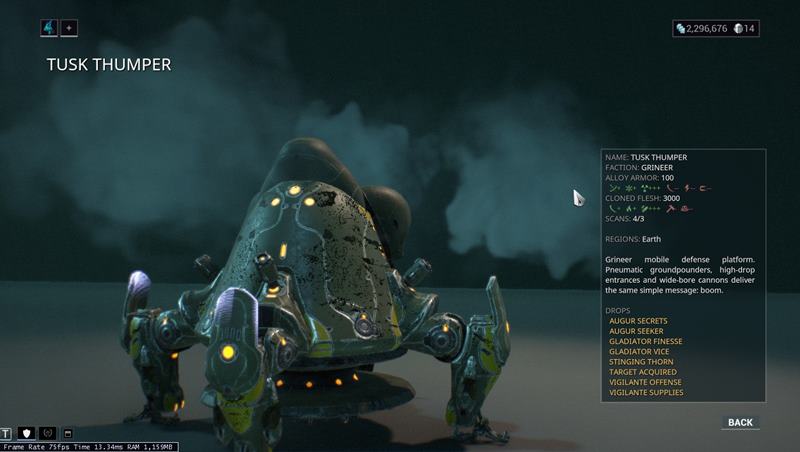 Augur Secrets
Augur Seeker
Gladiator Finesse
Gladiator Vice
Stinging Thorn
Target Acquired
Vigilante Offence
Vigilante Supplies
Apart from that, you could also get your hands on Plains of Eidolon resources. These resources are mostly found while fishing and mining. But if you end up killing these thumpers, you could get them more easily.
Conclusion
So with this, we conclude the guide on the spawn locations of the Tusk Thumpers in Warframe. Furthermore, we have also discussed some handy tips that will help you out in killing them. Likewise, we have also mentioned all the possible resources in the form of rewards you are likely to get when you fight off these thumpers. However, as far as our iPhone Tips and Tricks, PC tips and tricks, and Android Tips and Trick are concerned, you don't have to fight off anyone!