Windows 10 is an excellent addition to the modernization of operating systems. It has not only upgraded our PC/laptop working experience but also allows us to download, find, upload, and update all the required and useful apps. Thus, still many times, a lot of users have received an "error 0x8024001E" while installing or updating apps from Windows 10. And not just Windows 10 but Windows 8, 8.1, 7, Vista, and XP might also encounter it. Now it may seem a minor issue, but possibly it might get used by cybercriminals to steal your PC and personal information. In this case, it becomes important to fix this error and so that you can update your programs regularly.
While most of the users have reported getting error 0x8024001E when they try to update apps from the Windows family such as Microsoft Edge, Microsoft Office, Microsoft Access, Live mail, and similar others. So, in such a case, the downloading process may start at first but fails soon, showing an error stating, "Error 0x8024001E, something happened and this app. Couldn't get installed. Please try again." Some other users have also faced similar error issues while even trying to open the Windows store. Today, we are here to discuss the "Error 0x8024001E", the reasons why it could occur, and methods/fixes to get rid of it. But before going further, let's understand What is Windows 10 "Error 0x8024001E" in real?
What is Windows 10 "Error 0x8024001E" in real?
Error code 0x8024001E is a general issue that may restrict a user while updating or installing any app from the Windows store. Along with this, it can even affect the performance of your system as well, making it run slow and sometimes crash as well.
Why does "Error 0x8024001E" in Windows 10 occur?
The error 0x8024001E may occur due to various reasons, few common causes are mentioning here:
Corrupt or missing DLL files.
Incomplete or broken Windows updates.
If there are some Corrupt or missing Windows Registry keys stored.
Additional data in Windows store cache or app cache.
Virus or Malware.
In the case of miss-configuration or file corruption.
Outdated Operating system.
These are a few of the common causes that are known and figured for the occurrence of this error. Still, it can occur due to several other reasons also.
Ways to fix Windows 10 update error 0x8024001E
With various reasons for the error occurrence, there are several fixes available too that can easily and quickly solve the error issue. But before you start the fixing process, we recommend you enter the safe mode to stay advance secure from any other problem that might come in between. Chose any of the below methods and followed the step-by-step procedure. Let's start now:
Solution 1- Replace or fix the DLL files
The reason for a lot of error display is when a running process fails to find a.DLL file or if the file gets found, it may be different than the one as expected. Here the best way is to replace or fix the.DLL file with its original version quickly. For doing so, follow the steps given below:
You can use an automated tool for doing so.
Firstly, Scan your PC/ laptop.
Now check the findings of all the known.DLL files and check for their content. You would find mismatching or missing data here.
Lastly, if you find any mismatching or missing files, the automated tool will restore it.
Solution 2- Use the Windows store app troubleshooter
Troubleshooters, as their name suggests, are one of the most helpful tools that identify and try to fix the problem if some apps, updates, or any other procedure does not behave the same way as it supposed to in the Windows. Even if not fix, it would guide you in the right direction with hints.
Firstly, go to the 'Start' button and click on 'Settings'.
You may see a list now, from the list locate and click on 'Update & Security'.
Now on the left taskbar, click on 'Troubleshoot'.
A slide on the right will open, here locate and click on Windows store apps troubleshooter to make it run.
It will now either fix or point out the hints for you. Make sure to check if the error has resolved or is still there.
Solution 3- Repair the registry key
A corrupt or missing registry key may also lead to the Error 0x8024001E occurrence. Here you can simply resolve it by running the automatic repair tool. But make sure you do not interrupt this ongoing procedure by any chance.
Firstly, go to Start and type "Advanced Start-up options."
Once you find it, select, and you will land to a 'Setting screen'.
On the right side of the Window, you will find an "Advanced start-up" option with a tab stating, "Restart now" just below it.
Now select the tab "Restart now" and then restart your system in advanced start-up mode.
Now select the Troubleshoot tab Advanced options, and you will land up to another Window.
Here click on "Automatic Repair" and it will restart your system. When prompted, select the administrative account.
This automatic repair tool will, at this moment, look for any corrupt entries in the registry and fix them. The error code 0x8024001E might get resolved once the process gets completed. Make sure you check it once, whether it's fixed or not.
Solution 4- Rename your Software distribution folder
In some cases, when the Microsoft service update is already running, the Error code 0x8024001E may appear. Here, to resolve this error, you require to rename the Software distribution folder. For doing so, follow the method below:
Firstly, press Windows + R to open the Run dialogue box.
Or
Go to the Start button and type "Run" to open the dialogue box.
On the empty text field type "Services.msc" and then click "OK."
You can see a list opened now. Scroll through the list to find "Windows update."
Now right click on "Window update" and select "Stop."
Now navigate to Local disk C: Windows and locate the folder "Software distribution."
Here right-click on it, select rename and change the folder's name to something "Software distribution new/old" or anything similar.
Now again, repeat the 1st, 2nd, and 3rd step to reach "Windows update." Right-click on it and select "Start."
The error might have resolved till now. You must check once to confirm the same.
Solution 5- Clean the Cache
A cache builds up might also display this error code. You can clean the Windows store Cache to resolve the issue.
Firstly, go to the Windows search box and type "WSReset."
Now right- click on WSReset and then select the run command "Run as administrator."
A pop-up window with a blank black background will appear and then disappear in a short while. Once it's done, the Windows Store will reset.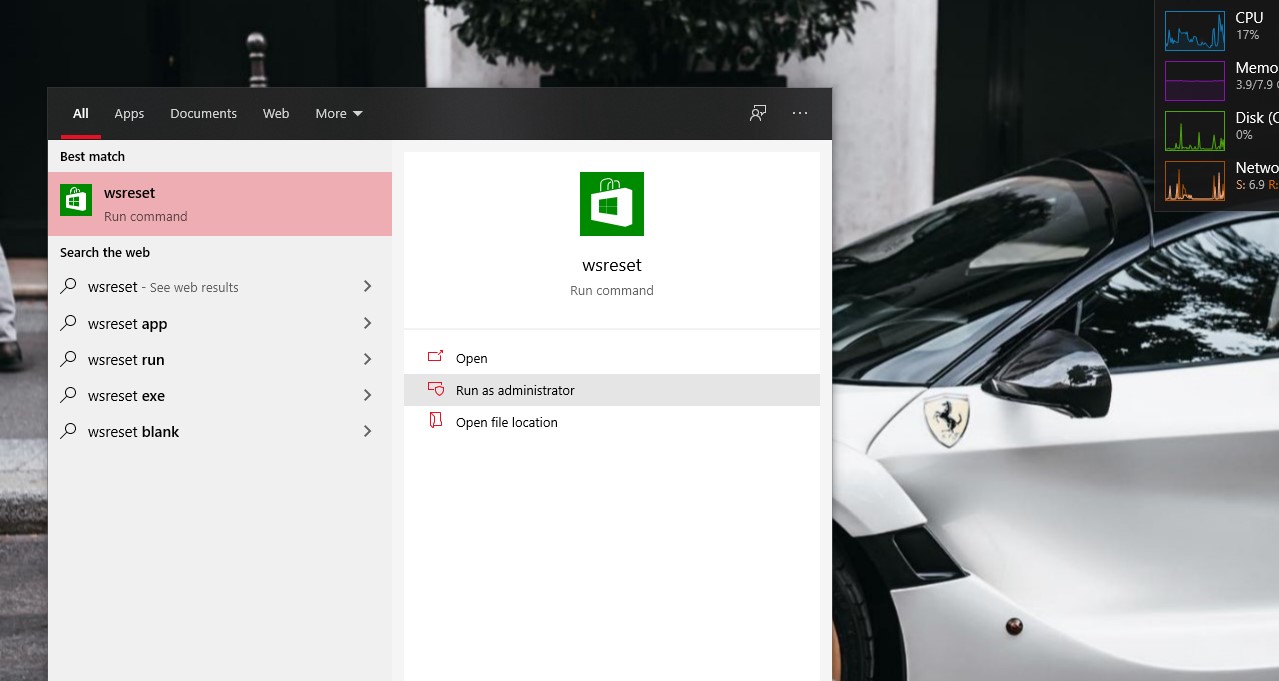 Now you can check whether the error code still displays or it has resolved.
Solution 6- Scan for Virus or Malware
One of the reasons for Error 0x8024001E occurrence might be the presence of any virus or malware in your system. To find out so, you need to run an anti-virus/malware software in your system. You can use any of the free or paid applications online for doing so. Just make sure it's effective and safe.
Firstly, go to Windows search, type 'Security,' and then select "Windows Security."
A list will appear now. Here select "Virus and threat protection."
Select the option "Scan."
From the next window, click "Full scan" and then select "Scan now."
Let the Windows scan for any virus and malware. If it founds any, you may get a report stating so. Once you resolve any such circumstance, make sure to check whether the error issue still exists or not.
Solutions 7- Perform a system restore
If all of the above fixes do not work for you, perform a system restore run to resume back to the stage from an earlier date. If the error code is occurring due to some recent changes, it may restore quickly with the steps given below:
Firstly, go to Start search box and type 'System Restore' and click to select.
Now from the newly displayed window, follow the automated instructions. It will then start the restoration process.
Once the process gets done, make sure to check the error issue if it has yet resolved or not.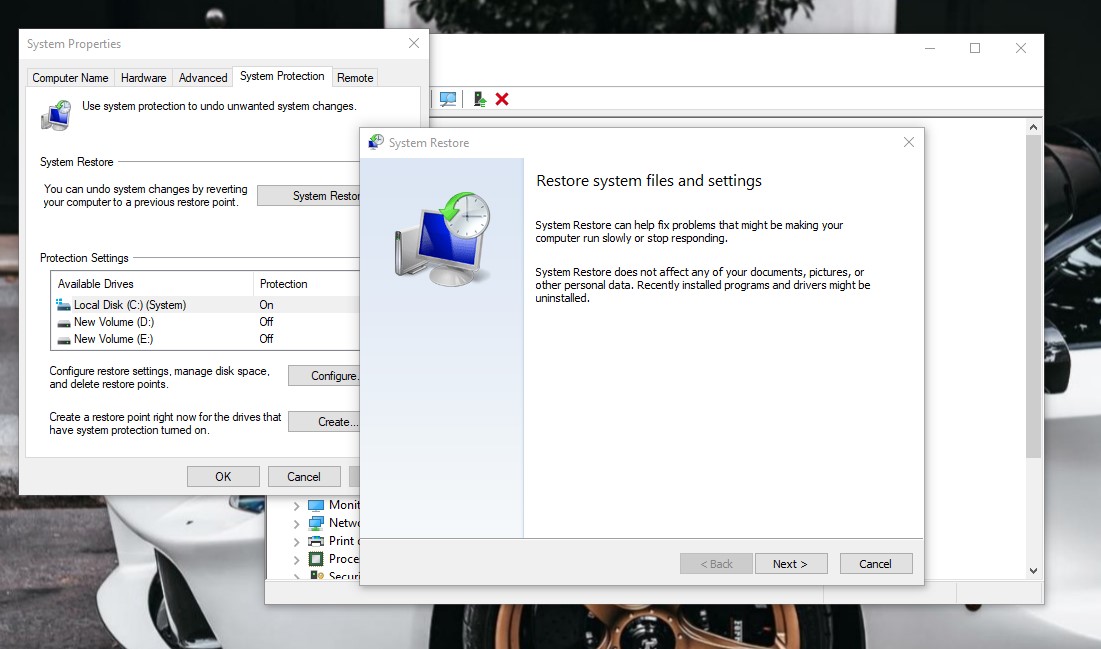 Important note: After performing any of the above fixes, make sure you restart your system before checking the error issue.
So, this was all about the fixes for "Windows 10 update error 0x8024001E". It's quite apparent to encounter such error codes while operating any application or program in the Computer. It's important to resolve such issues as quickly as possible to get saved from any further damage to your system. We have mentioned different fixes to help you determine the problem. If the first one does not work for you, try using other methods, and one of them would defiantly help you.
All in all, this article will help you bypass the "Error 0x8024001E" and resume you to use your system normally again. We hope you will find all the information mentioned in the article helpful. We have tried to get you the most accessible and convenient solutions. Make sure you try them once. If you have any queries or feedback, please write down the comment in the below comment box.