Microsoft Word is one of the most used word processors worldwide. It is one of the oldest software with which Microsoft came into the industry. Microsoft Word is popular for its best functionality and flawless working. It has all the features that a modern-day word processor should have.
Microsoft word provides the best templates for working, which any user can further edit and then modify it according to their use. MS word also supports a variety of image formats. Some of them are jpg, png, and gif. You can also get various WordArt in MS word fo rising in your document.
While using Microsoft Word, several users have reported that they get a yellow triangle with an exclamation mark in it. It looks so much irritating, and It usually indicates some of the problems in your Microsoft account. It is not that much of a big problem that you should worry about. But it sometimes can give you some errors while working on your document file or creating a word file.
The problem with this issue is that it does not only affect just your MS word. But sometimes it can affect all Microsoft Office products on your computer or in any device your account is logged in.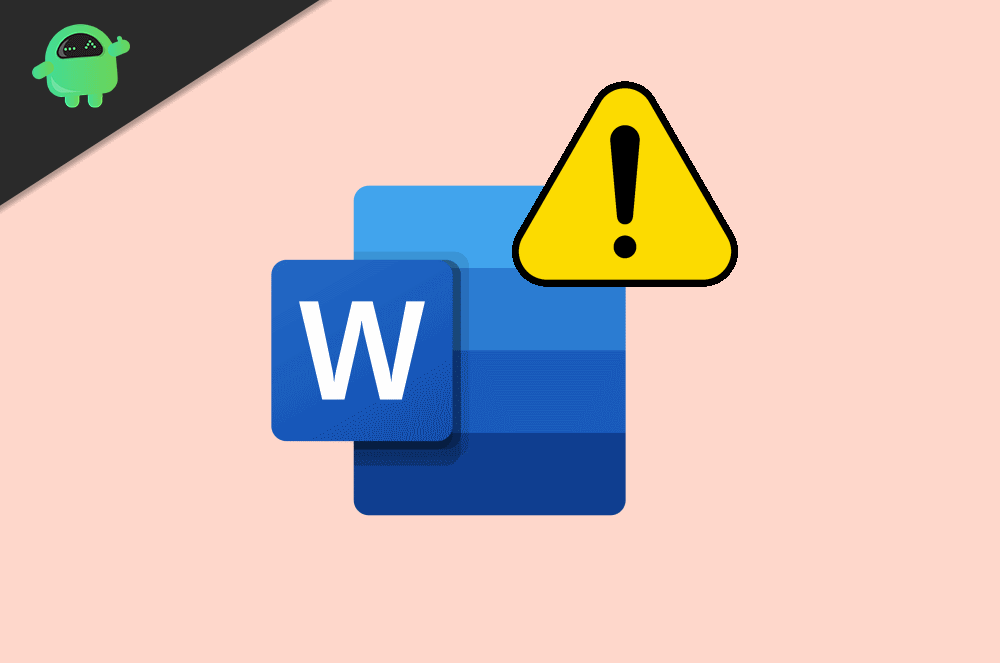 Yellow triangle With a Exclamation Mark in Word: How to Fix?
Whenever you open a document in Microsoft Word, there you can see a blue banner at the top of the page. On the top of the page, you can see the document name and through the right side. There will a name or probably be your name or the name you have put in. And just before that name, you can see a yellow triangle with an exclamation mark in the center.
So, we will be telling you some of the fixes which you can use for countering this problem easily.
Step 1: Sign in to the Microsoft Office Account
If you already signed in with your Microsoft Account, then you can skip this step. But for those who have not signed in with their Microsoft Account and getting this Yellow Triangle issue can do this.
You probably are getting that yellow triangle issue because you haven't signed in with your Office Account.
Enter the information about your office account and sign in to the Ms office. If this fixes your issue, then good for you, and if not, then you can move to the next step.
Step 2: Log out of your Microsoft Account and Again Log in
So if you have already login in your account a
nd getting this error, then you can check out these steps below.
A. Open the Microsoft Word Application, After that, go to the File menu, and then go to the Account option and select the sign out button.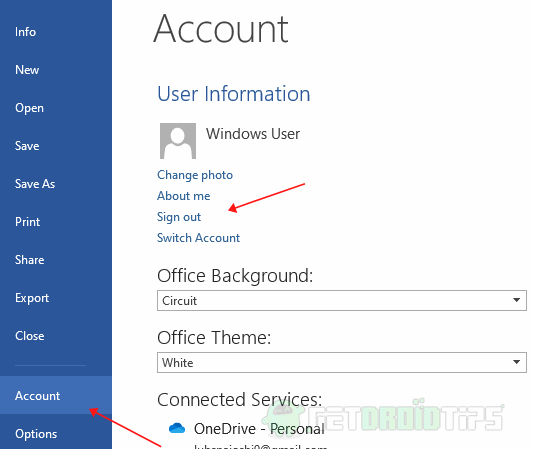 B. Now close the application and reopen it, Again go to file menu, Account, and then select then sign in option and type in your account information.
Using this, that error would probably go.
Switch the Accounts
There could be a case if the above step would not work. So, this time you can again to the same initial steps as you have done in the previous step and instead of logging out this time. You can click on the switch account option.
After clicking on it, you can use the same account by putting its credentials, and this may overcome your problem.
Contact to the Microsoft Support
If all of this works, then you can directly contact Microsoft support by downloading Microsoft Support and Recovery Assistant. After downloading the file, follow the steps given below.

1) Run the file which you have downloaded and agree to their services Agreement.
2) After this, select the product which is having the issue and press next.
3) Now you have to make a search for the problem having a description related to the yellow triangle with an exclamation mark on it and press the next button.
4) Then Microsoft Support will give you some of the solutions to this issue or, if not, will give some suggestions just follow them.
This Microsoft Support and Recovery Assistant tool scan all of your Microsoft's product installed on your computer. And if it finds any problem or error in any of them, then it will give you some solutions or give some suggestions or helps you to contact Microsoft support.