Have you been on the lookout for a few utilitarian applications to spruce up your Android experience? When it comes to productivity, unzip apps really make it easier for users to access files that are archived in either .rar or .zip formats. Read on to learn about a few of the Best Unzip Apps for Android in 2020.
With the new year just around the corner, productivity apps will be seeing a drastic increase in downloads. One such niche area is unzipped applications. You must have already encountered a few file formats on the internet that just refuse to open up using your default file manager. Most of the time, these files are archived, or zipped in simple terms. This means the core contents of the downloaded file are actually packed inside one compressed file. This makes it easier for users to compress large files and make it even simpler for users to upload and download them on the go.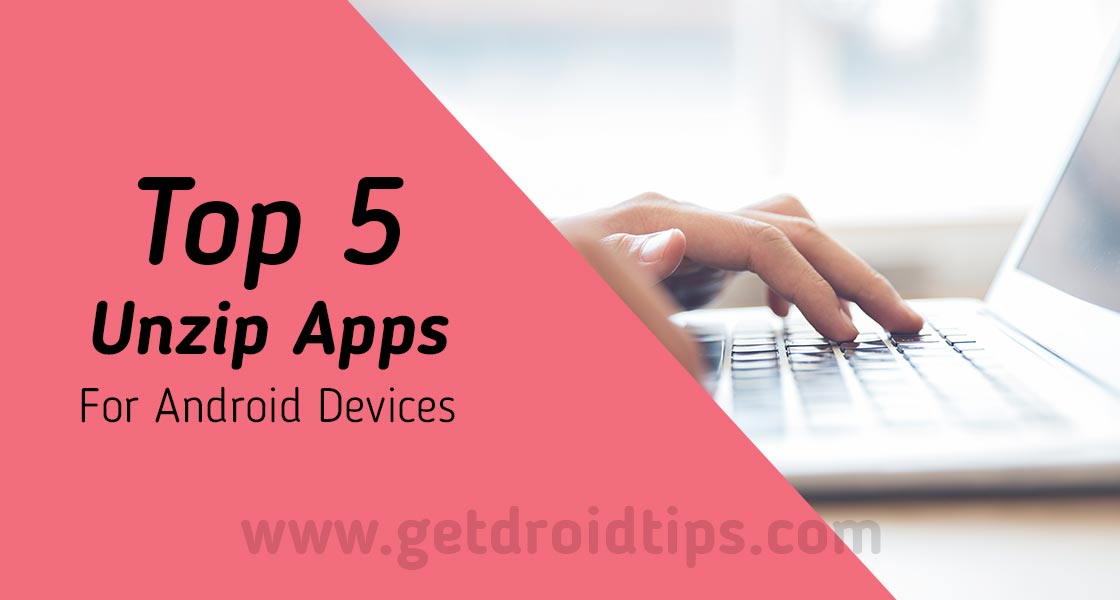 While Windows and Mac have built-in zip extractors, most Android devices will refuse to open any such file format. In such a case, you might find the need to search the Google Play Store for a good unzip application. Luckily for you, there is a plethora of such applications floating around the Play Store. The only problem that persists is that most of these applications do a clumsy job at zipping and unzipping large files. This is why we have curated a list of some of the Best Unzip Apps for Android out there.
5 Best Unzip Apps for Android in 2020
All of the apps mentioned below have been tried and tested by yours truly, and I recommend only those apps that provide a fulfilling user experience. As far as availability goes, most of the apps we've mentioned below are free, to begin with, but run on a freemium basis which means users can opt into buying the premium versions which unlocks a whole lot of other cool features. Overall, if you don't plan on spending any money on an unzip Android app, you can still enjoy most of the listings here too! With that being said, let's take a look at our top picks!
#1 – WinZip – Zip UnZip Tool
The first one on our list is a great all-in-one tool, designed to both archive as well as unzip files. WinZip has a clean user interface, and one can get used to most of the features that it offers quickly. It has a blue and white color scheme, with big icons for folders and files, and a multipurpose file explorer, one in which you can even copy or paste items. Apart from just unzipping archived files, WinZip can also compress normal files or folders to save a lot of storage, which is needed while emailing large files or uploading them elsewhere. The app also has a lot of cloud service integration which allows you to instantly sync files from your local storage to services such as Google Drive, Dropbox, and more. There is also a powerful 128 or 256-bit AES encryption system that protects any files that you unzip or zip. You can download the latest version of WinZip by following the Google Play Store link below :
Download
#2 – RAR
Our second pick for some of the best unzip apps for Android is RAR. What makes it unique is its super minimal interface and easy-to-use UI which makes it appealing to a lot of new users who aren't familiar with file navigation on smartphones. Apart from being able to unarchive a bunch of file formats such as rar, zip, tar, iso, and more, you can also archive files or folders with high levels of encryption and with granular specifications such as the compression type, recovery percentage preferred, and much more. We personally love this app because of its simplicity in design and sheer speed when it comes to unzipping compressed files. The app is free to use and comes with a few ads, although you can choose to pay it from the menus to disable all the advertisements. You can download the latest version of RAR by following the Google Play Store link below :
Download
#3 – Unzip Tool
Next up is also a very visually pleasing application. The design language of Unzip Tool will make it really fun to unzip or compress the files stored on your Android phone. It has a modern UI with big and bold icons, making it easy for all age groups to understand and use. The feature set of the application isn't the widest, since it can only zip and unzip files stored on your phone, and doesn't have any special compression options or cloud service integrations. However, if you want an application that just gets the job done without any annoying popup advertisements, then Unzip Tool is the app for you. You can download the latest version of Unzip Tool by following the Google Play Store link below :
Download
#4 – ALZip – File Manager & Unzip & Archive
Our next app of choice is actually quiet and all in one, since it also serves as a complete file manager on top of being just a simple zip or unzip application for your Android device. It has the traditional set of zip and unzip features such as being able to unzip files from various formats (rar, zip, tar, iso, and more) as well as being able to compress files and folders that even exceed the limit of 4 GB. The file manager service that ALZip offers is also very powerful. You can simply drag and drop files using a multi-window mode within the app itself between two different folders. This makes it really easy and satisfying to use. You can also pin a few files or folders as your favorites to view later, and use the app in a horizontal mode to unlock even better controls. Overall, for someone who is looking for both a powerful file explorer as well as a zip and unzip tool, we highly recommend you try our ALZip. You can download the latest version of ALZip by following the Google Play Store link below :
Download
#5 – Easy Unrar, Unzip & Zip
The next application of our choice on this list is also a multi-purpose tool that may come in handy to a lot of people looking for a file explorer or a dedicated app to zip or unzip files. Easy Unrar, Unzip & Zip makes it a one-click process to either zip or unzip any file or folder. You can also select high-grade AES encryption while compressing sensitive documents, and share them over the cloud. It also has a built-in file manager which can perform very basic tasks. The best part about this application is that it recently went completely free and comes packed in with all the premium features too. You can download the latest version of Easy Unrar, Unzip & Zip by following the Google Play Store link below :
Download
#6 – ZArchiver
Another excellent app that helps you to zip and unzip files and folders is ZArchiver. It has a clean and modern user interface without any distracting elements or over-the-top features that might just get in your way. The app lets you create a wide range of zip file-formats including 7z (7zip), zip, bzip2 (bz2), gzip (gz), XZ, lz4, tar, zst (zstd), and even decompress all of the mentioned formats. You can view the archive contents without having to unzip a big compressed file as well. Other features of this app include the ability to create password-protected zip files, extract split archives, and partially decompress any archive. You can download the latest version of ZArchiver by following the Google Play Store link below :
Download
That's all folks! We hope you enjoyed our roundup of some of the Best unzip apps for Android devices! Which one among the list is your favorite, and how many of these archiving apps have you already known or have been using? Know other good Android unzip apps that you feel people might find interesting? Do let us know in the comments section below, we'd be delighted to hear from you guys!