Back 4 Blood is currently running on the Beta early access which is about to come to an end soon and then the Open Beta will start from Aug 12, 2021. By the way, it has several issues or bugs that plenty of early users are experiencing a lot. It's expected that due to the beta phase, such kinds of unexpected issues are appearing. Now, multiple players are reporting that they're encountering Back 4 Blood UE4-Gobi Game has Crashed Error.
If you're one of the victims and want to quickly fix such an error then you can follow this troubleshooting guide. According to multiple reports, this particular error message also says "Fatal Error!" and affected players are literally getting frustrated because they're unable to get into the gameplay. Although developers haven't released any specific patch fix for this issue yet, we've managed to provide you a couple of workarounds.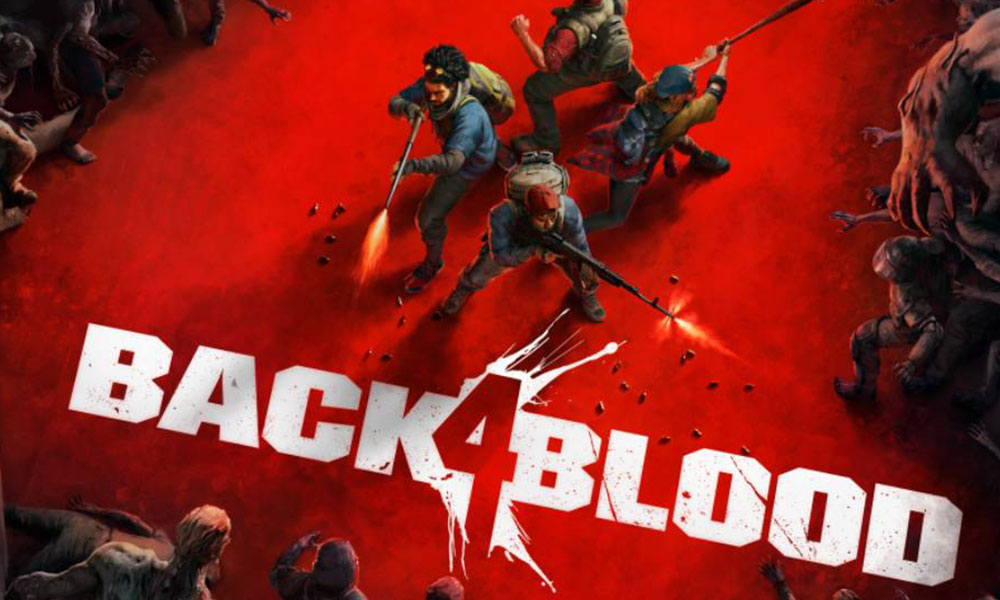 Fix: Back 4 Blood UE4-Gobi Game has Crashed Error
Whenever back 4 Blood players are trying to launch the game, the UE4-Gobi error message appears on the screen. Whereas some of the players have mentioned that they're getting the same error while getting into the gameplay. Meanwhile, a couple of players have reported that they've received the same error even without crashing the game which is quite ridiculous.
Another thing we need to mention is that a few players are unable to even close the error message which is quite strange. That means they'll have to exit the game and restart it to get rid of the error message. Obviously, you'll have to fix the problem manually as of now. Otherwise, you may receive the UE4-Gobi error message again.
There are a couple of possible workarounds mentioned below that should help you out. So, without wasting any more time, let's jump into it.
1. Update Graphics Drivers
Updating the graphics driver on your Windows computer may help you to fix the issue completely. Some of the reports are coming out that after installing the latest GPU driver update, the particular error didn't appear anymore. To do so:
Press Windows + X keys to open the Quick Start Menu.
Now, click on Device Manager from the list > Double-click on Display adapters.
Right-click on the dedicated graphics card that you're using.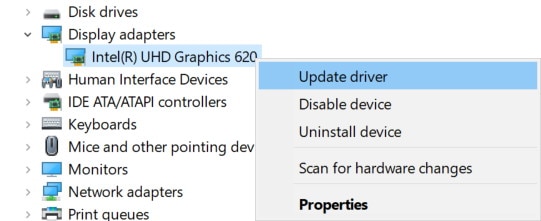 Next, select Update driver > Choose to Search automatically for drivers.
If there is an update available, it'll automatically download & install the latest version.
Once done, restart the system to apply changes.
2. Use Epic Games Launcher with the Steam Launcher
Some of the reports are coming out that installing the Epic Games Launcher on your PC apart from the Steam client should fix the issue. If the Epic Games Launcher has already been installed, then try updating it to the latest patch version.
It may possible that the Back 4 Blood UE4-Gobi Game has Crashed Error should get fixed after installing the latest version of Epic Games Launcher. It's because some Unreal Engine-related files will get updated during this process which will gonna help you.
3. Verify Integrity of Game Files
Well, this is something that you need to perform whenever there is an issue with the game launching or crashing or stuck in the loading/download screen, etc. Sometimes corrupted or missing game files may occur such issues that can be easily resolved by verifying the integrity of game files using the Steam client. To do that:
Open the Steam client on your PC.
Click on Library > Right-click on Back 4 Blood from the installed games list.
Now, click on Properties > Go to Local Files.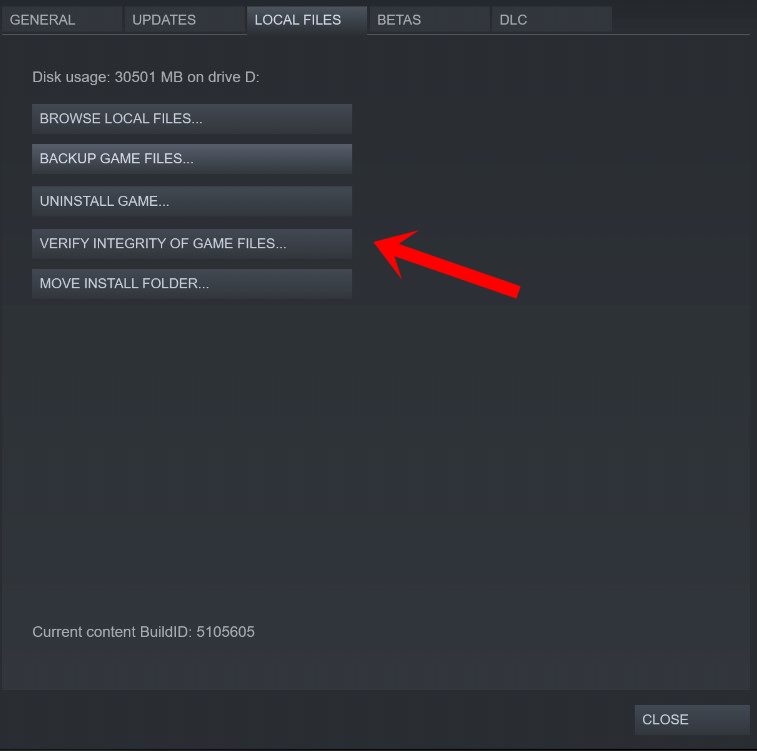 Here you'll have to click on Verify Integrity of Game Files.
You'll have to wait for the process until it gets completed.
Once done, make sure to restart your computer, and re-open the Steam client to run the game again.
4. Update Back 4 Blood
An outdated version of the game patch can also cause several issues with the launching which need to be fixed by checking for the latest patch update of the game. If there is an update available, make sure to install the update properly.
Open the Steam client > Go to the Library of games.
Here, you need to click on the Back 4 Blood game to select it from the left sidebar.
Once the game launching interface will appear, check whether an Update button is showing in the blue color or not.
If it's showing, click on it, and wait for the patch update to be installed completely.
Once done, click on the Play button to enjoy the game.
5. Perform a Clean Boot
The chances are also high that performing a clean boot sequence on your Windows computer should fix the game launching or crashing issues. Some unexpected programs or services may start automatically after the system boot and they literally keep running in the background which may cause several issues.
Press Windows + R keys to open the Run dialog box.
Now, type msconfig and hit Enter to open the System Configuration window.
Go to the Services tab > Enable the Hide all Microsoft services checkbox.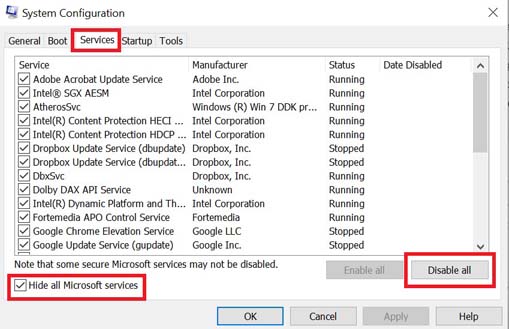 Check all the services from the list and click on Disable all.
Click on Apply and then OK to save changes.
Now, click on the Startup tab > Click on Open Task Manager.
Under the Startup tab from the Task Manager interface, click on the particular tasks which are enabled for startup boot > Click on Disable.
Make sure to select and disable one by one.
Once done, restart your PC to apply changes.
6. Clear Tasks from Background
If you're experiencing low performance or lags in the system operations then it's also worth mentioning to clear background running tasks on your computer to reduce CPU/Memory usage whatsoever.
Press Ctrl + Shift + Esc keys to open up the Task Manager.
Now, click on the Processes tab > Click to select the task that's unnecessarily running in the background and consuming enough system resources.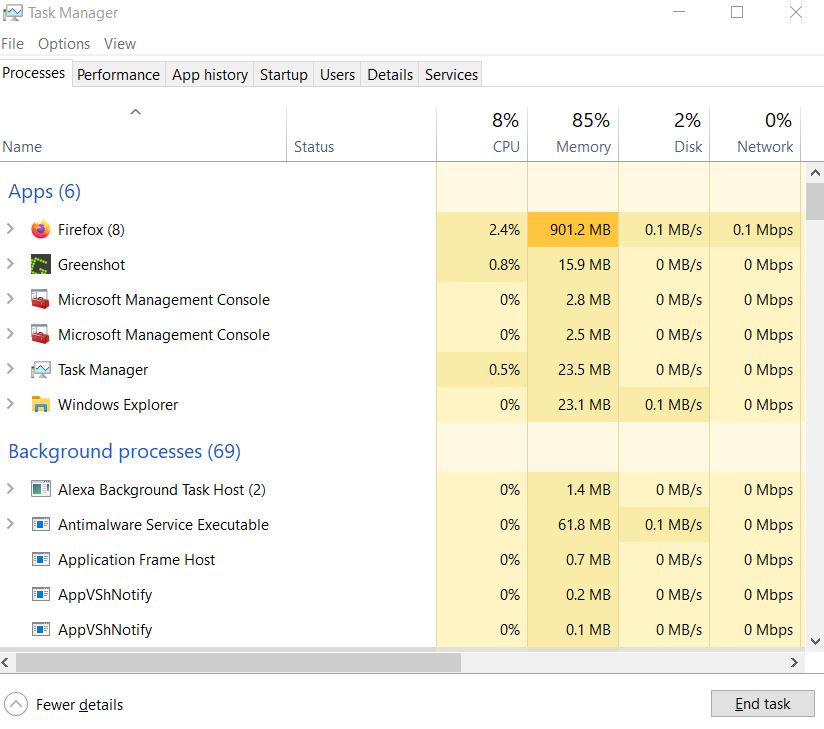 Click on End Task to close the task.
Do the same thing for every unnecessary task to close. [Do not close system-related tasks which are important]
Once all is done, restart your computer to apply changes immediately.
7. Disable Overclocking
Sometimes an overclocked CPU/GPU can cause multiple issues with the system performance as well as gaming performance. So, it's always better to restore the default clock speed of the CPU/GPU to reduce bottlenecking issues. You'll find out reliable tools like MSI Afterburner or Zotac Firestorm application to restore default clock speed.
However, if nothing works for you then we'll recommend you to have some patience and wait for the official patch fix to arrive. There is no other better way to easily fix this issue permanently right now.
That's it, guys. We hope this guide was helpful to you. For further queries, you can comment below.