Battlefield 2042 from EA and DICE is finally here, and it has an amazing start with many takers in its first go. However, it has since been engulfed in bugs and issues everywhere. I came across quite a few, including the obnoxious "player Removed from the game" error that abruptly kicks you out of the game. Although the bug is currently under scrutiny by both EA and DICE, it will be some time before it is fixed.
So what can you do if you are facing such a sight? What troubleshooting method fixes the 'Player removed from the game' error? Here's everything we know about it so far.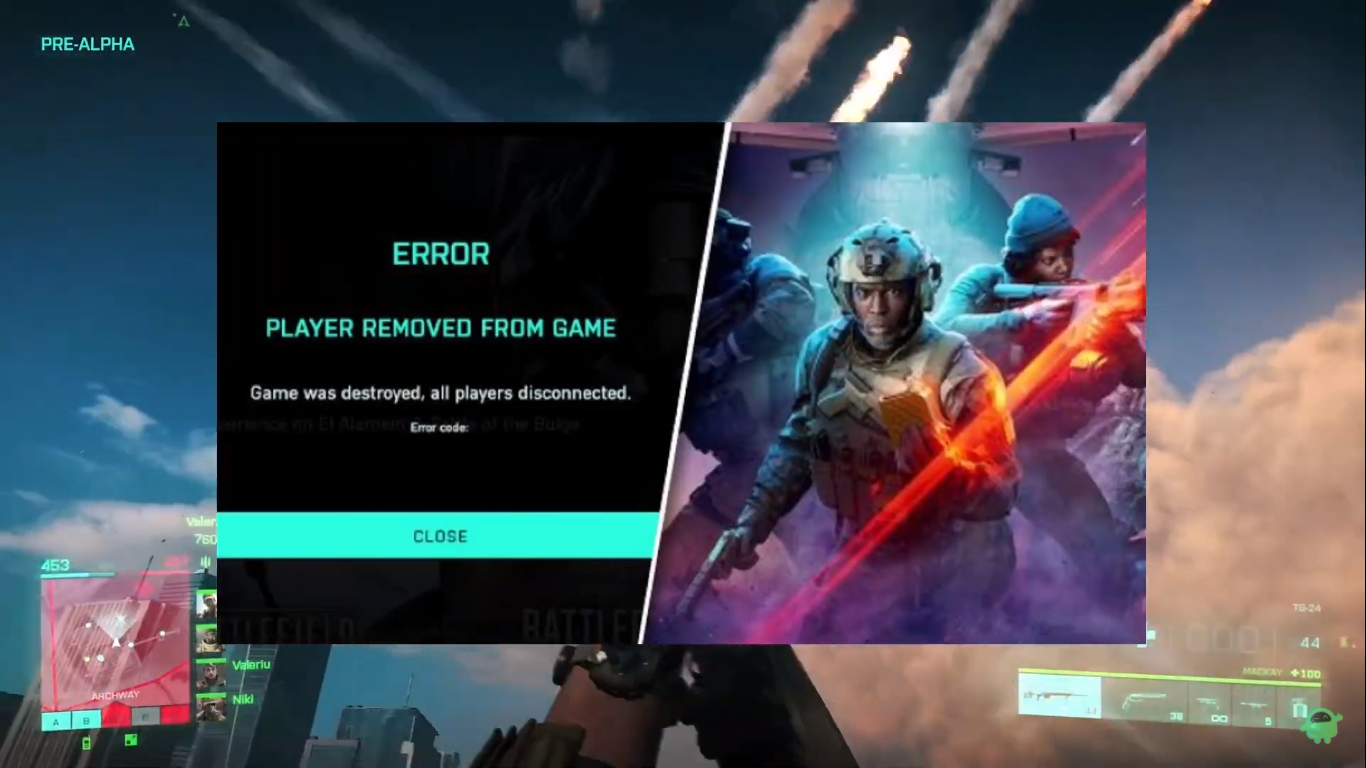 How to fix Battlefield 2042 Player removed from game error?
For uninitiated users, some are getting a 'player removed from game' error when playing Battlefield 2042. The error reads, "Player removed from the game. Game was destroyed, all players disconnected", followed by an error code. It turns out this is a bug and requires a few things to do to fix until the developers release a bug.
Method 01: Try hard-quitting and join the game
This is a no-brainer and I am quite sure many people will opt for it. You were just playing the game and all of a sudden, you have kicked off the game with the error that said: "player removed from game". If that happens a few times in a row, try hard-quitting the same. I am talking about exiting the game only to join a few minutes later. This should be able to fix any temporary issue with the server that triggered the issue during that particular time.
Method 02: Try reconnecting to the same server
Battlefield 2042 arrived for PC, and soon, it was launched on a bunch of platforms, including Xbox One, Xbox Series X/S, PS4, and PS5 as well. Turns out that since Battlefield 2042 saw an exponential number of players joining in at the same time, this is a well-cooked recipe for server issues.
The "player removed from the game" is considered one of them, and it is quite possible that your system accidentally disconnected from the server. You may also be somehow disconnected from the server due to a glitch. In any case, you can try connecting to the same server again.
You might still face difficulty connecting to the said server, so it is better to try and reconnect to the same server a few times with a few minutes of rest between each attempt. This should fix the server glitch that caused the Battlefield 2042 player to be removed from the game error.
Method 03: Connect to a different server
Assuming that you are still reading the next method to fix the given Battlefield 2042 error, it means you weren't able to connect to the same server again. You can try connecting to a different server. If it is a server issue (it will be in majority of the cases), connecting to a different server should resolve the problem.
Method 04: Turn off cross-play
After searching for potential ways to fix Battlefield 2042 'player removed from game' error, I came across this particular method that has worked for a subset of users. Try it out just to check if it works. Turns out there's some issue with the cross-play feature on Battlefield 2042 because of which, some users are being removed from a game. Turning off works in many cases so here's how you can do it.
You can check out General >> Others and turn off "Cross-Play". Check if this particular method works for you. Easy? Turns out some users have this particular option greyed out which means they cannot toggle it. Follow the next for a workaround.
Step 01: Go to your Xbox settings on your computer.
Step 02: Navigate to Account >> Privacy & online safety.
Step 03: Enter the 6-digit passkey to enter further settings.
Step 04: Proceed to Xbox Privacy >> View details & customize.
Step 05: On the next window, go to Communication & multiplayer.
Step 06: Look for the "You can join cross-network play" card on the screen and toggle it from "Allow" to "Block".
Step 07: Restart the game and check out if this works.
Method 05: Check if servers are down
If you are facing trouble connecting to a server which is probably because of the 'Unable to Connect to EA Servers', here's a simple fix.
Firstly, close Battlefield 2042 on your PC.
Next, open Task Manager (Ctrl+Alt+DEL).
Search for these processes and end them – "EA", "EADesktop", an "EA Background Service".
Restart the game and you should be able to connect to a server.
Method 06: Check if your internet connection is working
Although this method will be needed for a very minor part of the users facing issues playing Battlefield 2042 as they were abruptly kicked out of the game, it is still possible. Your game needs a healthy internet connection to run which means slow internet or no internet and thousands of other issues with the ethernet/WiFI/router/ISP can cause this problem. Call your ISP to confirm.
Other known Battlefield 2042 Bugs
Battlefield 2042 has riddled with a tonne of bugs and issues that are currently being fixed. Until the time comes when both EA and DICE roll out patches to fix those issues, they are here to stay.
One of the most annoying bugs that I have come across is when the game disbands players from entering the lobby and instead, takes them to the main menu, This means you can no longer rematch with the partners you already had in the last game. There's no scoring system, no stats page, and no scoreboard with Battlefield 2042, and depending upon when you are reading this, the bug fix might have arrived or not. Turns out there's no specialist system on-board Battlefield 2042 and there's no real class system as well.
BF2042 has stripped away with no friendly-enemy distinction and there's no factions, weapon animation in the game along with lesser destruction, less sound, stuck on the revive screen, decreased weapon variety, inability to zoom in minimap, and so on.
Closing Words
Turns out the majority of the players facing the Battlefield 2042 'player removed from game' error is because of the bug on the game's front and there's nothing wrong on your end. All Battlefield 2042 gamers are waiting for the bugs to go away although it will take some time. Both EA and DICE are working on fixing the reported bugs so it is just a matter of time. Check out this space for further updates.