Have you been on the lookout for good diagramming tools just like Microsoft Visio? Well, you're in luck since we have just the right guide for you. Read on to discover and learn more about some of the best free alternatives to Microsoft Visio to use in 2020!
If you are an employee at an IT firm or even any other business in general, then you must already know the importance of using visual aids in communicating with your coworkers and superiors. Visual aids such as bar graphs, pie charts, and others help in getting a point across quickly and more efficiently than long paragraphs usually do. Many people also resort to using graphs and charts to represent data such as sales numbers and more since they do a better job of explaining things.
Many companies use Microsoft Visio, which is a very commendable diagramming tool, and for good measure. It has a great level of customization to suit the needs of just about everyone and also has powerful tools and visual aids to fit every kind of data and meeting. However, the biggest flaw with Microsoft Visio has to be how pricey it is. Unless you are working in a big corporation which leases out a copy of Microsoft Visio to all its employees, getting a license can add to your monthly bills.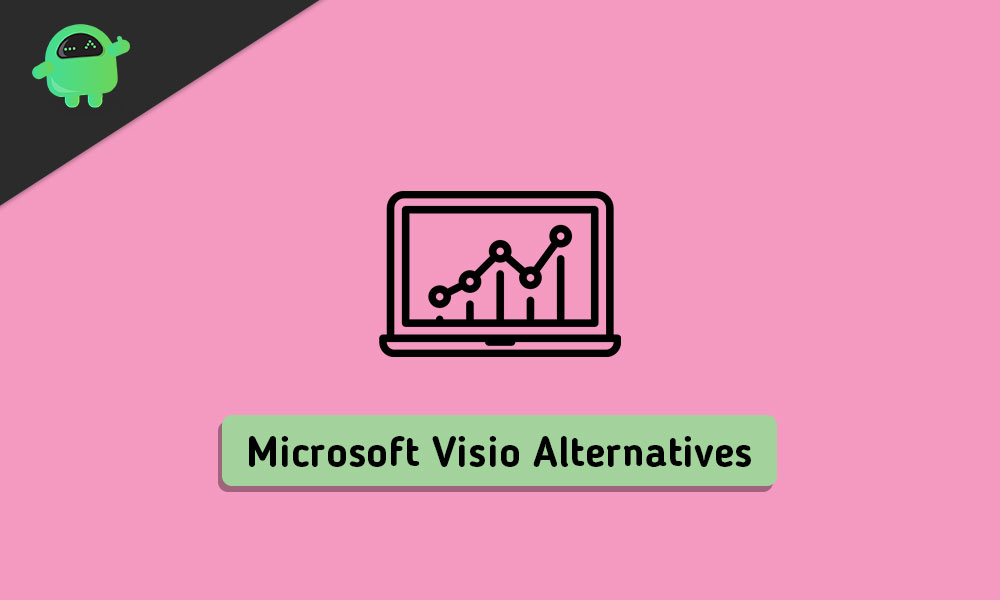 This is why we have decided to look around for good alternatives to Microsoft Visio. We have also chosen only those which people can use absolutely free of cost. Some of these diagramming tools may unlock more features and potential with a paid subscription, but that is only if you want any additional features. With that being said, read on to find out some of the best free alternatives to Microsoft Visio that you can try out in 2020!
Best Free Alternatives To Microsoft Visio
All of the apps mentioned below have been tried and tested by yours truly, and I recommend only those apps or programs that provide a fulfilling user experience. As far as availability goes, most of the apps we've mentioned below are free, to begin with, but run on a freemium basis which means users can opt into buying the premium versions which unlock a whole lot of other cool features. Overall, if you don't plan on spending any money on any alternatives to Microsoft Visio, you can still enjoy most of the listings here too! With that being said, let's take a look at our top picks!
#1 – Lucidchart
Kicking the list off, we have a very compelling competitor to Microsoft Visio. Lucidchart has been around for a while now and is also being used by corporations such as Accenture and Cisco. It has an incredibly easy learning curve to it and gives you access to very powerful diagramming tools that you can use to better represent all of your data. It has many pre-built templates that you can work with, or even create your own. Easily the best part about Lucidchart is that it has a great drag and drop user interface, one that anyone can get accustomed to. You can use Lucidchart for free and have access to 3 active documents and shapes. However, if you plan on using it with a team, the pricing starts at just $4 a month with unlimited shapes and documents. You can visit Lucidchart to learn more about it by following the link provided below:
Visit Lucidchart
#2 – Pencil Project
Next up is quite an uncanny piece of diagramming alternative to Microsoft Visio. Pencil Project is a standalone program that allows you to create different diagrams and visual aids, right from scratch. The best part about Pencil Project is the fact that it is completely free to use and is open source. It is best suited for people who work solo and create designs or mockups for web pages and mobile banners. When it comes to the shapes, you can create almost anything you can imagine, and also edit them with easy controls to rotate and resize them. However, if you are looking for a service that is better at displaying data in complex infographics or tree diagrams, then we suggest you look elsewhere. You can visit Pencil Project to learn more about it by following the link provided below:
Visit Pencil Project
#3 – Draw.io
Draw.io is easily the most simple diagramming tool you will ever come across, and it all starts with your first project. It is entirely web-based, and you don't even need to log in or register to use it. You just visit their website and start creating your diagrams right away. When it comes to exporting, you can choose to connect cloud services such as Google Drive or Dropbox, to keep everything truly online. You can also export your projects as PNG, JPEG, SVG, PDF, and various other formats to make sharing with others even simpler. All in all, with its simplicity in design and powerful tools, we highly recommend Draw.io to everyone who's first priority is speed and ease of use. You can visit Draw.io to learn more about it by following the link provided below:
Visit Draw.io
#4 – Creately
Coming up next is Creately, which is yet another great alternative to Microsoft Visio. Creately is a very powerful diagramming tool available for multiple platforms. It has more templates than most of the other drawing tools you can think of and has a very intuitive user interface. The plethora of built-in templates and designs that Creately gives you access to is commendable and is well appreciated if you are looking to finish projects in the least amount of time possible. There are many other features that make Creately a viable alternative to Microsoft Visio too, such as quick connectors, embedding links, and text boxes. It is a great tool if you work as a team and wanted a cheaper alternative to Microsoft Visio. You can still choose to use the free version, but we recommend getting the subscription which unlocks access to many more features. You can visit Creately to learn more about it by following the link provided below:
Visit Creately
#5 – Gliffy
Next on today's list, we have Gliffy which is a great diagramming tool for personal use. You can still use it for commercial work as a team, but that would require you to get a paid subscription. However, the basic plan is completely free of cost, and still gives you access to many drawing and organization tools. One important thing to note is that Gliffy marks all of your projects public, so we wouldn't recommend it to anyone looking to work on classified projects. However, Gliffy has one of the best user interfaces we have seen in a diagramming tool, and would definitely recommend it to anyone who likes a minimal workspace but with a lot of powerful tools and features under the hood. You can visit Gliffy to learn more about it by following the link provided below:
Visit Gliffy
#6 – Edraw
Another great option to consider if you are looking for an alternative to Micorosft Visio is the Edraw suite of apps. It has some of the best UIs that we've seen in any diagramming tool across the board. The EdrawMax software is designed to keep your things organized in diagrams, tables, and other forms of data. While the interface is really slick and modern, it is also very easy to get used to for new users. Edraw offers handy tools like mind mapping, project management utilities, data visualization, and much more. Some of the most reputed brands around the world such as Samsung and Dell have recommended Edraw's tools as well. Once you have your diagrams ready, sharing is made even easier with Edraw products as well. You can visit Edraw to learn more about it by following the link provided below:
Visit Edraw
#7 – Google Drawings
Ending our list of some of the best free alternatives to Microsoft Visio that you can try out, we have Google Drawings. While the software that Google offers is way more slimmed down in terms of functionality and usage, it just happens to be completely web-based. Google Drawings is just a template that you can use in the Google Docs web app. It offers all the basic diagramming tools and features and has the advantage of being not only light-weight but also completely free to use. Google Drawings does have certain tools, which when used right, can really ease up your workflow through the use of shortcuts. All in all, if you simply needed a basic diagramming tool for your side projects, Google Drawings fits your needs just right. You can visit Google Drawings to learn more about it by following the link provided below:
Visit Google Drawings
That's all folks! We hope you enjoyed our roundup of some of the best free alternatives to Microsoft Visio to try out in 2020! Which one among the list is your favorite, and how many of these alternatives to Microsoft Visio have you already known or have been using? Know other good services that allow you to better represent data as a diagram that you feel people might find interesting? Do let us know in the comments section below, we'd be delighted to hear from you guys!