We all love to listen to music. Every single day at least for some time we must refresh our minds by grooving to our favorite tunes. Today we have a lot of music apps that we can use to stream music. Over the years availability and portability of music have seen a vast development. Decades ago music was available on cassettes and CDs playable on stereos. Then we saw the evolution of walkmans. Later the iPod from Apple arrived as a game-changer.
Later smartphones became the norm and that led to the concept of music apps. These apps are of few megabytes and it's easy to install. Most of these applications are free to use and provide a diverse collection of music. Anywhere you take your smartphone, you take the music with you. Even if there is no internet, still you can download the tracks for offline listening. What more one could ask for.?
Today, we will talk about two of the prominent music streaming apps Spotify and Amazon Music. Both are pretty popular among music enthusiasts. Still, some folks find it confusing to choose between any one of these apps. So, I have put up some interesting info about the two apps. Finally, it is you, the user that has to decide what music streaming app do you want. Anyways, do not miss out on this guide if you want me to help you narrow down your music app preference,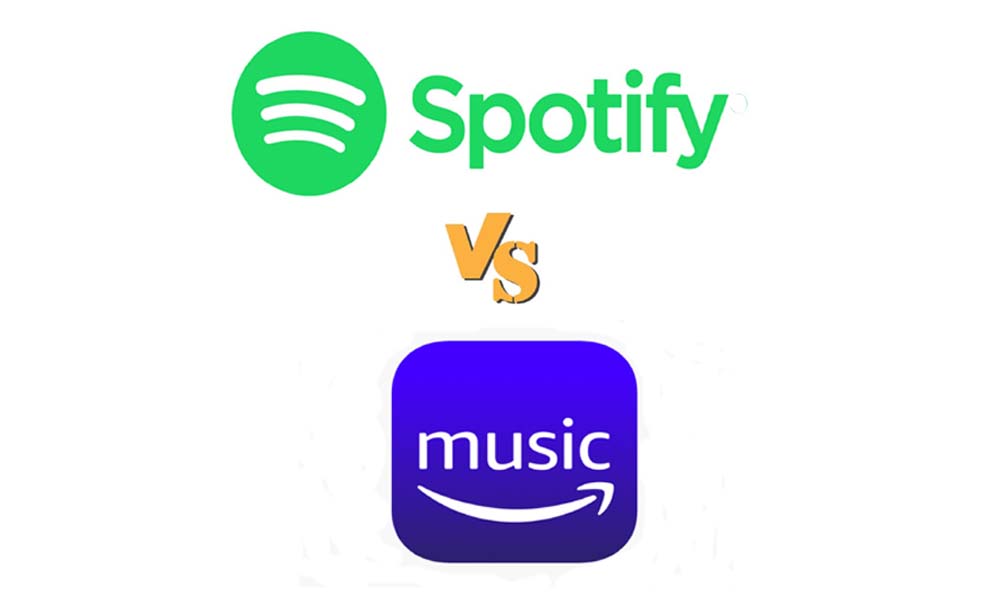 Spotify Vs Amazon Music: Which Music Streaming App is Better
I use both Amazon Music and Spotify. Also, being an avid music enthusiast over years I use these apps daily to consume a good amount of my favorite music. So, I can give the other music enthusiasts my two cents about both the music streaming apps.
I have compared both the applications based on a few common factors such as
interface,
pricing,
availability of music,
quality of music
ease of use
platform
So, let's check out the common aspects of Spotify and Amazon music. You will know how both are similar yet different from each other.
Interface
Both Spotify and Amazon music has similar kind of interface. However, being a longtime Spotify user I find it more simple to use than Amazon music.
The background ambiance of Spotify is always different for the various songs, albums, and their respective artwork. However, on Amazon Music, you get the same background which kind of feels bland but okayish. Once you start listening to music you won't feel anything about the interface.
Honestly saying, for me, it is not much of an issue. You just remember the symbols for various actions on the music player. These are the same on both Spotify and Amazon Music though placed a little different on the player interface.
If we talk of Settings, again on Spotify and Amazon Music it is almost the same and easily accessible.
Quality of music
Irrespective of whichever platform you decide to use, you do get to listen to music in good quality. I mean the sound quality is crisp. You even get to choose what kind of music quality you wish to stream. Some may stream over cellular data and may want to spend their data wisely. So, they can choose between high, very high, low, quality, etc.
Here is how the music quality setting is on Spotify. You can change these on the Settings on the home page of the app.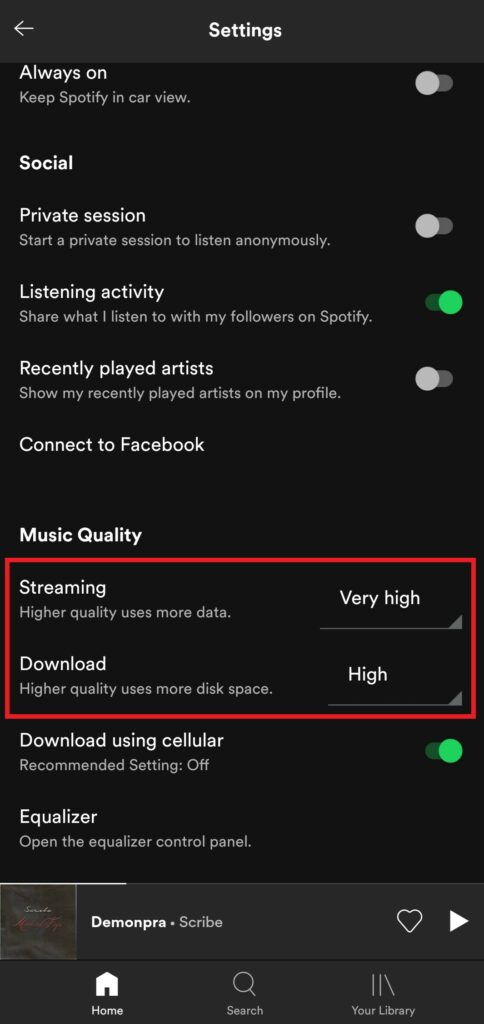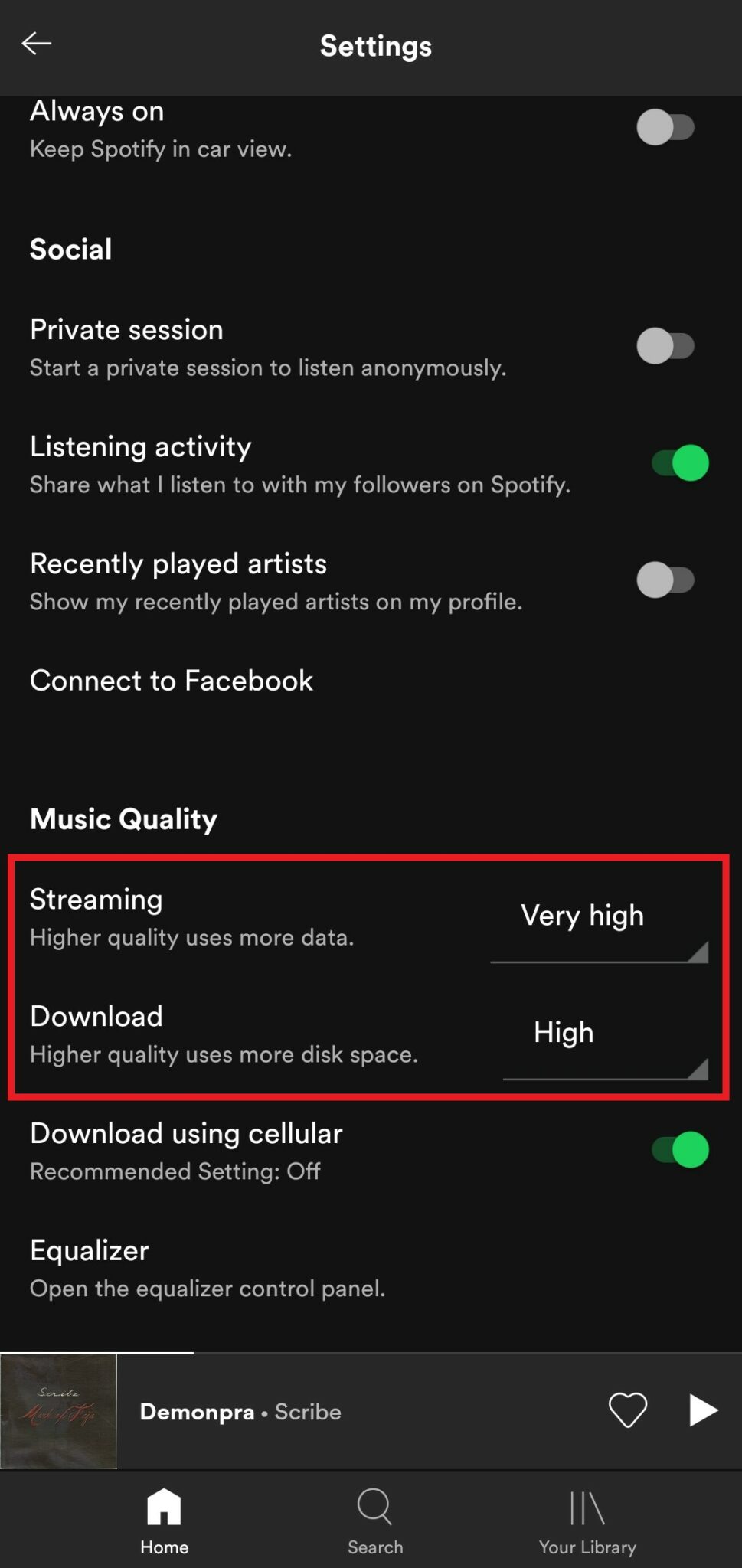 Amazon Music also provides a similar setting. Below is a screenshot of the quality settings.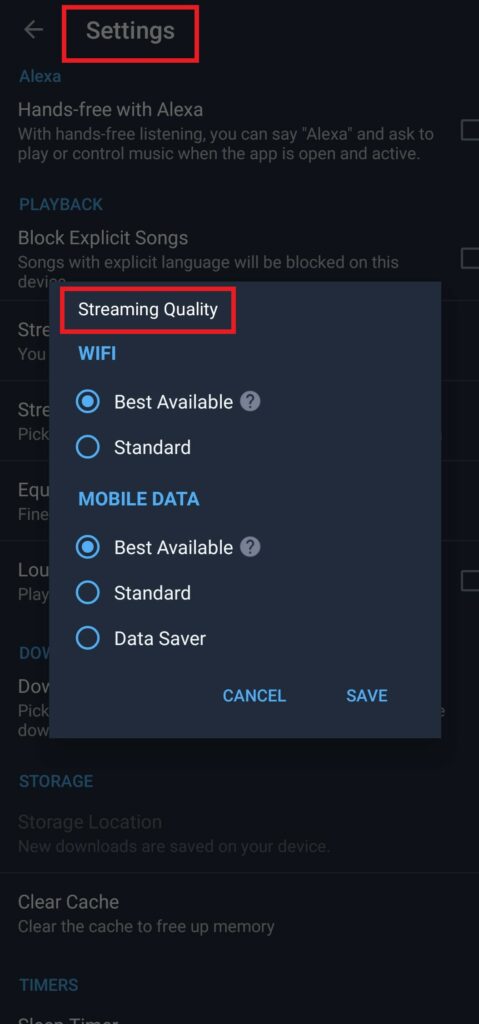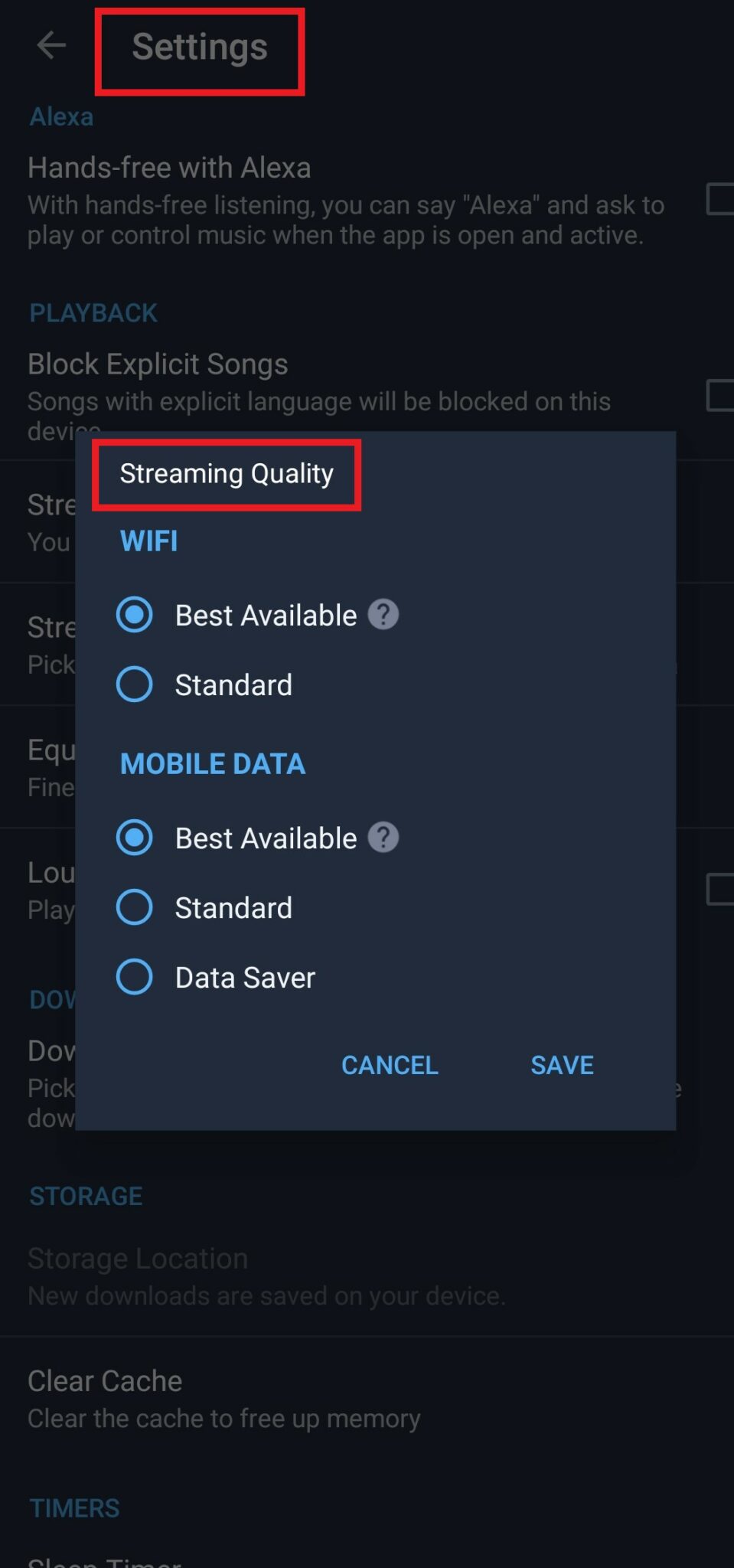 However, I must point out that the rich sonic experience of music comes only when you use good audio interfaces to stream the highest quality of music the portal has to offer.
I have the Apple Earpods and Redmi Airdots which I use for listening to music. There is a great difference when I use Earpods and when I use the Airdots. This I am saying for the folks who are very particular about trying to get that meaty bass tone and the crispy treble outlines they look for in any song.
If you use a very cheap earphone that doesn't give a good sonic output then even though streaming on the highest quality of music you will not be able to feel the difference.
Availability of music
When it comes to catering to a diverse collection of music spanning across hundreds of genres, Spotify takes the cake. Let me break this down to you.
On Spotify, you can find almost any song irrespective of whether its new or old. I have managed to find some not so popular songs, artists. Besides, I have also managed to find music that is as old as from the late 90s. Spotify provides access to a diverse genre of music. Any kind of music, your search on Spotify 98% chances are you will find it there.
However, on Amazon Music, I have not found all the artists I follow or listen to on Spotify. Sometimes only a few songs of an artist can be found. When Spotify provides the complete collection of all the albums composed by an artist, Amazon Music has listed only 1 album from the same artist.
I mean these artists do have a good presence on Spotify as well as on other social media fronts such as YouTube and Facebook. They have a good number of listeners and followers. However, they lack a presence on Amazon Music.
Platform Presence
Both Spotify and Amazon Music have a through presence on Android, iOS, and web. They have a great number of users on almost all types of operating systems.
On both platforms, you can use any device to sign in to your account. Even if you use any secondary devices, and install the apps and sign-in you can easily access your playlist and latest songs you have been hearing.
Pricing
Now, let's talk about the deciding factor that enables the users to choose any application on their smartphones/PCs. Yes, it's the price that one has to pay to enjoy all the features of the application.
Spotify
Normally, Spotify is free to use but you will be bombarded with advertisements at regular intervals. If you are the kind of person that prefers to doze off to some spacey chilled out tune, Spotify ad on the free version can ruin your peace of mind.
There is a free 3-month premium you can try. You may use that but after three months you will be billed for the streaming. There is an annual plan which is currently available at a discount. I have included it along with all the available premium plans for Spotify. With premium, you do not get any ads. You can peacefully enjoy your music across various devices for the account that you have used to login to Spotify.
| | |
| --- | --- |
| Spotify Premium Plans | Price |
| 3-months | FREE (billing from the end of 3rd Month) |
| Premium Family | Free for 3 months (then 179 INR afterward) |
| 1-Year Premium Subscription | 700 INR (offer till June 30th) [Original Price- 1189 INR] |
I use the 1-year subscription which cost me 700 INR which is the best offer that is available till June 30th, 2020. After that, you will be charged the regular annual fee of 1189 INR. Normally, this annual subscription is billed one time and is payable through credit/debit card and UPI.
Note
Keep in mind that the pricing is for the Indian users in INR. It will vary from country-to-country.
Amazon Music
If we talk about Amazon Music, it is a bit different than how Spotify works. If you have an Amazon Prime membership like me, then you can get Amazon music with it. There will be no extra charge until your plan expires. I think it's a good deal because you can also get the other Amazon Prime content with that pricing.
| | |
| --- | --- |
| Amazon Music Premium Plans | Pricing |
| Monthly Chargeable | 129 INR |
| For 1-Year | 999 INR |
| 3-month Membership | 329 INR |
Still, if we look at the annual subscription thing, Spotify is a bit costlier than Amazon Music. However, if you only need music, then Spotify is a wise option. On the other hand, with Amazon Prime subscription you do get to watch Amazon Prime Videos, exclusive movies, and everything it has to offer.



Also, there is another plan. A 3-month offer but which is not free and it will cost you your 329 INR.
My Opinion on which Music Streaming App You Should Use.?
If you ask my view on which one you should use, I will suggest spending your data and money on Spotify. The diversity of music, good sound quality, genres it covers, and the pocket-friendly pricing for an annual subscription, Spotify is the ideal music streaming app. More importantly, it is a stand-alone application that caters to music. I use Amazon as I already have the prime membership for Amazon prime. Honestly saying, I do not use it often for music streaming. Spotify is my go-to app for music requirements.
Talking of casual listeners, any one of the two music streaming app will do the job for you. On the other hand, if you are a curious audiophile, then Spotify is a better choice than Amazon Music.
So, that's sums up everything. This was all about the top music streaming app duo Amazon Music and Spotify. I hope you found this guide informative. If you use any of the two, let me know in the comments section which one and why you choose it.
Read Next,