Spotify's new AI DJ feature curates a playlist based on a user's listening history and preferences and was recently released to much fanfare. However, some users have reported that they are unable to access the feature, while others have noted that the DJ Button is missing from the Now Playing view.
As per the reports, the DJ Button was available on iOS devices initially but suddenly disappeared for some users. Users have reported having to manually skip each song until the DJ switches it up. Regardless, Android users are still able to access the DJ Button, indicating that this issue is limited to iOS users.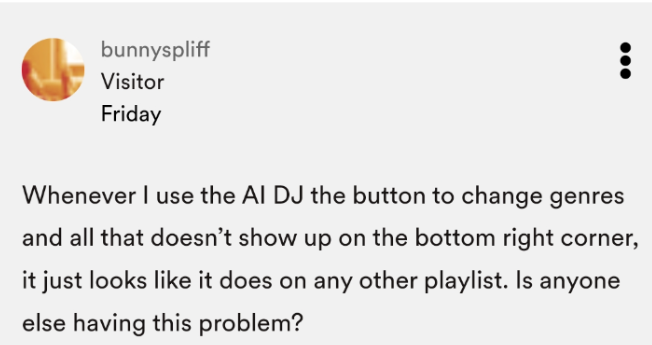 On the bright side, Spotify's support team has acknowledged the issue and is currently investigating it. A moderator replied to the concerns raised over at Spotify Community and said that the relevant team is currently looking into the issue.

Unfortunately, there is no temporary workaround available to fix the problem at this time. As such, users will have to wait for Spotify to provide a solution.
It is worth noting that this is not an uncommon issue with newly released features. As with any software, there can be bugs and glitches that need to be worked out over time.
Spotify has a track record of responding to user feedback and quickly fixing any issues that arise. Stay tuned to be notified of any fixes that will be released by Spotify in the near future.