Has it ever happen to you that you see a slight difference in your dual monitor setup? Maybe the brightness of both the monitors is different, or the hue is different or saturation. This dual-monitor brightness issue arises because of its matching OS hardware as well as software settings.
A dual monitor setup requires connecting two monitors onto a single computer in order to increase the visibility range. People can either extend or mirror content between two monitors to improve multitasking and productivity. Sometimes even gamers do this to play games and view streaming stats at the same time. However, it requires powerful equipment to manage such a task. Not all can manage to get the same monitor and might want to use an old monitor along with the new setup. In such cases, we may see some color and quality differences between them.
Even brightness won't match between monitors of the same manufacturer and model. This might be due to different configurations on the panel and backlight. The parts used may vary because of the multiple vendors the OEM obtains materials from. But there is some workaround to match the brightness level on both monitors. So, in this article, let's see them.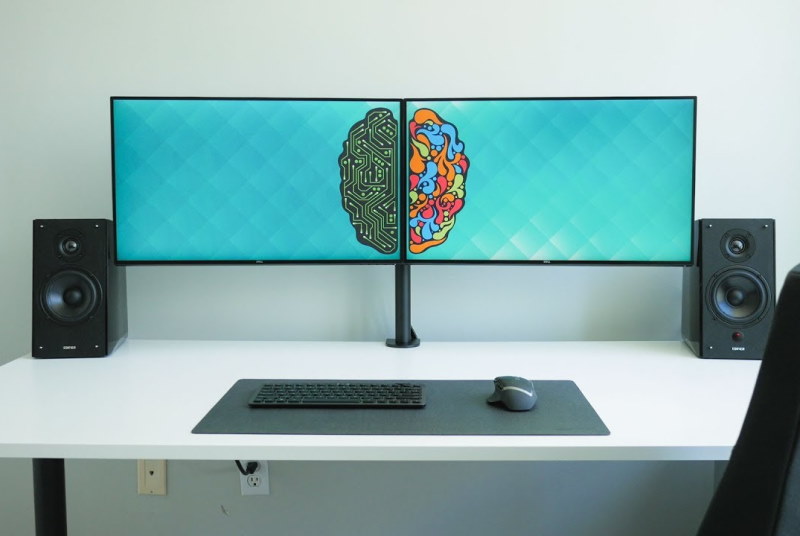 One Monitor Brighter than the Other: How to Fix Brightness issue in Dual Monitor?
Brightness level alone doesn't contribute to the luminous on display. There are some other features such as Contrast level, Gamma level, and Temperature. Al these settings could be easily tweaked from the control options provided on the OSD on the monitor and also from the Graphics control panel.
Method 1: Update drivers
Windows display drivers play an important role in adjusting the brightness and contrast of your display. Wrong drivers and your whole setup will look damaged with different screen brightness and contrast settings. Simply go to device manager > Display and update all the required monitor drivers.
Method 2: Using OSD controls on your Monitors
Your monitor will be equipped with a small screen function that controls the aspects such as brightness contrast etc. The option will vary according to the manufacturer, But the concept remains the same.
Here are the settings you have to play around in order to attain the sweet spot.
Brightness
Contrast
Gamma
Temperature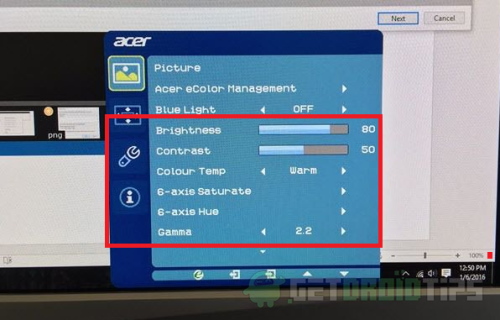 First, adjust the brightness level to match them similarly. Then move on to fine-tuning by adjusting contrast and gamma settings one by one. If you see bit color difference, like blueish or yellowish image, then adjust the Temperature settings to Cooler/Warmer by comparing both monitors. If you see colors being too vibrant or "washed out," you can adjust it through Saturation settings.
Tip: You can increase the screen off time for the monitor to prevent one of the monitors turning LED off while configuring another.
Method 3: Using the GPU control Panel
The graphics control panel has some interesting and helpful tuning options. Most of the adjustments could be made from the control center itself without any issue unless your monitor doesn't support it. This menu will change based on the GPU you use. But the concept remains the same. Follow these instructions as per your GPU.
Using Intel HD Graphics
Intel has the simplest menu available. It's very straight forward and simple. To adjust settings on Intel GPU,
1. Open the Intel HD graphics control center by right-clicking on the desktop and clicking on the option.
2. Click on Displays and then click on color settings and select the Monitor from the list.3. Now, under Basic Settings, change the slider values and adjust them until both monitor look similar to your eyes.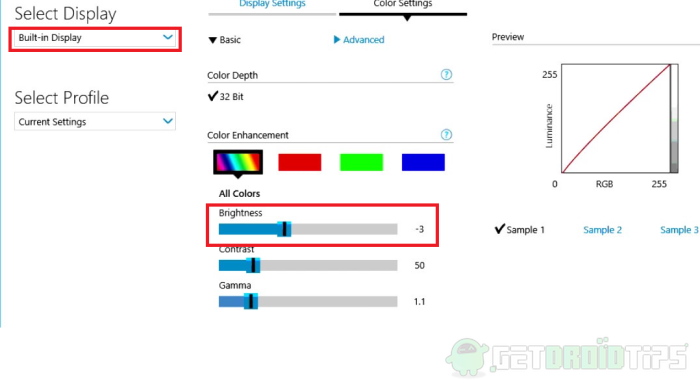 Using Nvidia Graphics
If you're using an Nvidia card, you can follow this method to change those settings.
1. Open the Nvidia control center by right-clicking on the desktop.
2. Go to Display > Adjust desktop color settings.
3. From the menu, select the display you want to change settings for and click on Use Nvidia settings.
4. Now adjust the slider values until you can get similar outputs on both monitors.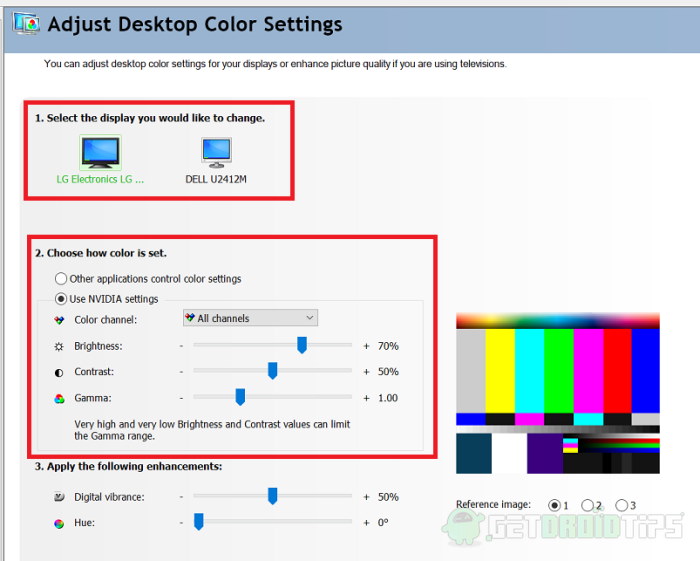 Using AMD Graphics
On an AMD GPU, open the Catalyst control center(For older cards) or the Radeon Crimpson Software based on the model. And follow these steps.
1. Open My built-in Display or My External Display and select Color Management.
2. Adjust the sliders to get a similar outcome on both the monitors.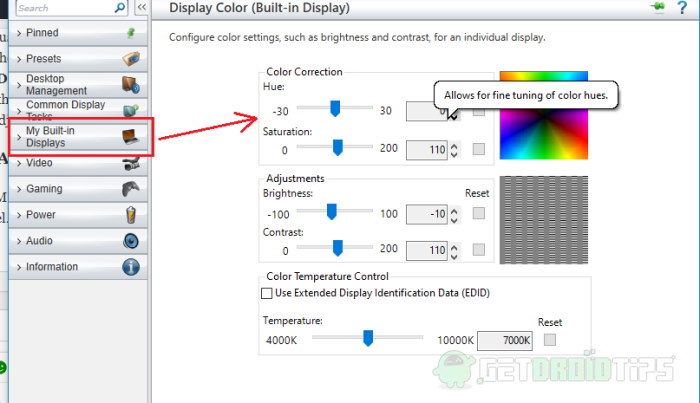 Conclusion
So, to sum up, these were the methods that you can use to solve the brightness issues in your dual monitor setup. As you can see that it is very simple and doesn't require any third party software/ adapters. But you cannot get a 100% same brightness on both monitors. Our eyes cannot distinguish the difference on such a minute scale. So there is no need to tune it accurately using parameters. Just give it some time and adjust as per your personal need or as long as your eyes are convinced.