What comes to our mind when we first hear about Chromebooks? Well, back when the Chromebook was first released, we all might be thinking that it was a product that came from Google just competing for the other laptop brands. But, that's not the truth, as Chromebooks are totally different from normal laptops. These laptops aren't run on Windows or Linux OS as they have their own ChromeOS, which I think is pretty good.
However, if you think that if these devices aren't powerful enough, you might be wrong as they are equally capable of any task you want using the Chrome browser. Meanwhile, it is not that they do not have the creepy glitches and bugs that a normal PC has.
Recently, some users started complaining in the Google forum that they can't set up their Chromebook as always when they try to, and they end up getting a network not available error. However, that's the reason why we encourage you to bring up a guide to help those who are getting this error. So, now I'm not going to waste more time here and directly jump into the guide.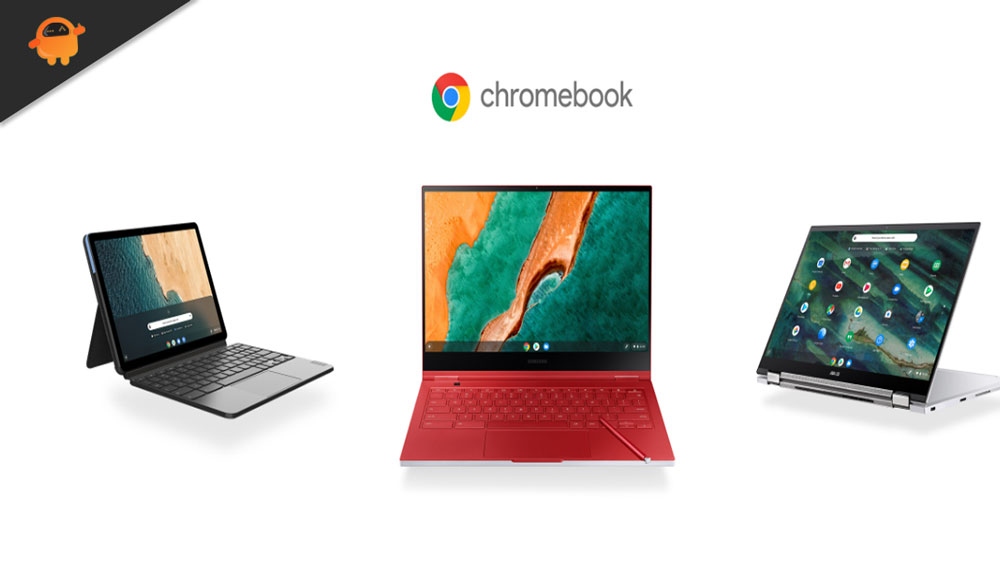 How To Fix Can't Set Up Chromebook "Network Not Available."
There are a few fixes available that you can use to fix this issue. But, yeah! It will be possible that these fixes may not work in each case as they totally depend on the severeness of the error. So, now let's get started with the methods that you can use to fix the network not available issue.
Method 1: Check Your Password
It is possible that your Chromebook is unable to connect to the internet or your WiFi because you have entered the wrong password. So, you can check if you use the correct password. To check that, you can simply log in to your router's admin panel using your laptop or mobile phone and check the password you have set for connecting other devices. After that, enter the right one to your Chromebook and see if it works.
Method 2: Enable Network Sharing
If you haven't turned on the network sharing mode on your Chromebook, we recommend you enable it as this will help you fix the network not available error. Yesterday, I was having a conversation with one of our readers on the Quora forum, and he told me that earlier he was also facing this issue, but accidentally he turned on the network sharing mode, and boom, the error gets disappear.
Therefore, that's the reason why we recommend you to do this. However, when you are about to add a network on your Chromebook, simply toggle the button located after the Allow other users to use this connection, as shown in the picture below.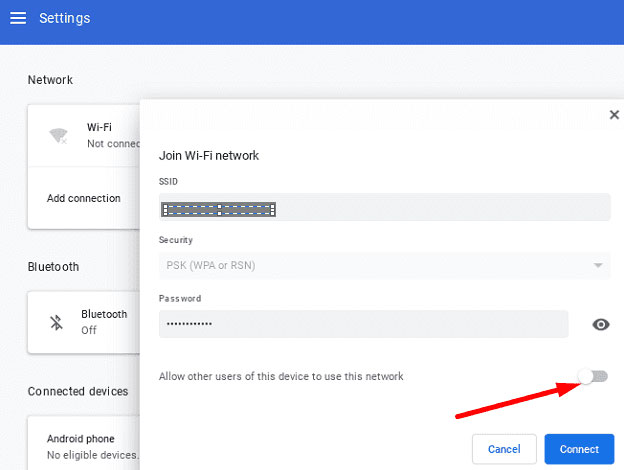 Method 3: Restart Your Chromebook Laptop
We regret if the issue still exists on your Chromebook. But, that's nowhere mean that we do not have anything to do. Sometimes, due to a single random bug or glitch, this kind of issue occurs. So, to get rid of this, you need to remove those bugs or temporary files from your Chromebook. Therefore, to do this, you can simply reboot your Chromebook laptop. So, restart it and check if the network not available error get fixed or not.
Method 4: Power Cycle Your Router
Did you check if your internet is working or not? We ignored this most of the time, but at last, this came up as the main culprit. So, it is very important to check if your WiFi network gives you proper speed or not. To check it, simply hover over to the Ookla speed tester website and first check the speed of your connection. However, in case you find that it wouldn't give you proper speed, then to fix the speed issue, you can simply power cycle your router and see if it helps.
Method 5: Use a USB Ethernet Adapter
If you have noticed that your WiFi router gives you a much slower speed than other days. Then, we recommend you use a USB ethernet adapter if possible. However, many users previously reported that this helped them to fix this kind of issue. So, you can also try it and let us know in the comment box if this helps you fix the network not available error.
Method 6: Use a Different Connection
Well, if still your internet is stuck and you are not able to fix it. Then, if possible, try using a different WiFi connection. Yes, you can also use a mobile hotspot to check if the network not available issue get fixed by this or not. If not, then it might be possible that this issue has occurred from the server's end. Well, if that's the case, everything you have tried is worthless as you have nothing to do with this.
Also Read: Fix: Chromebook Recovery Utility Not Working Issues
Method 7: Use Guest Mode
If nothing helps you fix this issue on your Chromebook, we recommend you log in as a guest and check if it helps. Many users reported that this helped them to fix network not available errors.
So, these were some fixes that help you fix if you can't set up Chromebook "network not available." We hope this guide has helped you. However, if you are still unable to fix the issue, we suggest you pack your laptop bag and run towards the nearest service centre. Also, if you successfully fixed this issue, then let us know in the comment section which method works for you.