It is always a good thing to have someone remind you of your tasks in case you forget about them. This may happen when in a day you have a lot of tasks to complete. Today we have virtual assistants that can help us with our tasks. Google Assistant or Amazon Alexa are two such notable intelligent assistants that can remind us of our pending task list. Not only that, if we are using any task management app like Todoist, then these assistants can add a task, remove a task, list up the tasks, etc.
In this guide, I will show you how to connect Amazon Alexa and Google Assistant with the Todoist app. Using these smart assistants you can also set priority for your tasks and set due dates. I have explained how to set up the integration of Todoist and provided examples for using it properly. The whole setup is pretty simple to understand, connect, and use. Besides, Todoist users with free, business, and premium account can use this feature without any hiccups. So, let's get started.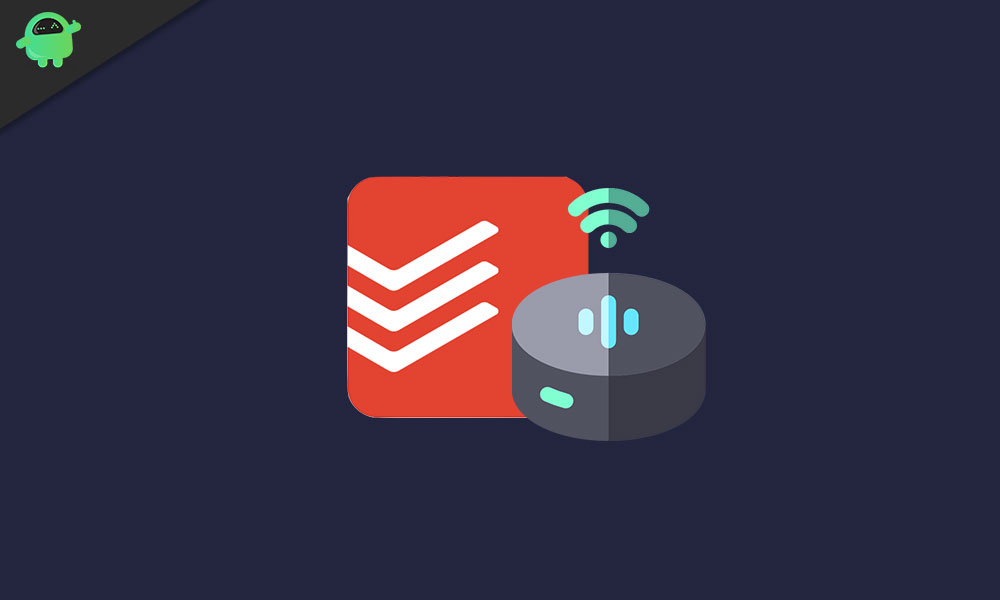 How to Connect Google Assistant | Todoist
First, let us try to connect Google Assistant and Todoist. The process is very easy.
Launch Google Assistant by saying Hey Google
Then as you see the prompt to speak further commands, say let me talk to Todoist.
Make sure at this point Todoist has been installed on your device
You will redirect to the Todoist site
Log in to your Todoist profile
You are all set to use Google Assistant through your mobile device or smart speakers like Google Home.
Using Google Assistant
First, you have to line up your tasks on the Todoist app. Then you have to give voice commands on Assistant. That's it. Let me show you some examples of the voice commands you can give.
Add new task (speak about the task)
tasks for today
read my next task
Adding A Label
After you give the command and Google Assistant adds the task it will report The task has been added. Any changes.?
Now, either you can say No and finish the task listing or you can add priority and labels for your tasks.
You can say "Add label important" or "Add important label" or simply "important label"
As I said, you can set the priority of the task as well. For that, you have to say "Set priority to 1" and arrange as per your task list requirement.
Troubleshoot: What to Do When Google Assistant is Not Connecting With Todoist
Some users may find that Google Assistant is not syncing properly with Google Assistant. So, this is how to troubleshoot the issue.
Summon Google Assistant by saying Hey Google
On the right corner at the bottom, tap on the compass icon to open the explore view.
Search for Todoist in the search section
Once it appears tap on Todoist
There will be an option Unlink at the right-hand side of the Todoist icon. Tap on it
Then to re-link it tap on the option Try it.
So, that's how you connect and use Google Assistant with the Todoist task manager app.
Connect Amazon Alexa with Todoist
Now, let's check out how to connect Amazon Alexa with Todoist to manage our task lists. Alexa only supports two default task lists that are Alexa To-Do List and Alexa Shopping List. This means you cannot add any custom task lists of your own.
Here is how you integrate both the virtual assistant from Amazon and the task manager.
First, you have to log in to https://alexa.amazon.com
On the left panel, select Skills
Then search for Todoist skill and click on it
There will be an option Enable at the top-right corner. Click on it.
Enable the two options Lists Read Access and Lists Write Access
To confirm the changes click on Save Settings
On the browser itself make sure you are logged into your Todoist account.
Once you link Alexa and Todoist, two new projects will show up. As I mentioned earlier these task lists are the default ones. First, one being the Alexa Shopping List and Alexa To-do list. Todoist Premium and business account holders will see @Alexa now includes in the label list.
Using Amazon Alexa with Todoist
The virtual assistant will work as I have explained below.
| | |
| --- | --- |
| Commands | Action |
| Give command Alexa, what's on my To-do list | Alexa will read out all your tasks for the day |
| If you finished a task and wish to remove it say this, Alexa, complete buy groceries (for example) | This task of buying groceries will be marled as complete on your |
| On Todoist simply add @alexa to your tasks | The task will sync automatically and add to your Alexa To-do list. |
Points to Remember
Keep in mind that as of now, Alexa and Todoist can be used in a selected few languages.
English
French
German
Italian
Japanese
Spanish
Also, Amazon Alexa won't be able to mention the due date of your tasks on the Todoist task list. For that, it's better to sync Google Calendar with Todoist. Then you will be duly notified of your task's due date.
If a certain task is repeatedly showing up on the Alexa To-do list, this means it is a recurring task. If you have set this task as a recurring task on Todoist, then it will keep repeating for that period for which you have set it until it expires.
Tasks Are Not Syncing Between Todoist and Alexa | How to Fix
In case you have already connected both Alexa and Todoist, but still, the tasks are not syncing, then here is how you have to solve the issue.
Log in to alexa.amazon.com
Go to Skills > click Your Skills
Then select Todoist > click Settings
Check that Lists Read Access and Lists Write Access toggles are set to On.
Click on Save Settings
How to Remove Amazon Alexa and Todoist Integration
It may happen that you just got bored with Alexa and want to remove its integration with Todoist, then here is how you should do it.
Log in to alexa.amazon.com
From the left-hand panel Skills tab
Search Todoist > Select Todoist
Click on the Disable skill option seen at the top-right corner
So, that's all about how to connect Google Assistant and Amazon Alexa with the Todoist task manager app. Use the virtual assistants to make your task execution and management more automatic and simple.
Other Guides,