In this tutorial, we will show you how to delete useless images from WhatsApp on Android. Well, WhatsApp is the best instant messaging app, there ain't many refuting this claim. However, one thing that might bug many users is the countless junk and useless images files that might have accrued over the years. Although the app provides the option to make your gallery look clean by hiding the images from a particular sender. However, the real problem remains, the images are still there on your device. Nowadays most of the devices have at least 64GB of storage, so why the need to clean up the devices?
Well, the thing is there aren't a few images to deal with, they might be running into hundreds and thousands. This not only makes your gallery app filled with junk but also starts filling up your device storage. So in this regard. today we will show you how to delete useless images from WhatsApp on your Android device. Furthermore, it will be an automatic process, because a manual one doesn't make any sense. It is beyond the normal human capability to go through thousands of WhatsApp images, manually select the ones that need to be deleted. Therefore, automation is the way forward. On that note, here is how you could achieve the said thing.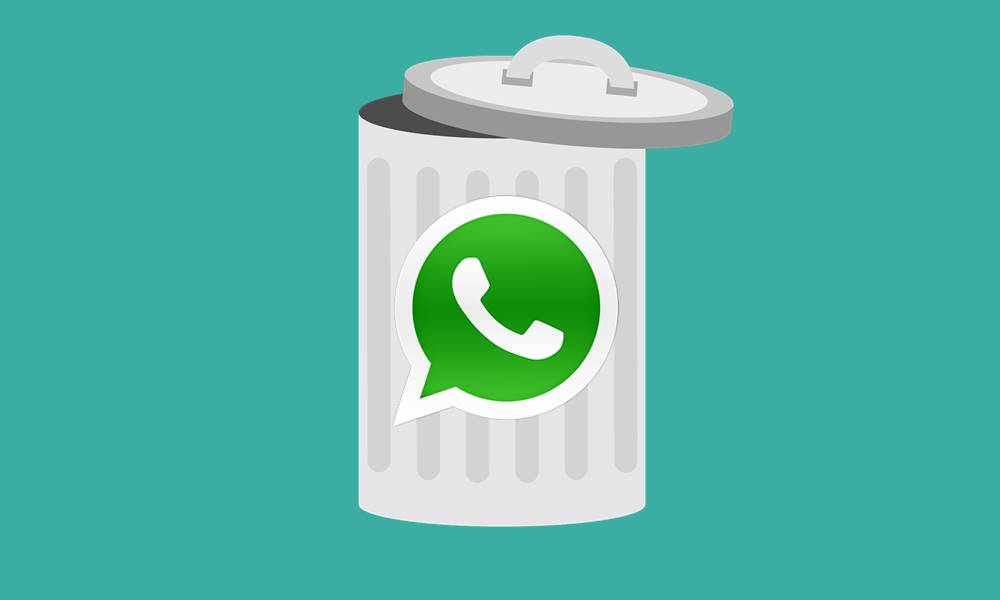 Delete Use­less Images from What­sApp on Android
We will be explaining two different processes in this regard. Both will make use of an app, but both these apps have their own set of USPs and caveats as well. Make your decision only after going through the entire post. Let's begin
Siftr Magic Cleaner App
The first one on our list is an app from an Indian Startup Siftr. The Magic Cleaner app launched by them is the most famous app for automatic cleaning WhatsApp junk from Android devices. I tried out on my device and the results were definitely surprisingly accurate and on-point. It only displayed the images of the least importance as junks. There were no study notes, personal moments, and other useful images. All the images with overlay texts, promotional images, and the memes were efficiently categorized as junks. But how it's all done in the first place?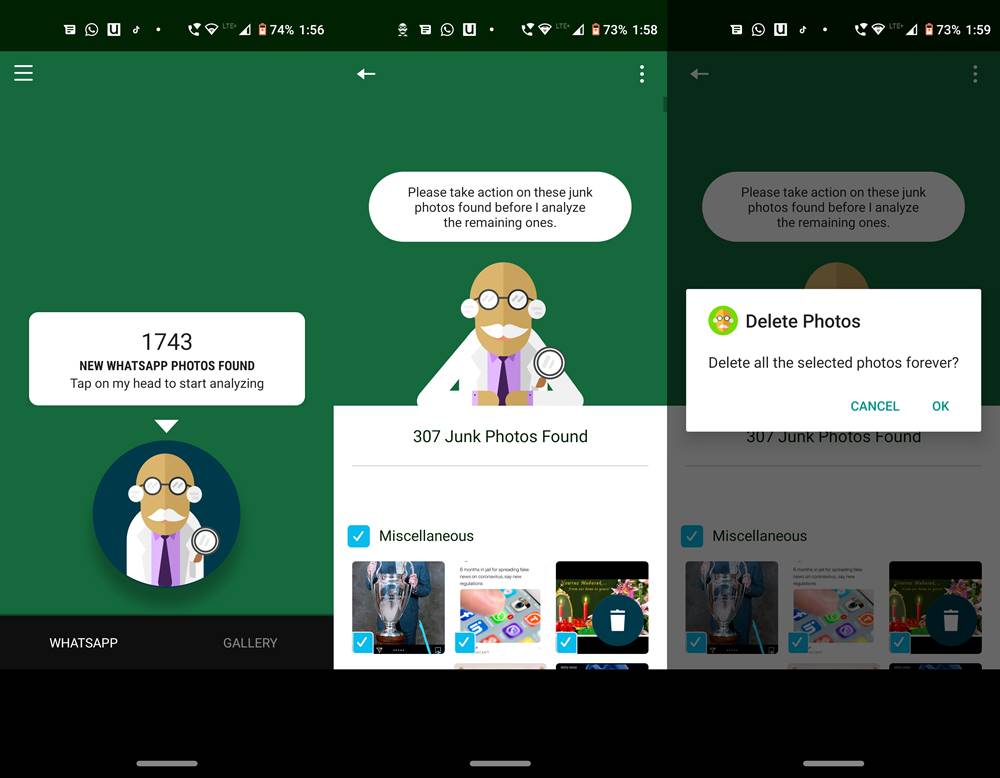 Similar to Google's Image recognition technology known as Cloud Vision, Siftr uses its own AI tool and scans for all the junk WhatsApp images. All the scans are done on their servers, hence you need an active internet connection for the process to be carried out. The scan is also pretty fast and just takes a few minutes.
You could also go through all the images that it has classified as junk and manually untick the ones that you don't wish to be removed. However, you cannot delete all the images in one single go. Only a limited number is allowed. To increase this limit, you will have to share the app with your friends or wait for a day.
The app is no longer available on the Play Store, but its available across many different online sites. Just make sure to enable Unknown Sources before sideloading this app. However, if you prefer to stick with Play Store itself, then check out the below app.
Stash Junk Photo and Video Cleaner
Making use of Google's Cloud Vision AI, Stash is another pretty handy alternative in this regard. It efficiently scans the entire device and precisely identifies the junk WhatsApp images. Well, not only that, but it takes this a step further and is capable of identifying useless GIFs and videos as well, something that was missing from the earlier alternative app.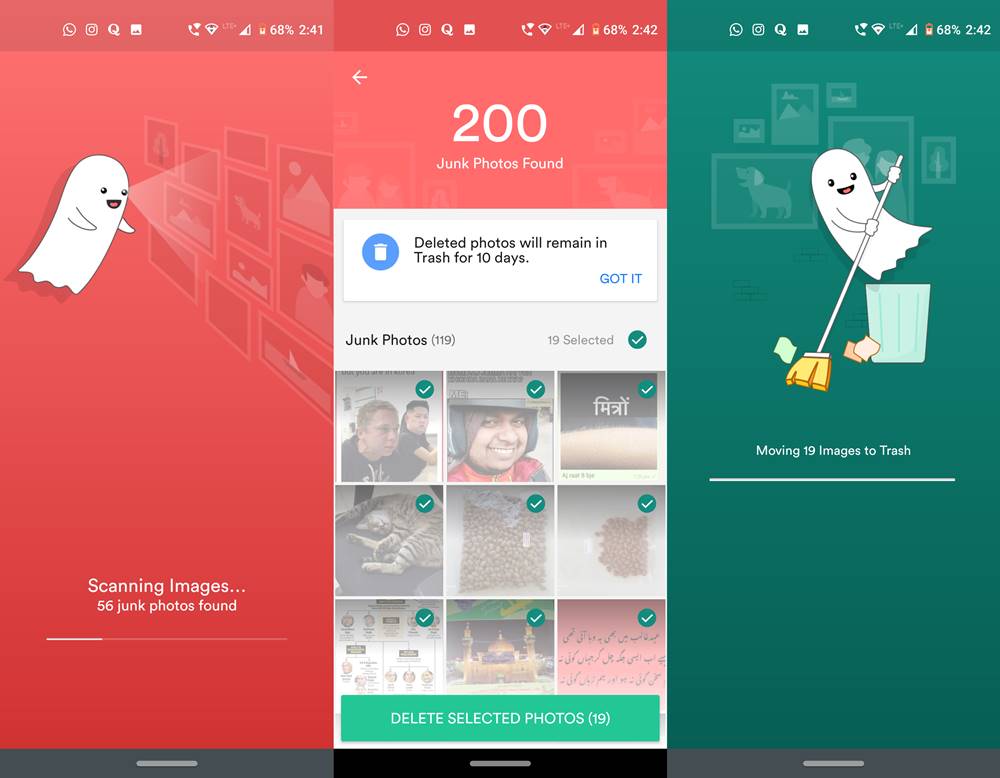 To use these additional features though, you will have to keep up the pace of cleaning junks from your device. More you clean such files more coins you get. You could also get these coins by watching ads. One of its noteworthy features is that it still keeps the photos in a bin for 10 days. So if you have accidentally deleted an image file, you could easily restore it within the said period.
[googleplay url="https://play.google.com/store/apps/details?id=com.stash.junkcleaner&hl=en"]
Conclusion
So there you have it from our sides. These were the two best methods to delete useless images from WhatsApp on Android. Although the latter is based on a coin-based system, yet its ability to identify and delete junks GIFs and video gives him extra brownie points. Furthermore the ability to keep the images in the bin for 10 days is a much-needed feature. But that is from us, you might or might not agree with our opinion. In that regard. we would love to hear which app you ultimately settled for. What you shouldn't settle for is our plethora of iPhone Tips and Tricks, PC tips and tricks, and Android Tips and Trick section.