It seems that several Discovery Plus streamers are getting Fallback Error apart from the Error Code 504 these days which is really irritating. Whenever streamers are trying to watch any program on the Discovery+, the error appears and users don't understand why this error happens. As users are simply unable to stream content on the Discovery Plus app, they're looking for the reasons and solutions from the online forums apart from the official Discovery Help section. Now, if you're one of the victims and experiencing this issue for a while, you can check What is Discovery Plus Fallback Error and How to Fix it?
Starting off, the affected Discovery Plus users are receiving the error message that says "Please try again later. For additional help and troubleshooting, please visit https://gohelp.discovery.com/hc/en-us. ERROR CODE: FALLBACK". To be very specific, this particular Fallback error info or solution doesn't list on the official support website as this is a quite new problem for the users. Therefore, it should take some time for the developers to fix this issue completely. Now, without wasting any more time, let's get into more details of the Fallback error below along with the possible solution.
What is Discovery Plus Fallback Error and How to Fix?
Well, in terms of the Fallback error, this is quite a cryptic error that's happening from the Discovery Plus server-side. This is more difficult to be solved manually by any of the users due to the server issue. If the video that you're trying to access cannot be found on the server and the system tries to play the next video, it basically indicates the fallback on the next video in the queue.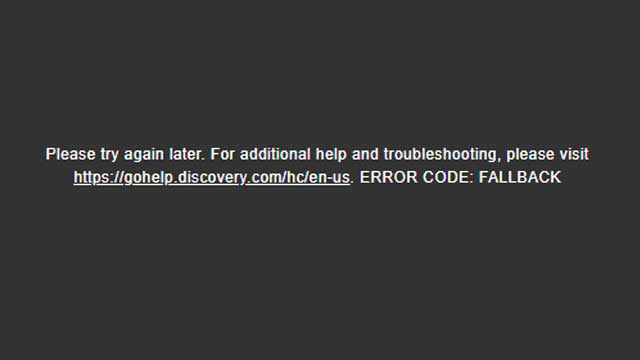 As we've already mentioned above, this particular issue isn't listed on the official website, there is no proper fix available yet. But one thing we can say that developers will try to fix this issue as early as possible because this is most probably one of the server issues. Whenever there is any server downtime or outage happens in the background, plenty of users start receiving multiple errors or issues with the server connectivity in different aspects.
Therefore, there is nothing to do from your end. You just have to wait for a while until the problem gets fixed completely. However, you should keep cross-checking your internet connection as it may also possible that your internet connection is either unstable or doesn't have enough signal strength for some reason.
Till then stay tuned for more info. You can comment below for additional queries.