In this rollback guide, we will show you how to downgrade your OnePlus 8/8 Pro device from OxygenOS 12 to 11 (Android 12 to 11). OnePlus recently rolled the Android 12 update for the OnePlus 8 and 8 Pro devices globally which brings a new revamped UI, new notification style, privacy dashboard, and many more to the table. If you have installed Android 12 and want to downgrade back to Android 11, then this guide is for you.
As we all know, the Android 12 may contain bugs that can make your device unstable to use as a daily driver. In this tutorial, we will guide you on how to roll back from Android 12 to Android 11 on the OnePlus 8/8 Pro. This guide is easy to follow, all you need is a computer with a working USB cable to connect your device to the computer.
There were some underlying bugs that made it quite difficult to use them as the daily driver. But after the release of the stable update, OnePlus managed to fix most of these issues. So while the latest stable OxygenOS manages to perform quite efficiently, the UI overhaul isn't something for everyone's liking. As a result, some users are looking to rollback to the previous OS build. If you also echo these thoughts, then here are the steps to downgrade your OnePlus 8/8 Pro device from OxygenOS 12 to 11 (Android 12 to 11).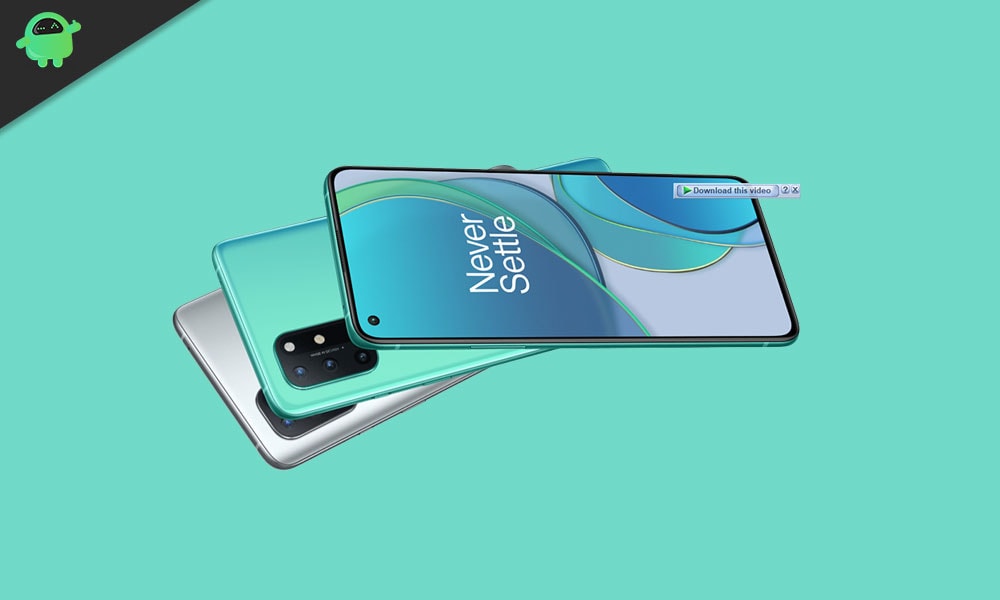 Downgrade OnePlus 8/8 Pro OxygenOS 12 to 11 (Android 12 to 11) | Rollback Guide
OnePlus' customized OS skin is always among the most popular ones and is loved by the masses. However, with the recent update, some users might not agree with our above statement. The reason for the same is that the OS seems to have inclined more towards Samsung's One UI rather than what the OxygenOS originally stood for. Along the same lines, some users were against the major overhaul of the power menu.
Likewise, others complained that a few of their apps aren't yet fully compatible with the latest OS. Fortunately, the fix for each of these issues is pretty simple. You could easily rollback or downgrade your OnePlus 8/8 Pro device from OxygenOS 12 to 11 (Android 12 to 11). And in this guide, we will help you with just that. Follow along for the detailed instructions, starting off with the requirements.
STEP 1: Backup your Data
To begin with, you should take a complete backup of all the data on your device. This is because the rollback process from Open Beta to the Stable build will wipe off all the data.
STEP 2: Charge your Device
Along the same lines, make sure to keep your device sufficiently charged so that it doesn't turn off midway during the rollback process. So keep your device charged to atleast 50%.
STEP 3: Install OnePlus USB Drivers
Install the OnePlus USB Drivers on your PC so that the latter is able to recognize your device.
STEP 4: Download OnePlus 8/8 Pro OxygenOS 11 Android 11 Downgrade Firmware
Finally, download the rollback firmware for your OnePlus 8/8 Pro device from the below link. Make sure to download the firmware correspond to your region only, cross flashing the firmware of any other region might create some issues.
That's it. These were all the requirements. You may now proceed with the steps to downgrade your OnePlus 8/8 Pro device from OxygenOS 12 to 11 (Android 12 to 11).
STEP 5: Install OxygenOS 11 (Android 11) Rollback Firmware on OnePlus 8/8 Pro
First Method:
Start off by downloading the rollback package for your device from the above links.
Then transfer the downloaded firmware to your device's internal storage.
Now head over to the Settings page and go to System.
Select the System Update option and tap on the gear icon situated at the top right.

Then select Local Upgrade and browse to the downloaded rollback firmware.
Select it and hit the Confirm button. The installation will now begin.
Once it is completed, hit the Reboot button and your device will now boot to Android 11.
Second Method:
First of all, Turn off your device.
Now reboot your phone into bootloader mode by pressing and holding the VOLUME UP and POWER buttons simultaneously.
Now connect your device to your PC using the USB cable.
Open the extracted firmware folder to flash it using fastboot mode.
Enter the below code to boot your device into fastbootd mode.
3. Now flash the following files by entering the code
fastboot flash boot boot.img
fastboot flash cpucp cpucp.img
fastboot flash dtbo dtbo.img
fastboot flash modem modem.img
fastboot flash oplusstanvbk oplusstanvbk.img
fastboot flash oplus_sec oplus_sec.img
fastboot flash qweslicstore qweslicstore.img
fastboot flash shrm shrm.img
fastboot flash splash splash.img
fastboot flash vbmeta vbmeta.img
fastboot flash vbmeta_vendor vbmeta_vendor.img
fastboot flash vbmeta_system vbmeta_system.img
fastboot flash vendor_boot vendor_boot.img
fastboot flash vm-bootsys vm-bootsys.img
4. Now reboot into userspace fastboot, aka fastbootd. If you don't do this, the remaining files cannot be flashed:
5. Flash the remaining files:
fastboot flash abl abl.img
fastboot flash aop aop.img
fastboot flash bluetooth bluetooth.img
fastboot flash devcfg devcfg.img
fastboot flash dsp dsp.img
fastboot flash featenabler featenabler.img
fastboot flash hyp hyp.img
fastboot flash imagefv imagefv.img
fastboot flash keymaster keymaster.img
fastboot flash multiimgoem multiimgoem.img
fastboot flash qupfw qupfw.img
fastboot flash tz tz.img
fastboot flash uefisecapp uefisecapp.img
fastboot flash xbl xbl.img
fastboot flash xbl_config xbl_config.img
fastboot flash product product.img
fastboot flash system system.img
fastboot flash system_ext system_ext.img
fastboot flash vendor vendor.img
fastboot flash odm odm.img
6. Now reboot your device into the system using the below fastboot command:
7. If everything worked your phone should now boot into OxygenOS.
The files will be flashed to your currently active boot slot. If any of them fail to flash, switch to the other slot and start over from the beginning. I wasn't able to flash ODM, product, system, system_ext, and vendor to slot a, and had to use slot b instead. To check the current slot:
fastboot getvar current-slot
To switch slots:
or
That's it. These were the instructions to downgrade your OnePlus 8/8 Pro device from OxygenOS 12 to 11 (Android 12 to 11). If you have any queries concerning the aforementioned steps, do let us know in the comments. Rounding off, here are some iPhone Tips and Tricks, PC tips and tricks, and Android Tips and Tricks that you should check out as well.