DOTA 2, the online multiplayer battle arena game has already earned the hearts of many. With a tremendous fan following worldwide, DOTA 2 is now one of the most famous online multiplayer games. It is quite easily supported in most modern-day PCs and Laptops. However, users with certainly low-end devices especially running on Windows 10 seem to have been facing some issues playing the game.
As per the concerns, users are facing sudden black screen issues or long loading times as they try to open the game. The fact that it has already been quite a few months, now makes it a serious issue for the users.
Fortunately, if you were going through all those troubles, we have finally brought you some relaxation here. In this article, we will be looking at the potential fixes to resolve the DOTA 2 black screen and other relatable issues. So, without any further ado, let us get started.
Also Read: Dota 2 Not Using GPU, How to Fix?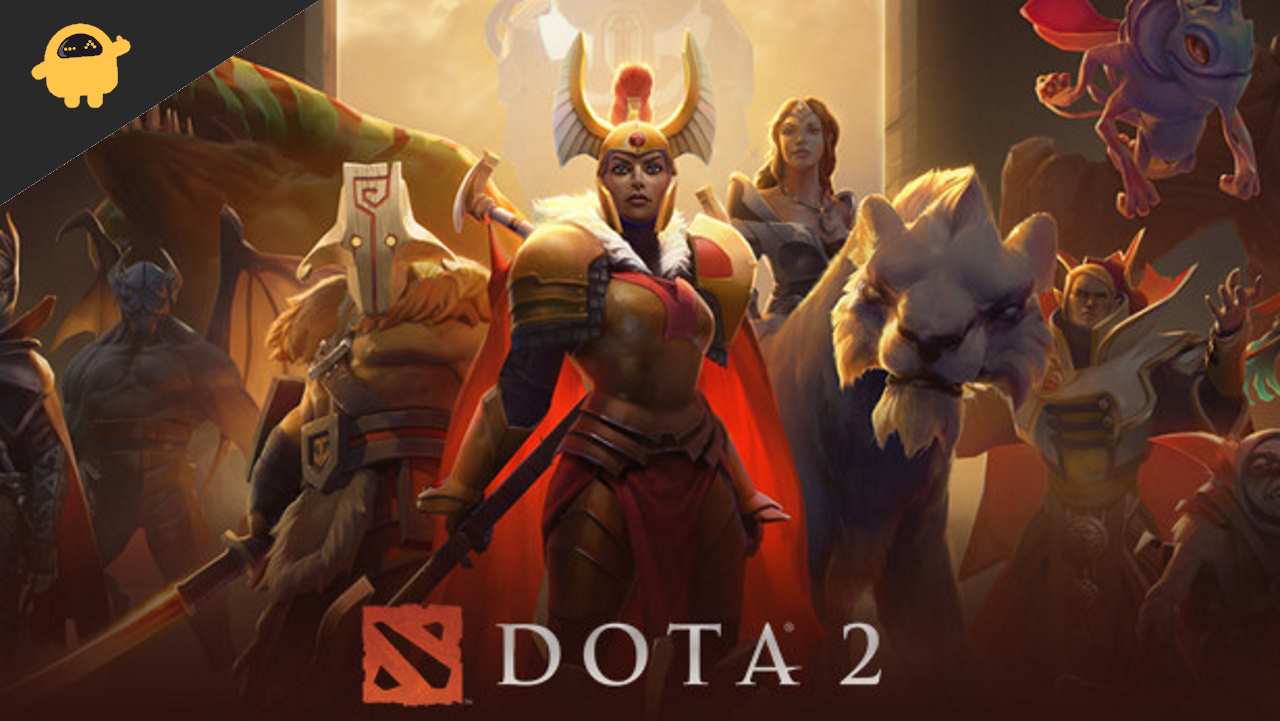 Fix: Dota 2 Black screen Issues
Before we begin with the fix for today, if you are using a low-end PC, then you should know that DOTA 2 has certain requirements that you should meet. The game already has some recommended requirements in order to experience lag-free gameplay. However, even if your system does not meet them, you should at least meet the minimum system requirements to play DOTA 2 on your device. The minimum system requirements are mentioned below followed by the other fixes.
Minimum System Requirements to play DOTA 2
Required OS: Windows 7
Processor: Dual-core at 2.8GHz (Intel/ AMD)
Memory: 4GB RAM
Hard Disk Space: 8GB space availability
Network: Broadband Internet Connection
DirectX: Version 9.0c
Sound Card: DirectX Compatible
Graphics: Nvidia GeForce 8600/ 9600 GT, ATI/ AMD Radeon HD2600/ 3600
If your system meets the above requirements, you can play DOTA 2 on your PC/ Laptop without any hesitation. However, we always suggest you have the recommended requirements just to get a flawless experience.
On the other hand, if your system meets all the above requirements but you are still having troubles, then you should look at the fix below.
Method 1: Use the Experimental Launch Option of Dota 2
Dota 2 recently launched an experimental option in the game. The black screen issue that you face while trying to play Dota 2 doesn't really have any official fix till now. However, if you are dealing with the same issue, the new experimental launch might help you.
But before getting into this option, you should know that it will bring some changes to your experience with the game. The experimental launch makes the initial loading time of the game really slow.
Hence, you might have to wait for a while every time you open Dota 2. But after opening it, the rest of the functionalities are smooth and fast as ever. With that said, let us now look at how exactly can you use this launch.
Firstly, launch steam on your device.
Go to Dota 2 and update it. If it is already updated, move to the next step.
Right-click on Dota 2 files and select properties.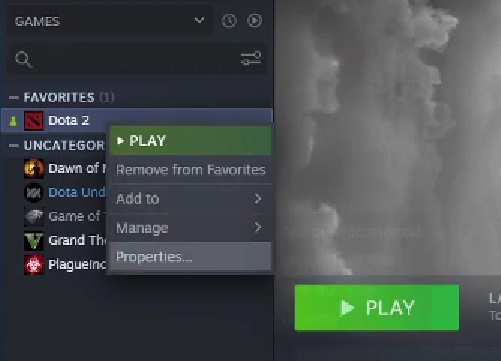 Now, under the General tab, click on Set Launch Options.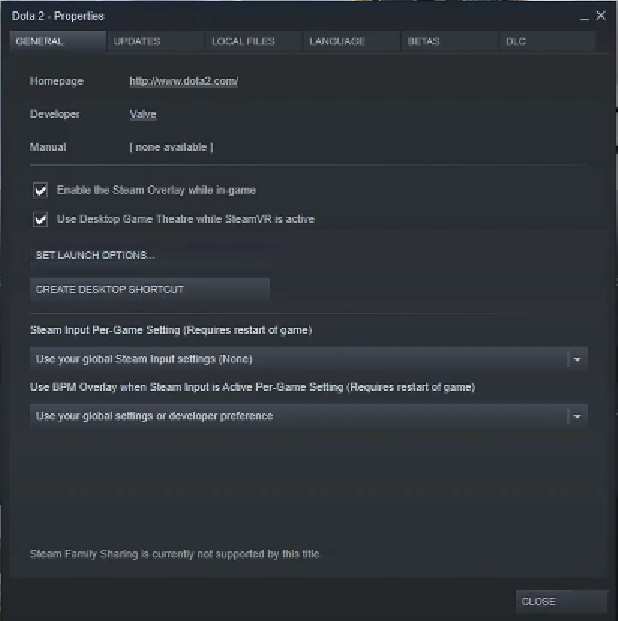 Write "-prewarm" and click on the Ok button.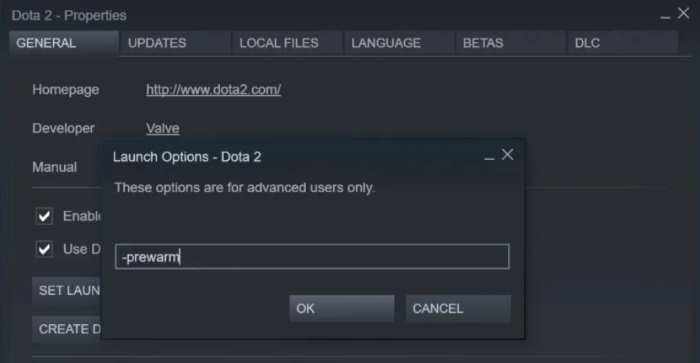 Again, launch Dota 2 on your computer, and now it will run properly.
Method 2: Deleting Unnecessary Files From Dota 2
The black screen issue in Dota 2 is basically caused due to some bug. But the are two specific files, on removing which the game seems to launch like normal. This trick has practically helped many Dota 2 players and should probably work for you too. So, let us see which are these files and how to get rid of them.
Launch Steam on your Desktop.
Right-click on Dota 2 and go to Manage.
Now, select Browse Local Files.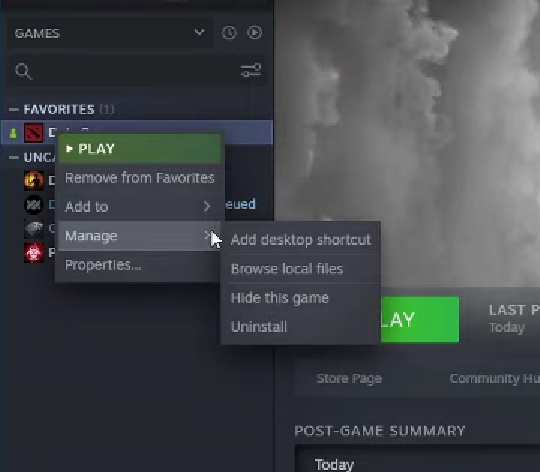 Open the "game" folder followed by the "dota" folder
Next, open the "panorama" folder.
Get inside the "videos" folder.

Now, locate the files "Ti10_bbackground" and "intro_movies" and delete them.
For safety measures, first, move the files to some other folder and check if Dota 2 is performing well or not. If it is working without any issues, you can then delete them.
Conclusion
Both these options have proved to be very effective in fixing the Dota 2 black screen issue. However, the first method sounds more reliable than the other one. But you can try both if one doesn't work. The black screen issue is basically due to some bug in the files so we hope to see some official resolution pretty soon. But as of now you can rely on these fixes and don't forget to let us know if this article has been helpful.