Although Fitbit smartwatches are considered to be one of the accurate fitness trackers for your daily healthy lifestyle, it seems that there are plenty of common issues appearing to the users whatsoever. Keeping in mind that both the Fitbit Versa and Sense can easily connect to the Wi-Fi network but somehow multiple reports are coming out that the Fitbit Versa or Sense is not connecting to WiFi network unexpectedly.
Well, if you're also facing the same issue then make sure to follow this troubleshooting guide completely. Here we've shared a couple of workarounds that should gonna help you out of it. Before jumping into the steps, make sure that your Wi-Fi network is working correctly and the network type is compatible with your Fitbit device. It's also worth mentioning that some users are reporting Fitbit smartwatches don't support the 5Ghz Wi-Fi band.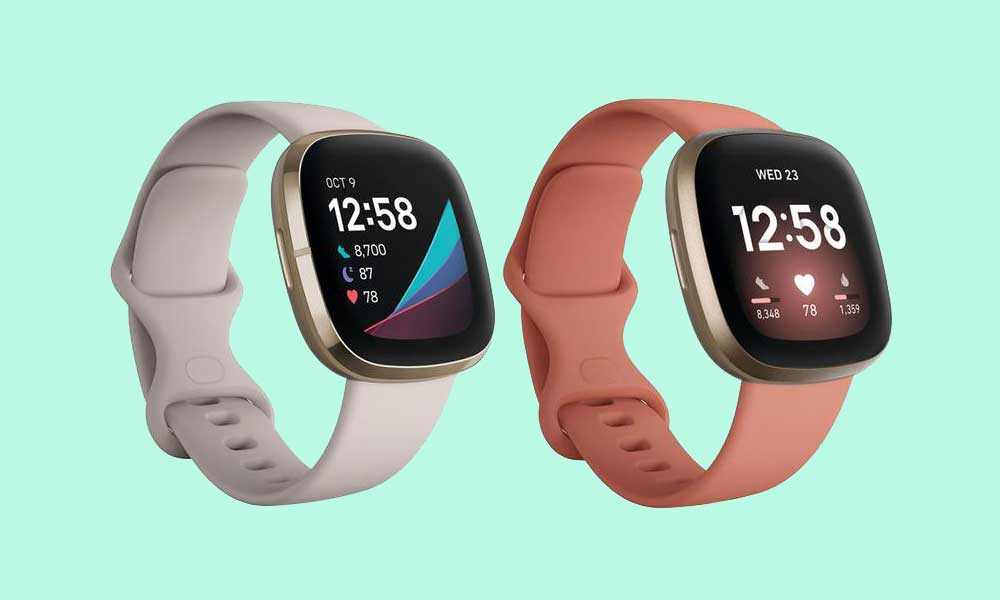 Fix: Fitbit Versa or Sense Not Connecting to WiFi Network
So, you should keep in mind that your router supports the 2.4Ghz band Wi-Fi network and you're trying to connect your Fitbit Sense or Versa with 2.4Ghz Wi-Fi only. Now, without wasting any more time, let's jump into the guide below.
1. Check your Wi-Fi Network
First of all, you should check whether the Wi-Fi network is working properly on other devices or not. If the Wi-Fi is working well then make sure to confirm the Wi-Fi network type first because the Fitbit smartwatch can only connect to open, WEP, WPA Personal, and WPA2 personal Wi-Fi networks.
It doesn't support 5GHz Wi-Fi Band, Wi-Fi 802.11ac, WPA Enterprise, or Public Wi-Fi networks that require logins, subscriptions, or profiles.
Note: You can connect your Fitbit smartwatch to a personal hotspot by using your mobile phone and mobile data if you want to cross-check the Wi-Fi networking issue. In that scenario, additional data charges from your mobile carrier may apply as per your usage.
2. Charge your Fitbit Smartwatch Sufficiently
Make sure to plug your Fitbit smartwatch into the wall charger and check whether it's within the range of the Wi-Fi network or not. Keep in mind that Wi-Fi won't work on your Fitbit smartwatch when the battery level is below 25% approx. So, charge the battery level sufficiently and then try again.
3. Restart your Fitbit Smartwatch and Paired Phone
Well, restarting both your smartphones and the Fitbit device will come in handy in most scenarios. Just make sure to press and hold the back (left) and down buttons for a while until you see the Fitbit logo on the screen. Then release the buttons and wait for the Fitbit watch to boot into the system completely. It can clear possible glitches or cache data issues.
4. Force Quit the Fitbit App
Another thing you can try is simply forcing closing your Fitbit application from the mobile device. For Windows, you can go to Task Manager and close the Fitbit app task manually. By force quitting the Fitbit app, you'll be able to add a Wi-Fi network in most scenarios.
5. Place your Wi-Fi Router within range
If in case, the Wi-Fi signal or range isn't showing excellent status (full) then make sure to place your Wi-Fi router within the range of your Fitbit smartwatch. If you already have a Wi-Fi Extender then you can also try using it to check for the issue.
But do keep in mind that Fitbit watches don't work well with Wi-Fi Extenders in most cases. So, don't bother to buy a Wi-Fi Extender only for your Fitbit watch (if you're planning so). This should gonna help you to resolve the Fitbit Versa or Sense Not Connecting to WiFi Network issue.
6. Delete and Pair Fitbit Smartwatch again
Try removing your Fitbit smartwatch from the list of Bluetooth devices on your phone or just unpair or disconnect the Fitbit device. Re-connecting or re-pairing your Fitbit watch to your phone will do the job easier for you to connect to a Wi-Fi network whatsoever. To do so:
Go to Settings on your phone > Select Bluetooth > Choose the Fitbit watch from the list of paired Bluetooth devices.
Then select Forget Device and confirm the task. This will simply remove the watch from your paired Bluetooth list on the handset.
Now, go back to the Fitbit app > Try re-pairing the watch again and then try to add a Wi-Fi network.
Note: You'll have to set up notification syncing again with your watch after unpairing your Fitbit watch from your phone.
7. Check if your Wi-Fi Network is Hidden
If your Wi-Fi network is hidden then it may not appear in the list of available networks under Wi-Fi Settings in the Fitbit app. You should manually add the Wi-Fi network in the Fitbit app by following the steps below according to your device.
For Android:
Open the Fitbit app > Tap on the Today tab then the Fitbit logo.
Tap on your profile picture > Tap on your watch tile.
Select Wi-Fi Settings > Tap on the 3 dots icon from the top right corner.
Then Add Network manually > Enter the network name (SSID) and security type.
Connect to the network and you're done.
For iOS:
Open the Fitbit app > Tap on the Today tab > Then tap on the Fitbit logo.
Tap on your profile picture > Tap on your watch tile.
Select Wi-Fi Settings > Manually Add a network under Networks.
Enter the network name and security type.
You're good to go.
For Windows PC:
Open the Fitbit app dashboard > Tap on the Account icon.
Tap on your watch tile > Tap on Wi-Fi Settings.
Under Networks, you'll find the option to manually add a network.
Enter the network name and security type.
Connect to the Wi-Fi network and enjoy!
8. Reinstall the Fitbit App
Make sure to simply uninstall the Fitbit app from your mobile or Windows computer and then reinstall it from the respective official store. For Android, you can head over to Google Play Store app. For iPhone, go to the Apple App Store app, and Microsoft Store app for Windows.
9. Factory Reset your Fitbit Smartwatch
If none of the methods worked for you then try performing the factory reset of your Fitbit smartwatch by following the steps below. It'll definitely fix any potential glitch or cache data issue from the smartwatch.
Go to the Settings app on your Fitbit device.
Tap on About > Select Factory Reset.
Confirm the task and wait for it to complete the reset process.
Once done, your smartwatch will reboot into the system again.
Finally, connect to the Wi-Fi network and check for the issue.
That's it, guys. We assume this guide was helpful to you. For further queries, you can comment below.