Apple released the iOS 13.4 Beta 1 for iPhone and iTouch alongside introducing the iPadOS 13.4 Beta 1 for iPad. Where some iPhone users start reporting the battery draining issue after updating their iPhone or iPad device. However, the battery draining problem isn't reported on the latest iPhone and iPad devices. Obviously, the latest operating system designed for the latest iPhone but rolling out the update might cause some problems initially devices, especially in beta for iPadOS 13.4 Beta 1.
If you were wondering why your device battery was dying so early and thinking about battery replacement, so before you visit the store or customer service center, you can try some of the tips that might help you to save more battery on your iOS 13.4 Beta 1 device. Today, We are going to share some of the tricks that you can tweak to fix and improve the battery life of your smartphone.
Changing some minor settings can give you maximum optimization for your iPhone device. Even these tips are going to most worth the iPhone 6S running iOS 13.4 Beta 1. Not to mention, Improving the battery life of your smartphone remains the top priority for every user doesn't matter if you have an iPad or iPhone.
Noteworthy:
iPhone latest device such as the iPhone 11, iPhone 11 Pro, and iPhone 11 Pro equipped with the most massive battery used in any iPhone device. Meanwhile, it delivers the highest capacity device and highly optimization. Some setting is newer to the iOS 13 suggesting new features, and If you have older iOS feature, then you might don't find on your device. But still, the latest iPhone device comes with the industry lowest fast charging as the device price charged.
Pro Tips: How can you save your smartphone battery on iPhone devices?
First thing first, we have some of the great apps that you can use on your iPhone device running on iOS 13. Even those apps also work for some older iPhone devices with iOS 12 or earlier.
This article was most useful for the iPhone 5S, iPhone 6, iPhone 6s, iPhone 7, iPhone 8, and iPhone X, iPhone XS, iPhone 11, and iPhone 11 Pro.
Little Tweak in a Setting
Apple iOS 13 and iPadOS 13 comes with a battery health status, and it will help you to check the battery and suggest you make some changes on your device.
Open the "Setting app" on your device.
Now, Scroll a bit and find out the "battery."
Tap on "Battery" and Choose the "Battery Health."
Here your device recommended some minor changes that are going to improve your battery.
Kindly, Select that suggestion and make those changes in the setting to changes.
Note: if there is no recommendation, This means your device doesn't require any kind of tweaking. However, There were some small changes that you should consider because apart from setting some small changes you can make on your iPhone.
Enable on Auto-Brightness and Dim your Screen Light.
Apple allows you to changes the Auto-Brightness setting But with the iOS 13 and iPad, its more complicated means, not an easy way to do Turn On/off Auto-Brightness.
Dim your Display light
You can also change the Brightness setting from Quick Settings, and It seems quite handy for some scenarios.
Starting with open your device "Control Center."
(If you own an iPhone 8 or earlier than Swipe-up from the bottom of your device, but if you have iPhone X or later than Swipe-down from the upper-right corner of the device.)
Enable the Auto-Brightness
Enable the Auto-Brightness
You can't every single time adjust your Screen light from the control center, and There is an Automated function called Auto-Brightness. This feature uses the Sensor and set the device display accordingly based on the surrounding.
For this, Open the "Setting app" on your iPhone or iPad.
Find the "General" and click on "General."
Now, Choose "Accessibility."
Scroll and Tap on "Display & Text Size."
Here you will find the Toggle for "Auto-Brightness."
Toggle it to Turn ON/OFF.
(We recommended you to Turn on so you can experience the better battery life and battery extended for a long duration.)
That is, You will start noticing extend battery life on your device.,
Disable the Raise to Wake up
This feature comes with an iOS 13.0, and If you have an older version, then it doesn't become available on your device. This feature affects your device a lot because its actively function using your device gravity sensor.
This means every single time you take up or move your device, the screen of the device active instantly. So turning off this feature might increase your battery life.
You can Disable this feature from the setting, So open the "Setting" app on your iPhone or iPad device.
Then, Scroll down and find the "Display & Brightness."
Choose the "Display & Brightness" and look for the "Raise to Wake."
It is a toggle. Please turn it off, That's it.
Update your device Apps.
Sometimes apps come with some minor issues such as Battery draining, and In this case, it starts using unnecessary resources even when apps are not in use. So, It is always recommended updating apps because the latest app comes with a patch fixes the problems. Whereas, you should check for the apps that need an updated version.
We always recommend you to download and update from App store, Open the "App Store" app on your device.
Then choose the "Account" icon.
(Which placed on the upper-right corner of the display.)
Now, There you will find all the apps there update version available to download.
In this case, Tap on "update all" because we didn't know which app comes with a battery drain issue.
(If you know particular app then update a single app, If you can't update your entire app.)
That's it, Tap on "Done" placed on the top-right corner of the screen.
Delete Unnecessary Widget from your Home screen.
Apps that available on your device offer a different kind of widget, but sometimes there is a cache. These widgets continuously using device resources such as weather actively refresh to get an active update about the weather on your Home screen.
It is also important to update apps because the widget also includes in it. Moreover, the widget can be accessed from the man lock screen. Here you have to swipe right from the left middle corner of the device. Then, choose the Today view from the home screen and Swipe-right to reaccess the Home screen.
To remove a widget, you have to Tap "Edit" on the

Today View screen.


(If you are on the Lock screen, then you need to unlock your device to make some changes.)
Then, click "-" to remove and 3-Line dot adjust the position.
(The red circlet next to the Widget name is an option to remove the widget.)
That's it, and You have to remove all those unnecessary widgets that you don't require longer.
Restart your iPhone
There were two different types of iPhones available in the market, the Latest device without the Home button and some with the Home button. Both were having a different method to restart your iPhone. Restarting your device doesn't help you much with battery draining issue, but it was definitely adding worth by delivering a little boost across system performance in iPadOS 13.4 Beta 1 and iOS 13.4 Beta 1.
Kindly hold the Side power button placed on the right side and press volume up or volume down button.
Then the power off slider appears on the display of a device,
Then, Simply Drag the slider to turn off your iPhone.
It takes a couple of minutes to turn off your device successfully. Don't interfere in between Restarting.
That's it! then press the side button again until the Apple logo appears on your device start restarting.
It is quite similar steps. Here hold down the side button of your device.
Then slider appears, Drag the slider toward power off.
Then wait for a Sec, and then again hold the Top or Side button of your device.
Hold it until the Apple logo appears and release it, That's it.
Disable Background App refresh on iOS 13.4 Beta 1
Look, if your device continuously using the device resource, then it is considered that your device loss the battery faster. So, Turning off the refresh background application helps you to save loading time and extend battery.
First, open the "Setting" app on your device.
Now, Tap on the "General" option under the setting.
Find and Select the "Background App Refresh" setting.
Then, Tap on the "Background App refresh" and select the "Off."
That's it, and It resists apps from continuously updating in the background, but still, it runs during your usage.
Disable Real-Time location on iOS 13.4 Beta 1
Apple device having a real-time location service, Where mostly it uses the GPS and with the use it requires and consumes more battery than unusual. So it is generic that your device should use the Location service when it requires. Likely, This is because not every single app needs to track your location so you can switch the location setting to while using the app. Additionally, iPadOS 13.4 Beta 1 and iOS 13.4 Beta 1 were having only a few apps that required location service every time. You can turn off whether you can choose only use while opening or using an app.
Open the "Setting" app on your device.
Then, head over to the "Privacy" option under setting app.
Choose the "Location service," Where all the location access option appear that was access by an app.
Select the app, and All trails appear there.
Then switch to "Never," and That's it.
Enable the iPhone Low Power Mode to save more battery
This is one of the most common things that you can use, Where you have to turn on the Low power mode. It restricts some of the features and runs your device on an optimization stage. Maybe you notice, When your device runs low in the battery, it turns on the Low battery mode automatically to save more battery.
Pro Tips for fix battery draining
You can ask for Low Power Mode to Siri; ask your Sir by saying, "Siri, Turn on Low Power Mode."
Open the "Setting app" on your iPhone or iPad device.
Then, Scroll down and Choose "Battery."
Here the "Low Power Mode" toggle appears.
Turn on by toggling, and This reduced the background activity of your device.
Bonus Tip for fix battery draining
You can also enable this feature directly from the Control Centre, but before that, you need to add low power mode on your Control center. So you have to open the Control center merely. To add, you should go to setting and head over to the Control center," then you have to select the "Customized Controls" and add the Low Power mode.
To open it on iPhone without Home button, swipe down from the upper right corner of the display, and you have the home button, then swipe up from the bottom running iPadOS 13.4 Beta 1 or iOS 13.4 Beta 1. Further, you can enable and disable the Lowe power based on your preference.
Reduce the Motion blur to reduce battery draining
It is a small detail, but it matters most because the device you are using having different elements in the UI. That consumes power while just back, Going, or doing any activity, Where the UI include the animation effect. If you replaced those animations with simple zoom out and transition, reduce the load, and consume less power. If you want to know the Reduce motion blue and important, you can follow the guide, Reduce or Stop Screen Motion Animations on your iPhone and iPad.
You are starting with opening the "Setting app" on your iPhone and iPad device.
Then, select the "Accessibility" and find the "Motion."
Choose the "Motion" menu, and there the Reduce motion appears.
Toggle it to enable the "Reduce Motion.
You can also toggle the "Auto-Play Message Effects" and "Auto-Play Video preview" alongside "Reduce motion."
That's it, and After it, your device consumes less power because it reduces the full-screen animation effects.
Use Cellular instead of Wi-Fi, Turn on Aeroplane during weak cellular network reception.
If you don't have a reliable or stable network connection than your device continuously sending and receive require from the nearest tower that your device connected to until it gets the best network. So, To prevent your battery life, you can enable the airplane mode during poor cellular connection reception. Even it worth fro the weak Wi-Fi connectivity. Furthermore, you can enable the Aeroplane mode directly from the Control Center.
Use Dark mode to Reduce battery consumption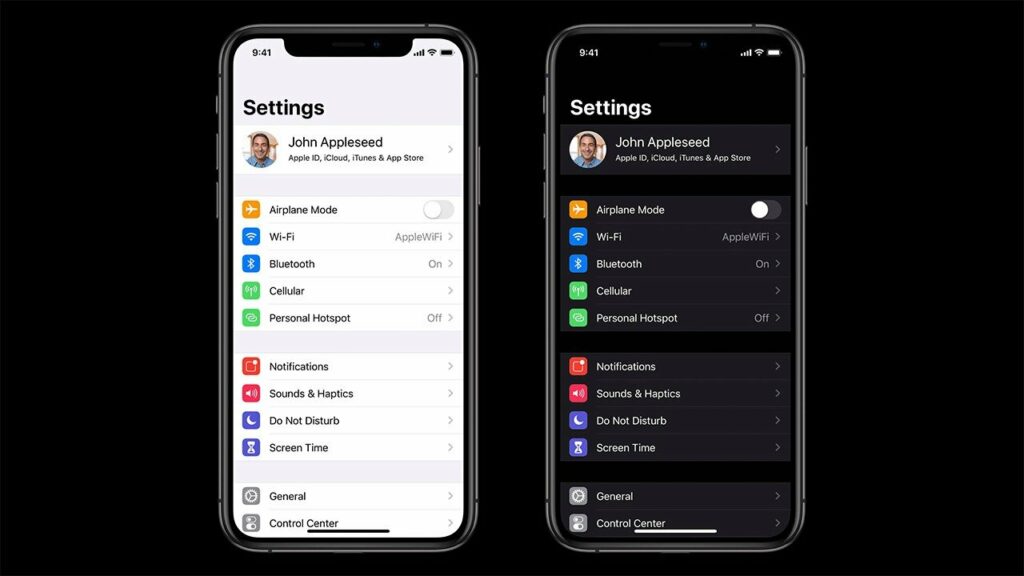 This is one of the important and perfect uses of OLED Display, Latest device running on iOS 13, and iPadOS 13 coms with dark mode.
First, Oen the "Setting" app on your iPad.
Then, Find the "Display & Brightness" from the setting.
Head over to "Display& Brightness and Find the "Dark" in the Appearance section.
There you will find the "Dark" and then choose the "Dark" to enable the dark mode on your iPad or iPhone device.
(Even you can schedule the automatic dark mode based on your preferences.)
That's it, and You can also enable the dark mode from the control center.
Enable Dark Appearne from Control Centre on iOS 13.4 Beta 1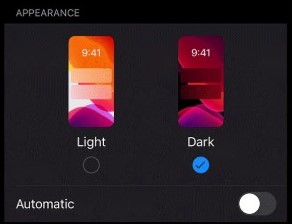 It is also done the same thing but in a different way.
Open Control panel of your device.
(Swipe down from upper right if you own a device without the home button, But Swipe up if you own a device with Home button.)
Then, Tap and hold the brightness control option.
Now, a mall setting window, you will find an "Appearance Light."
There you have to press the "Appearance Dark button," and initially, the Dark theme applied.
That's it. Enjoy.
Worth mention, If you feel your iPadOS 13.4 Beta 1 or iOS 13.4 Beta 1 device is slow and want to speed up. You can follow this guide to increase the speed of your iPhone or iPad device running iOS 13 and iPadOS 13.
Hopefully, We believe this article remains helpful for you, and you have resolved the battery draining issue on your smartphone. Let us know your experience and if you use any other method to prevent your battery from battery draining. We like to know, and if there any queries, Share with us in the comment section down below.