When players, for the first time, run Fortnite, they will notice that there are already characters assigned for them. At present, this is how Fornite works. Each time a player logs into a game or leaves the battle, they are assigned a new character. Players may get assigned with a male or a female character, and you cannot change it through the main lobby.
As with most survival games that offer multiple player character customizations that are based on the initial character made. Fortnite, however, takes things differently. This guide is for players who wish to know how to change the gender (MALE and FEMALE) of their character to avoid the character randomization.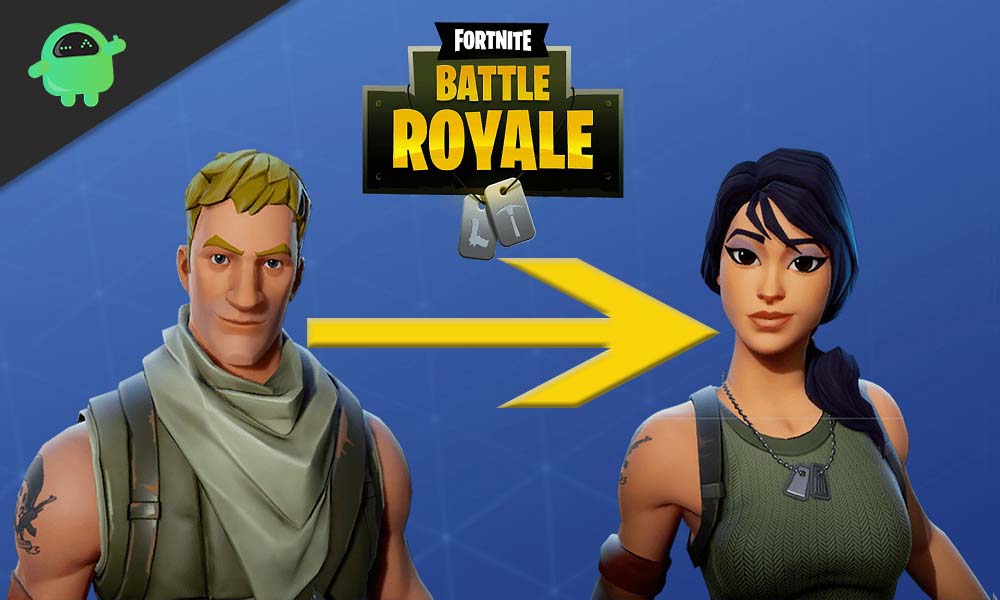 How to Change Gender in Fortnite (Male and Female)
This only applies to players who have not purchased a battle pass or any type of character skin from the shop. Fornite will randomly assign any one of the eight default characters that are available to the player. The character roster includes four male and four female characters. This means that there is a 50% chance of getting the opposite gender for each new game.
The only other way to beat the character randomization in Fornite is through the game's character skins. Newcomers to Fortnite who do not have any idea about the skins or where to get them might think to head over to the cash-store to purchase them. Unfortunately, that is wrong!
It is recommended for all players to get their hands on the Starter Pack, Battle Pass, or the Battle Bundle.
Open the main menu of Fornite and navigate to the 'Locker' section. It is situated adjacent to the item shop, and it has a small hanger icon.
Select the current character by tapping on it. Players will notice a skin board selection is available.
Here, players can change the skins of their characters from their purchased skin or the ones earned throughout the game. Once the skin is selected, tap on the character and save it!
For players who wish to purchase more skins for their characters can do so by heading to the Item shop. Get your V-Bucks in hand!
Skins in Fortnite
Players who visit the Item shop will notice that a new character skin costs almost 800 V-Bucks, whereas the Battle Pass costs 950 V-Bucks. Even though the price difference between the two is negligible. The difference in rewards and benefits are much higher for the Battle Pass in Fortnite, such as additional skins, emotes, XP boosts, and other new challenges.
So don't purchase a new skin right away from the start! The Battle Pass at 950 V-Bucks is a much smarter choice! There is also a Starter Pack available that costs merely half of the Battle Pass, but it does not have many useful benefits.
Also, players who have purchased the Battle Pass once during any season can progress through its levels to earn more V-Bucks that can be saved for a future purchase. You can use the V-Bucks to purchase the next Battle Pass rather than coughing out real money. Keep in mind, to enable in-app purchase settings in Fornite in order to access the Item Shop.
And there you have it! That's all you need to know on how to change gender in Fortnite. We hope this guide helped you. If you liked this, we have more guides on Games, iPhone Tips and Tricks, PC tips and tricks, and Android Tips and Tricks do check them out. We also recommend you to participate in our $150 giveaway contest by subscribing to our YouTube Channel. Feel free to leave any feedback or queries, down below with your name and e-mail ID. Happy Gaming.