Party Animals is a multiplayer physics-based brawler/party game developed by Recreate Games and published by Source Technology. Released on September 20, 2023, for Microsoft Windows, Xbox One, and Xbox Series X/S, the game unfortunately didn't have a smooth start for all. Numerous players have reported that "Party Animals" tend to be stuck on their PCs' loading screens, causing considerable frustration.
If you're experiencing challenges launching or playing Party Animals, the issue might be with your computer. Fortunately, we've outlined several potential solutions to address the game's loading screen freeze.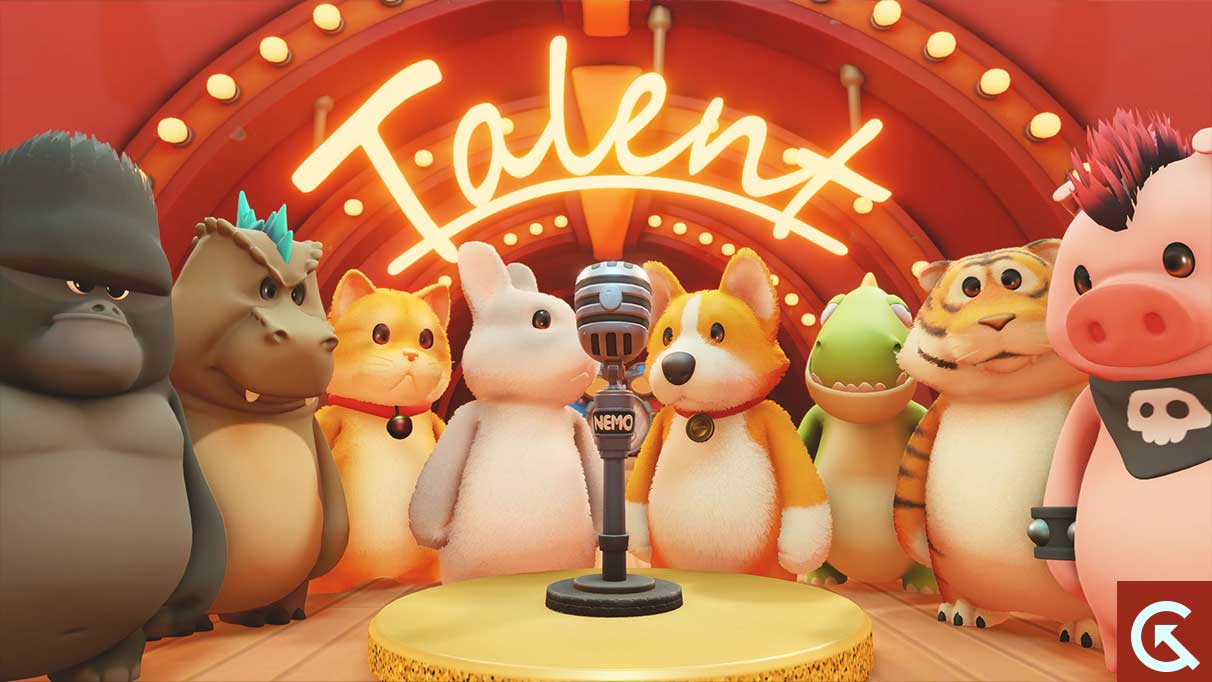 Fix: Party Animals Stuck on the loading screen
Check out the following troubleshooting methods below to easily resolve such an issue on your Windows computer. So, without further ado, let's jump into the guide below.
1. Check-out System Requirements
Check out the system requirements before jumping to any conclusion whatsoever. If in case, your computer configuration isn't compatible enough, you may find issues with the game launching and gameplay.
Minimum Requirements:
Requires a 64-bit processor and operating system
OS: Windows 10, 64-bit / Windows 11, 64-bit
Processor: Intel Core i5 / AMD equivalent
Memory: 8 GB RAM
Graphics: NVIDIA GTX 750-Ti / AMD RX 550, 2GB VRam
DirectX: Version 11
Network: Broadband Internet connection
Storage: 8 GB available space
Recommended Requirements:
Requires a 64-bit processor and operating system
OS: Windows 10, 64-bit / Windows 11, 64-bit
Processor: Intel Core i5 7500K / AMD equivalent
Memory: 16 GB RAM
Graphics: NVIDIA GTX 1060 / AMD RX 580, 4GB VRam
DirectX: Version 11
Network: Broadband Internet connection
Storage: 8 GB available space
2. Increase Virtual RAM
Virtual memory is a combination of your computer's RAM and a reserved portion of your hard drive, acting as an extended RAM. If you find yourself running low on RAM and the default virtual memory size isn't sufficient, consider adjusting it manually by following these steps:
Access Advanced System Settings:

Press the Windows key and type "advanced system settings."
Select "View advanced system settings."

Adjust Virtual Memory:

Click on "Settings" and navigate to the "Advanced" tab.
Choose "Change."
Deselect "Automatically manage paging file size for all drives."
Highlight your C: drive (or where Windows is installed).
Opt for "Custom size" and input "4096" in both the "Initial size (MB)" and "Maximum size (MB)" fields.

Recommendation:

As a rule of thumb, it's often recommended to set the virtual memory to be about three times the size of your current RAM. Remember, 1GB is equivalent to 1024MB.

Save and Restart:

Click "Set" followed by "OK" to confirm the changes.
Reboot your computer and then launch your game.
This adjustment can help in optimizing the performance of applications and games like "Party Animals."
3. Properly Place the Storage and RAM in the slot
Physical components like storage drives and RAM can sometimes be the cause of game malfunctions, especially if they aren't properly seated in their respective slots. By following these steps, you can reseat these components and potentially fix the loading screen issue in "Party Animals."
Safety First:

Before opening the CPU cabinet, ensure your PC is turned off and unplugged from the electrical outlet.
Ground yourself to prevent static electricity by touching a metal part of the case.

Open the Side Panel:

Carefully remove the side panel of your CPU cabinet to access the internal components.

Unplug and Clean:

Gently detach the HDD/SSD and RAM modules from their slots.
Use a soft brush or compressed air to clear any dust or debris from the slots and the components.

Reseat Components:

Carefully place the HDD/SSD and RAM modules back into their respective slots, ensuring they are seated securely.

Reassemble and Test:

Replace the side panel of the CPU cabinet.
Power on your PC and launch "Party Animals" to see if the issue persists.
Properly seating your components can enhance the performance and stability of your system, potentially resolving issues like games getting stuck on loading screens.
4. Update GPU Drivers
Ensuring your graphics driver is up-to-date can resolve many game-related issues. An outdated GPU driver can not only degrade the visual quality of your games but also prevent your PC from achieving optimal performance due to graphical conflicts. Here's a streamlined guide to updating your GPU driver:
Access Device Manager:

Press Win + X to bring up the Quick Access Menu.
Select "Device Manager."

Locate Your Graphics Card:

Expand the "Display adapters" section.
Right-click on your active or primary graphics card.

Update the Driver:

Choose "Update driver."
Opt for "Search automatically for drivers." This will check, download, and install any available updates for your GPU.

Restart Your PC:

Once the updates are installed, reboot your computer for the changes to take effect.

Manual Update:

If no updates are found, or you want to ensure you have the latest driver, visit the official website of your graphics card manufacturer. Search for your specific GPU model and download the latest driver tailored for it. Ensure you follow the manufacturer's installation instructions.
Keeping your GPU driver updated maximizes the chances of smooth gameplay and reduces potential conflicts. I hope this guide will resolve the Party Animals stuck on the loading screen issue. If not, then follow the next step.
5. Close Unnecessary Background Tasks
Another thing you can do is simply close unnecessary background tasks on your PC to ensure there is no additional consumption of system resources happening in the background. To clear out background tasks:
Press the Ctrl + Shift + Esc keys to open Task Manager.
Click on the Processes tab > Select the task you want to close.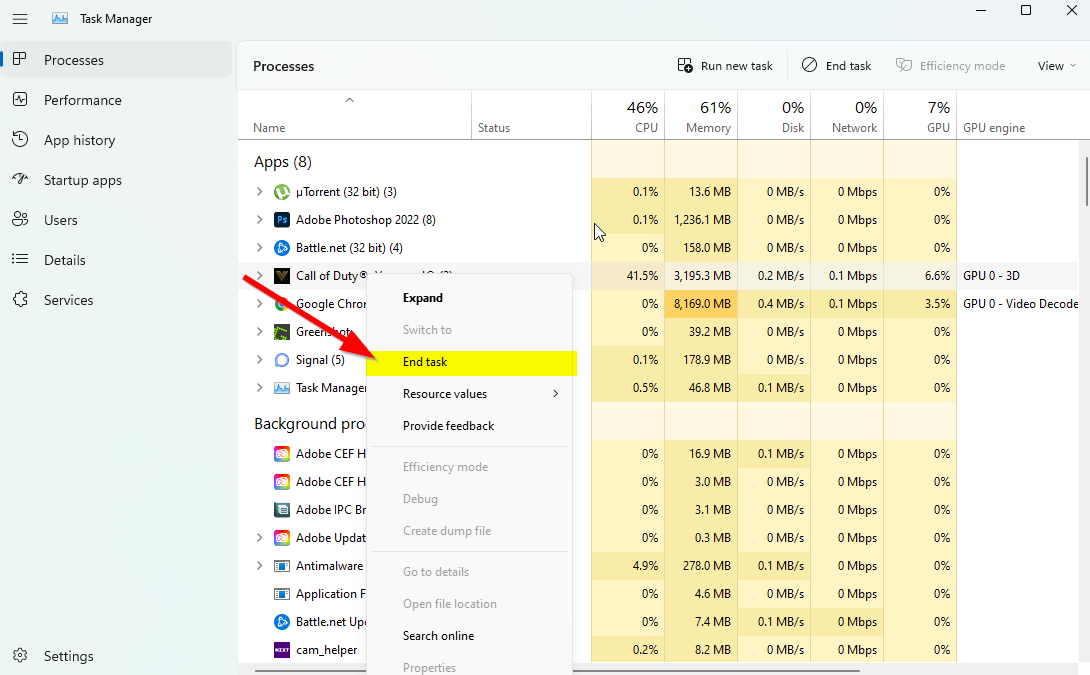 Once selected, click on End Task. Make sure to do the steps for each task individually.
Once done, restart your computer to change effects immediately.
6. Update Party Animals
If you haven't updated your Party Animals game for a while, then make sure to follow the steps below to check for updates and install the latest patch (if available). To do this:
Open the Steam client > Go to Library > Click on Party Animals from the left pane.
It'll automatically search for the available update. If there is an update available, make sure to click on Update.
Installing the update > Close the Steam client may take some time.
Finally, reboot your PC to apply changes and launch the game again.
7. Check for Windows Updates
The chances are high that your Windows OS build becomes outdated enough or corrupted. If you also feel the same, follow the steps below to check for Windows updates. If the update is available, then just install it. The latest software updates always offer bug fixes and improvements. To do this:
Press Windows + I keys to open up the Windows Settings menu.
Next, click on Update & Security > Select Check for updates under the Windows Update section.
If there is a feature update available, select Download and install.
Wait for some time until the update gets completed.
Finally, reboot your PC to apply changes immediately.
8. Try Disabling Overlay Apps
A couple of popular apps have their overlay program that can eventually run in the background and cause gaming performance or even launching issues. You should turn them off to fix the issue by following the steps below:
Launch the Discord app > Click on the gear icon at the bottom.
Click on Overlay under App Settings > Turn on the Enable in-game overlay.
Click on the Games tab > Select Party Animals.
Finally, turn off the Enable in-game overlay toggle.
Make sure to reboot your PC to apply changes.
Press Windows + I keys to open Windows Settings.
Click on Gaming > Go to Game Bar > Turn off Record game clips, screenshots, and broadcast using the Game bar option.
If, in case, you're unable to find out the Game Bar option, search for it from the Windows Settings menu.
Disable Nvidia GeForce Experience Overlay
Launch the Nvidia GeForce Experience app > Head over to Settings.
Click on the General tab > Disable the In-Game Overlay option.
Finally, restart the PC to apply changes and launch the Party Animals game again.
Also, remember that you should disable some other overlay apps like MSI Afterburner, Rivatuner, RGB software, or any other third-party overlay apps that always run in the background.
9. Perform a Clean Boot
Some of the apps and their services may start automatically while booting the system right away. Those apps or services will use many internet connections and system resources in that case. If you're also feeling the same, perform a clean boot on your computer to check for the issue. To do that:
Press Windows + R keys to open the Run dialog box.
Now, type msconfig and hit Enter to open System Configuration.
Go to the Services tab > Enable the Hide all Microsoft services checkbox.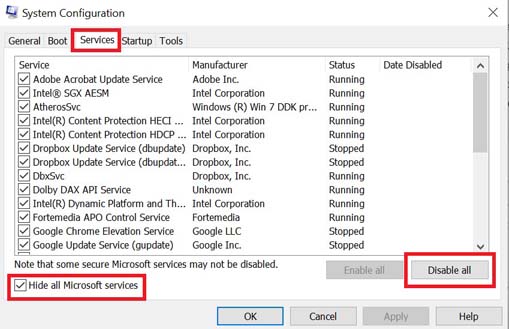 Click on Disable all > Click on Apply and then OK to save changes.
Now, go to the Startup tab > Click on Open Task Manager.
The Task Manager interface will open. Here go to the Startup tab.
Then click on the particular task which has a higher startup impact.
Once selected, click on Disable to turn them off from the startup process.
Do the same steps for each program that has a higher startup impact.
Once done, make sure to restart your computer to apply changes.
10. Verify Game Files
If, in case, there is an issue with the game files and somehow it gets corrupted or missing, then make sure to perform this method to check for the issue easily.
Launch Steam > Click on Library.
Right-click on Party Animals from the list of installed games.
Now, click on Properties > Go to Local Files.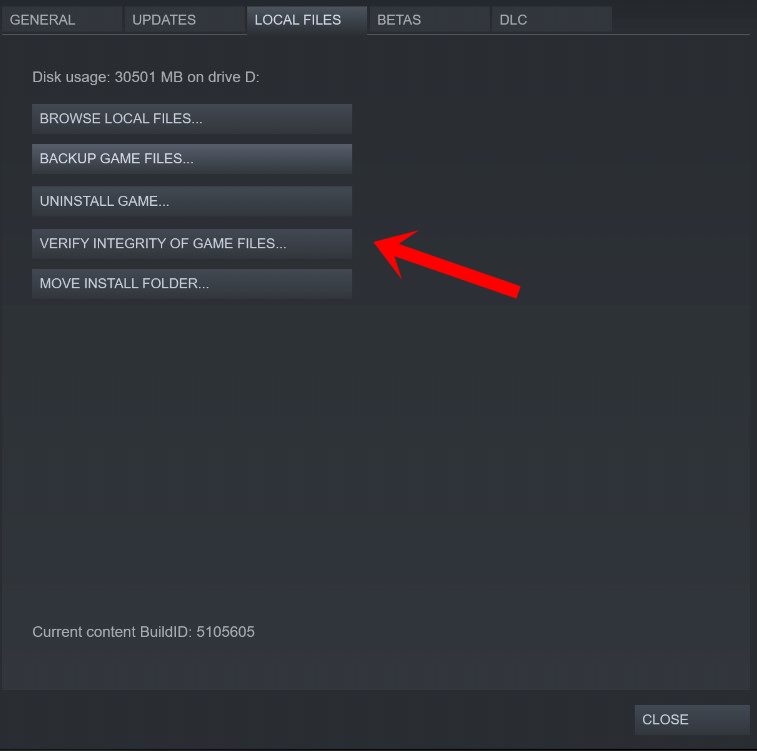 Click on Verify Integrity of Game Files.
You'll have to wait for the process until it gets completed.
Once done, restart your computer.
Conclusions:
"Party Animals" freezing on the loading screen is a hurdle many PC users have faced. While software and hardware discrepancies can often be the culprits, the good news is that there are tangible solutions at hand. By following the detailed steps we've provided, from optimizing virtual memory to ensuring the upgrading of your Windows, you can navigate and potentially resolve this pesky issue. Remember, as technology and games evolve, so do the complexities they carry. But with a little patience and the right approach, a smoother gaming experience awaits. So the next time "Party Animals" gets stuck on that loading screen, you're well-equipped to tackle the challenge head-on. Happy gaming!