Apple Mail app Services comes with simple tweaks to manage Mails at ease. Where iOS 13 and iPad OS 13 but apple mail having a collecting or bunch of emails to handle. Likely, This is because Apple mail Service includes all the accessible emails such as Gmail, Yahoo, the outlook among more. Still, Apple also comes with a Unique Prioritize mails by giving them flags based on your requirements.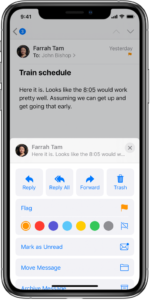 Apple introduced the flagging system to giving different levels with a recent mail app in iOS 13 and iPad 13 used in the iPhone and iPad. Not to mention, this is one of the essential features because we have to manage different third-part emails in one place. Meanwhile, customized by assigning Color Flag based on importance, although. Apple includes gestures in their Apple mail, suggesting just a Simple step.
Flag and Filter your Emails on iPhone and iPad in the Mail App.
Yes, you can flag an email directly from your inbox, Where it appears with a Prioritized in Mailbox with Flag.
How to View Flagged Mailbox?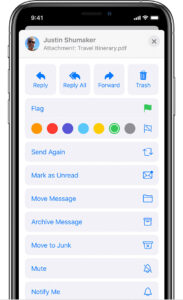 Open your "Mail" app on your iPhone or iPad.
Tap on Mailboxes.
(Placed on the top-left corner of the mail app.)
Click on Edit and then Select Flagged.
Flag Emails based on Different Colors on iPad and iPhone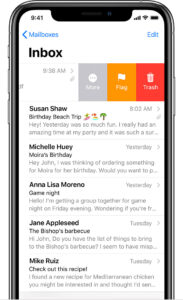 We already mentioned, this feature only works with iPadOS 13 and iOS 13 Apple Mail Service.
Open Stock "Mail" app on your device.
Now, Swipe left on the mail.
(Mail that you want to flag.)
Now, Tap on "Flag."
(The Default color is Orange, Follow further to Know how to change the color of Flag?)
Swipe Left on the Mail and Click on "More."
(More Will open additional options such as unflag, Mark as Read, Forward, and More)
You have to Choose your Color, and it Immediately appears as Flag.
(To Switch up flags follow the step again on other mail.)
Additionally, there were seven different colors to choose from, Setting multiple flags color gives a different priority level to the mails. Not to mention, It would not affect your other inbox mail. It gives you a sort of functionality that allowed users to quickly lookup flagged emails based on importance.
How to Unflag Emails in Apple Mail on iOS and iPadOS
Unflag mails are quite simple because all you have to do is, this is also entirely hand. When you didn't require that mail importance.
Open Stock "mail" on your iPad or iPhone
Swipe left on the email.
Choose the Unflag button.
That's it, and you are ready to go.
Make VIPs and Flag Emails from your VIPs

If you didn't want to individual flags emails instead apple provides a VIPs List flags.
Open Stock "Mail" app on your iPhone or iPad
Now, Open the Mail
(That you want to add in VIP List)
Now, Tap on the Name or Email address of a person.
Choose, add to VIP.
(He Will added successfully to your VIP List.)
First thing first, you need to add people to your VIP List. Whenever you receive an email, it will appear With a VIP Flags in the VIP mailbox. We would like to know, What features that you use to manage your personal and Professional emails on the Apple Mail app service. Let us know in the comment section down below.