Chuwi is a Chinese gadget making company that is quite popular for making cheap tablets and laptops. They have a good grasp over this segment and recently they came up with their another cheap yet capable laptop, the Chuwi Aerobook 2019. Moreover, the Chuwi Aerobook 2019 packs higher specifications under the hood and is a bit costly considering the company's previous-generation laptops. It is also touted as the most affordable widescreen laptop out there in the market. This laptop has been designed in such-a-way that some of the most important things what a user wants from a laptop like performance, design yet, cost-effective.
In this post, we will guide you on how to install Windows 10 on Chuwi Aerobook 2019. The already installed Windows 10 works fine and is completely free from bloatware but, you should also know the methods how to install it back if situations go south. Chuwi is a product of the successful IndieGoGo campaign, and the designers have pretty well put up a good laptop considering its price. So, without any further ado, let us get straight into the article itself;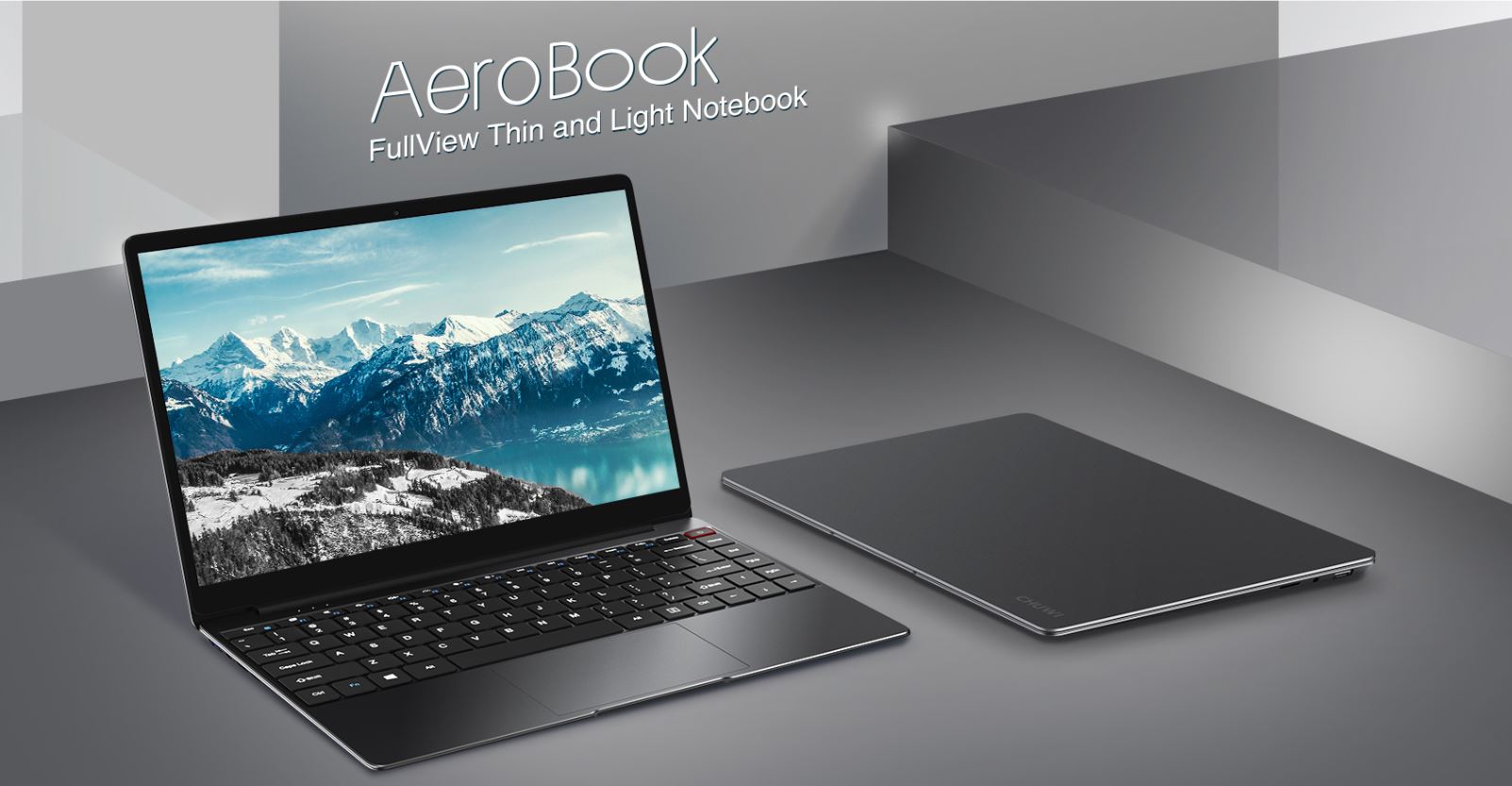 Device Overview
Chuwi is quite popular for producing cost-effective gadgets, especially laptops and the Chuwi Aerobook 2019 is no exception. However, it is more costly than its previous-gen siblings but, it gives you some powerful performance under the hood.
Talking about the design and build, the designers have given it a nice clean image with widescreen and a virtually bezel-less keyboard and trackpad that might hint to similarities with Apple's MacBook. Probably, the name, Aerobook also suggest that as well. Aerobook features a widescreen display upfront and has 80% screen-to-body ratio. This allows the laptop to accommodate a 13.3-inch display on a 12-inch frame. The Chuwi Aerobook has a Full HD display with a resolution of 1920×1080 along with an IPS LCD panel. The viewing angle is also great and it goes up to 178-degrees and also comes with an anti-glare lamination. The device weighs about 2.77 pounds and has only 8mm thickness. The device's main shell is built with Aluminum Alloy and is sandblasted to give the surface of the Aerobook, a smooth finish.
Under the hood, the device is powered by the Intel Core M3 6Y30 processor which clocks 2.20 GHz (using turbo boost), can produce enough power for everyday use and entertainment. Moreover, it is manufactured using the 14nm process and has 41% faster graphics processing than its previous generations. You get 8GB DDR3 RAM and 128GB eMMC storage capacity. The battery lasts up to 8 hours (as claimed by the company) and the 38Wh lithium-polymer battery has 3x more capacity than ordinary batteries.
The keyboard is nicely spaced out and is backlit. Besides, you get 2 USB 3.0 ports, 1 Micro HDMI, a USB Type-C port, a memory card slot, and a headphone jack as well. The Chuwi Aerobook also has dual microphones as well which can be good for users who do a lot of video calls. The front camera is 2MP and also nice for live streaming or video calls.
Warning
Reinstalling Windows will remove all your personal files, apps and drivers you installed, apps and customizations from your PC manufacturer, and changes you made in Settings. Also, note that you cannot undo the reinstallation of Windows. So make sure to make a backup of all the important files and data.
Advantages of Reinstalling Windows 10
There might be many occasions where your device is not performing like you it used to perform when you bought it from the store. In such cases, reinstalling Windows on your PC/Laptop might be a quick and easy fix to get things back to normal. Here is the list of advantages of reinstalling Windows 10;
If your PC is hit by a malware or adware and you are getting ridiculous amounts of pop-ups then, in this case, if no any software or application work, you should go ahead and reinstall Windows. This gives you a clean slate.
Your device is running very slow and is rebooting very frequently then, you should reinstall Windows and bring back everything to normal.
There are times when after a long period of time we want to change some settings of our laptop/desktop. Changing settings also many times involves tweaking the system and registry files. And accidentally if you delete those, your computer can become unstable or even not work at all. In such cases, you should reinstall Windows.
Often this is the case, where your hard drive fails or get corrupted and you are only left with the blue screen. Then, it is time to reinstall Windows.
Reinstalling Windows gives you a clean slate to work on and all the messy and faulty files or glitches that you might be facing goes away.
Steps to install Windows 10 on Chuwi Aerobook 2019
Pre-requisites
USB Drive – 16GB
Make sure the battery on your Chuwi Aerobook has more than 50% charging or more.
Instructions to install
Firstly, format the USB Drive as FAT32 format and name the drive as "WINPE".
Now, you need to copy the decompressed flash file of the Windows on your USB Drive. Make sure that there are no other folders other than the flash file folder on the USB Disk.
Once that is done, you need to plug the USB Disk into the USB port of your Aerobook and press FN+F7 buttons to start the device.
When the screen comes up with "Please select boot device", select the USB disk to start the flash automatically.
The device will start flashing Windows on your Aerobook and percentage progress is normal flashing.
When the screen shows "x:\widnows\system32>", note that the reloading process is completed.
Type "exit" and press Enter key on your keyboard to exit.
Remove the USB disk from your laptop and start the device automatically. (it will take about 10-12 minutes for the first time after flashing)
Once the system has started up, it is to enter the Factory Test mode.
You will see a Cleanup file on your desktop screen. Double click on it to enter the Language Interface first and User Mode on second starting up.
So, there you have it from my side in this post. Hope you guys liked this post and have successfully reinstalled Windows 10 on you Chuwi Aerobook 2019 laptop. Let us know in the comments below if you faced any difficulties while following the above procedures or any other issues. Until the next post…Cheers!