We don't think you never got that situation where your valuable photos got deleted by yourself accidentally or by your own will. Losing your old memories in the form of photos is quite painful. May be your iPhone/iPad/iPod get stolen or your little boy unintentionally wipe out all of your photos, what do you do at that time? The only way to get back them is to recover them.
There are a lot of scam software's who promise to recover your photos but all you get is trash. So, iOS users, don't worry, as we get some solutions for you in which you can easily recover your deleted photos from your iPhone/iPod/iPad.
4 Methods to recover your deleted photos
Here, we will show you the top 4 methods by which you can easily recover your deleted photos from iPhone, iPad or iPod. Check out all of them below.
1. Recover photos from the recently deleted folder
There is an option for the iOS users older than iOS 8 that the photos you delete is still kept in a folder named Recently Deleted.
Go to the Photos app to see the albums

Click on the album and look for a folder named recently deleted folder
These photos would last for 30 days so it means you can only recover the photos that are deleted at most 30 days earlier.
2. The iCloud Backup Method
The second method to recover your permanently deleted photos is through iCloud. The best thing for the iOS users is that the photos are continuously backed up in iCloud when you are connected to the internet. So whenever you lost your important photos, you can simply get them back from the iCloud. Pretty much easy to recover your files. Isn't it? Let's have a brief guide:
Go to your iPhone, iPod, iPad Settings > (your name) > iCloud.

Tap Photos.

Turn on iCloud Photos.
After turning that on, connect to the Wi-Fi and check your photos again.
3. Backup from iTunes
Another great method and approach is to sync all of your important data like photos, texts, voice notes, images, notes, etc. to a Mac or PC by using iTunes. It's a hassle-free and secure method to save your important files because the unfortunate is unpredictable. You can recover the deleted photos from iPhone very fast and in some easy steps.
First, connect your iPhone with the computer.

Open iTunes.

Check your device name in iTunes.

Right-click on your device and click

Restore from backup.

Select the up-to-date backup and continue.
4. Recover deleted photos without backup
So, above we have listed some impressive methods and tips you can apply to recover your deleted photos from iPhone but what if there is no backup enabled and none of your photos are synced with iCloud nor backed up in the iCloud. All the three methods have some limitations like you can only recover recently deleted photos in the 30 days trial. So it's not possible for you to recover your photos without a professional tool.
In this situation, you are secure by one of the software from iMyFone and the name is iMyFone D-Back. It's a professional software specially designed to recover the old permanently deleted photos.
Here is a guide for you to recover your permanently deleted photos from iPhone with iMyFone D-Back software.
1.Download and install
First of all, download and install the D-Back software and launch it to get the first interface. Now, select the option recovery from iOS device and click on start.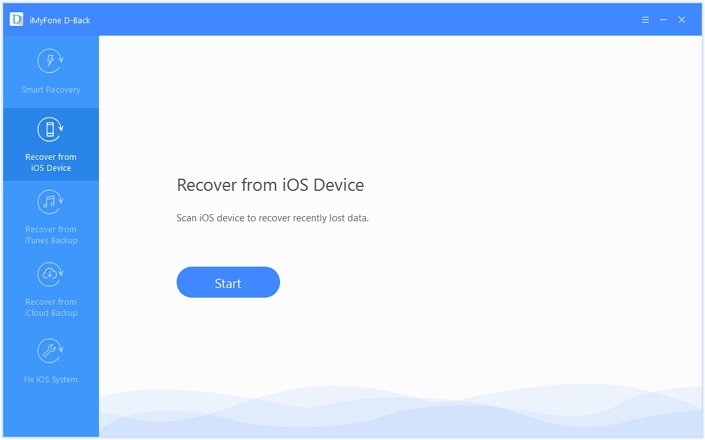 2.Connect your iPhone
Next, connect your iOS device to the PC and wait for the software to recognize your device. Click next after it recognizes your device.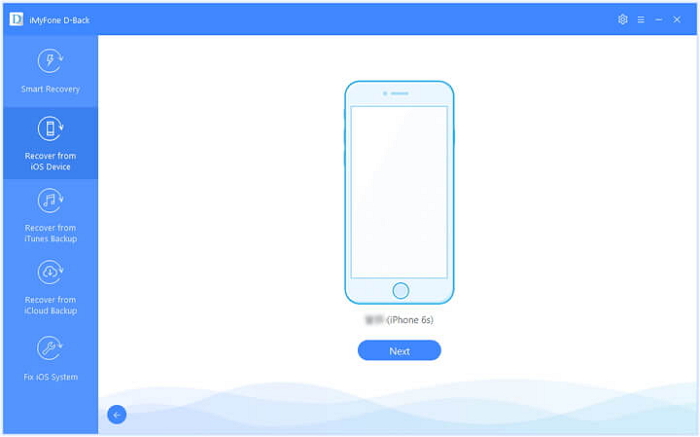 3.Select the data type you want to recover
On the next screen, you will be shown some options to select. These are the files you want to recover. If you want to recover only the photos and videos, then mark the photos and videos option and click on scan option.
4. Preview and recover the photos
The software will scan the deleted photos and after the scan is completed, you can preview all of your deleted photos there. It's up to you now which photos you want to recover. so, preview the photos and get them mark which you were looking for and click on recover option to recover the permanently deleted photos from the iPhone/iPad/iPod.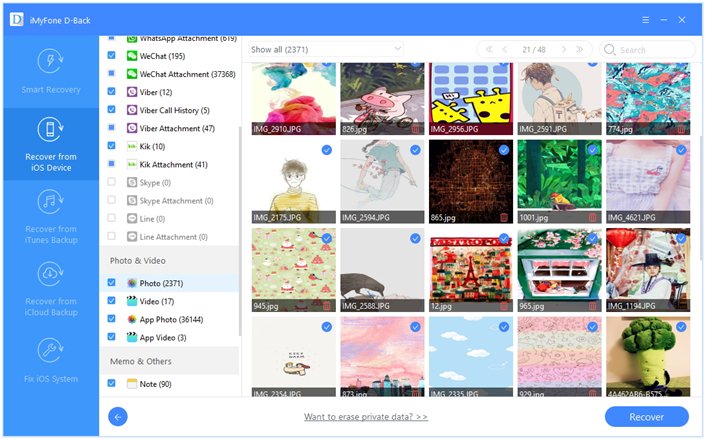 So, you have observed that how easy it is to recover your deleted photos from iMyFone D-Back software. It's just the matter of some clicks and you have your photos back. What if we tell you that iMyFone D-Back software will not only recover the photos but it can also recover your deleted text messages, conversations, videos, apps and much more. If you want to recover your deleted text messages from iPhone, then you can check a detailed guide on How to recover your deleted text messages from iPhone.
Coupon code for a huge discount
We know you are wondering this software would be a lot more expensive and you can't get this, but we have a huge discount on this software for you. The original price for this software is $49.95 but if you use the following coupon code (A24S2T) then you can get this wonderful software in just $29.95 (both Windows and Mac versions are supported). How cool it is, as it's like free to get this software is that much low price. Having software that can recover your permanently deleted photos, videos, text messages, voice notes, apps, etc. at such a low price is incredible. So what are you thinking? Get yourself protected and secure with the wonderful iMyFone D-Back software.