Huawei Mate 40 Pro came out of the box with Android 10.0 and was later upgraded to Android 11. It is powered by the Kirin 9000 5G processor. Huawei has developed its own skin called HarmonyOS that runs on Huawei Mobile Services (HMS) in the core. Now, if you're one of the Huawei Mate 40 Pro users and want to download or install HarmonyOS on your handset then you can follow this full guide.
Harmony OS and Its Features
Harmony OS is a distributed and unified operating system that has been developed by Huawei to run on its devices including mobiles, TVs, headsets, and more. Due to the multi-kernel design, the operating system selects suitable kernels for devices with diverse resources. HarmonyOS is a next-generation operating system that brings interconnection and collaboration between smart devices easily. It offers simple interaction and enhanced performance.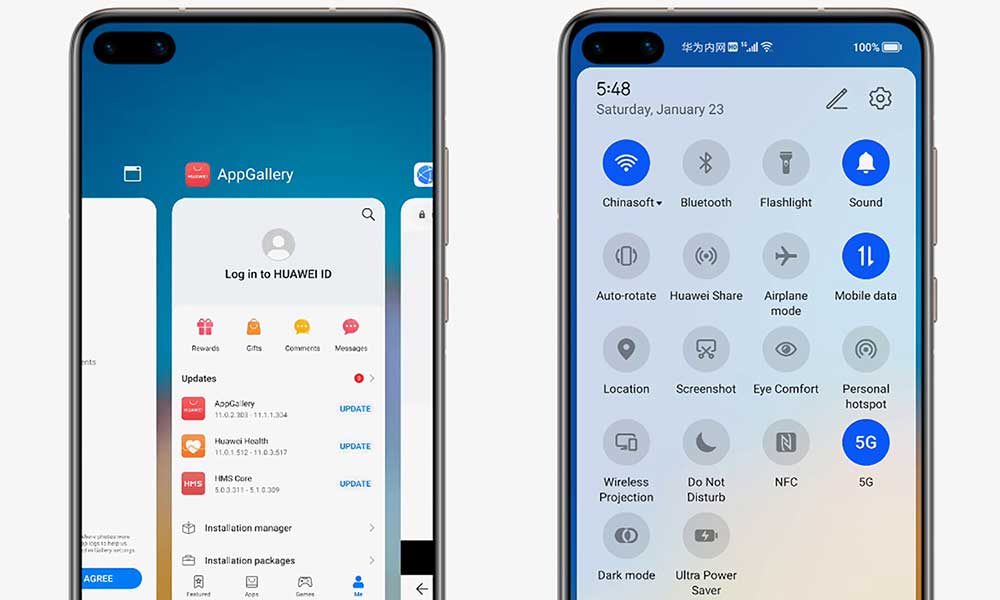 HarmonyOS (HongMeng OS) is completely different from Android and iOS because it's a microkernel-based distributed OS that can run across all platforms with a trustworthy and secure architecture. It supports seamless collaboration across devices so that app developers can easily build their apps once and then edit/update accordingly. According to the company, it has a couple of highlighted features that we've mentioned below.
Seamless Experience
Smooth Performance
Privacy and Security
All-in-One Operating System
New Home Screen
Control Panel
Service Widgets
Service Center
Smart Folder
HarmonyOS Fonts
Super Device
Huawei Share
Smart Home
Task Center
Better Performance
App Guard
Collaborative Security
Download HarmonyOS 2.0
NOH-AL10 102.0.0.170(C00E160R8P1)

NOH-AL10 102.0.0.170(C00E160R8P1)_Firmware_general_HarmonyOS 2.0.0_05017TNR.zip

Download Link
How to Install HarmonyOS 2.0 on Huawei Mate 40 Pro
It's quite easy to install the latest HarmonyOS on your Huawei Mate 40 Pro or even any Huawei device whatsoever. Just follow this guide to complete the installation process with other requirements.
Pre-Requisites:
In terms of the requirements, you'll have to simply follow a few things before proceeding.
Make sure to charge your Huawei Mate 40 Pro device sufficiently (more than 50%) to avoid occasional shutdowns during the software update process.
As the HarmonyOS is in beta form at the time of writing this article, you should backup all the important data on your device for your benefit.
Keep your device system up-to-date so that you won't gonna encounter any kind of system glitch or compatibility issues.
You'll require a faster and more stable internet connection to install the update which would be around 2.7GB in size most probably.
Read More: How to Install Google Play Store on Any Huawei HarmonyOS 2.0 device
Instructions to Install:
Now, you're ready to proceed with the HarmonyOS update installation. So, without wasting any more time, let's jump into it.
Go to the Settings menu on the device > Scroll all the way down and select System Updates.
Make sure to set the Region to China from Language. [This is important no matter which country you're living]
You should have logged into your Huawei ID on the device for sure.
Now, open the Huawei AppGallery application > Tap on Me (profile icon) at the bottom right corner.
Tap on your Huawei ID to open Account Center > Go to Settings at the bottom.
Set the Country/Region to China from here too. [Important]

It may ask you to enter the password for your provided email account. Just input the valid password to confirm.

Next, go back to the home page of the Huawei AppGallery app and search for 'My HUAWEI'.
Tap on the Support app page and make sure to update it to the latest version (if any).
Once the Support app has been updated, just reboot your Huawei Mate 40 Pro device to apply changes. [Long-press the Power button and then select Restart]
After restart, open Huawei AppGallery > If prompted, tap on Agree > Now, all the language will be shown in Chinese.
Search for the 'My HUAWEI' app which is the Support application and update it.
Wait for the app to get updated > Now, open the My HUAWEI app on the device.
Once the My HUAWEI app setup interfaces opens, tap on Next.
Next, tap on Agree > The HMS Core will start updating some additional resources or the latest version with the latest version of My HUAWEI app. So, wait for it to complete.
If it asks to change the country/region then select 'Yes' and select China from the list.
Now, tap on Get Started > As the My Huawei app interface opens, tap on the Update icon shortcut (red color).
Once the HarmonyOS page loads up, tap on Try it Now > Select your specific device model which will be listed there. [In this case, select Huawei Mate 40 Pro]
Tap on the Blue button at the bottom > Tap on the Blue button again from the bottom right side.
You'll have to select the blue button multiple times to confirm and proceed.
Tap on the Public Test Description file (in the blue button) > Select Download to grab the beta profile.
Now, the Huawei Public Beta Testing Notice page will appear > Just tap on Agree.
Once the profile has been installed, you'll see the same on the screen.
Head over to the Settings menu on the device > Scroll all the way down and select System Updates.
Tap on Software Update and the device system will start checking for the latest software update automatically.
Just tap on Download and Install > Wait for the update process to be completed as it may take some time.
Once the software update has been installed, reboot the device to apply changes.
Wait for the device to boot into the HarmonyOS system for the first that may take some time.
Finally, go through the initial setup process, and enjoy!
Conclusion
It looks like Huawei has done a great job with the system optimization and stability on HarmonyOS which is much better than the EMUI skin. Whereas the app compatibility and support on multiple devices will make it much more convenient to use seamlessly in the same ecosystem. However, the HarmonyOS build is currently available in China only and multiple device models or specific variants aren't supported right now.
It may take some time for other Huawei devices that are available globally. Still, if you're interested in using HarmonyOS then you can do that too by following this guide.
That's it, guys. We assume this guide was helpful to you. For further queries, you can comment below.