Released back in 2011, the dynamic and adventurous sandbox game from Re-Logic, Terraria, has earned a position of solid reputation among gamers in the video game community. It boasts of a dedicated fanbase and immense popularity as of late. It was initially released for Microsoft Windows, and for nine years in the future, it has sold a whopping 30 million copies by April 2020. The thoughtful nature of its campaign, its intriguing puzzles, and the integrated involvement required the players have all been acclaimed. With Re-Logic's constant efforts to deliver the best and the support the gaming community, Terraria eventually won the prestigious 2011 Indie of the Year Player Choice award on IndieDB. Today our guide will help the players to improve luck in the game.
There have been interesting new features introduced in the game with Update 1.4. One of these is "Luck," an invisible but vital stat that greatly influences many vital aspects of Terraria. If you want to maximize the number of unique item drops, merchant inventories, and damage caused in Terraria 1.4, you will have to increase your Luck. In a nutshell, Luck concerns most entities involving random number generation (RNG). We are bringing to you a guide to show you how exactly is done, and other effects this stat possesses.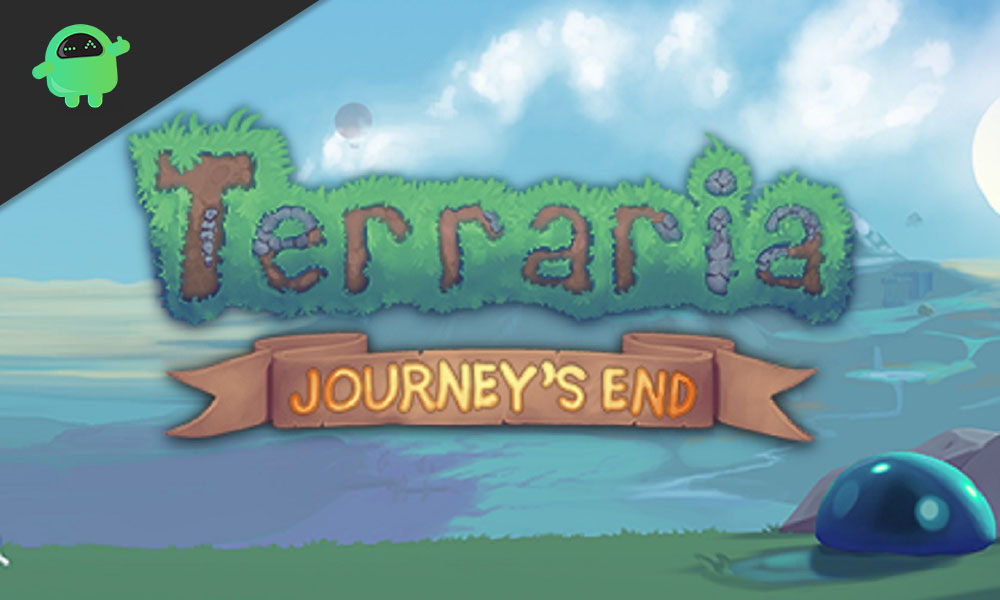 How to Improve Luck in Terraria Journey's End?
There are five distinct ways to boost Luck in Terraria 1.4, and they are as follows:
Garden Gnomes
Ladybug Luck
Luck Potions
Lantern Nights
Torch Luck
Garden Gnomes
You can increase your Luck by 0.2 by simply positioning garden gnomes nearby. Gnomes turn up on the surface of Terraria, and they turn into Garden Gnomes that will affect your Luck when they are exposed to sunlight.
Ladybug Luck
On touching a Ladybug that you release in Terraria, your Luck will increase by 0.2 for twelve minutes, and double that time for Golden Ladybugs (twenty-four minutes). Killing a regular Ladybug will lead to bad Ladybug luck for three minutes. Once again, in the case of Golden Ladybugs, this will be double (six minutes).
Luck Potions
Greater Luck Potions will add 0.3 luck, which will gradually decrease over a span of ten minutes. At the five minute mark, the luck stat changes to 0.2, and at the three-minute mark, the Luck stat changes to 0.1. Consuming a Lesser Luck Potion, Luck Potion, and Greater Luck Potion will boost Luck for three, five, and 10 minutes respectively. It is not possible to stack potions, as of now.
Lantern Nights
Lantern Night is a special event in Terraria that takes place the night after you defeat a boss. You will notice beautiful lanterns floating around in the sky, and you will receive a 0.3 boost to Luck during this time. Lantern Nights cannot take place if there is a boss active, Blood Moon, Pumpkin Moon, Frost Moon, or Moon Lord summoning.
Torch Luck
This is the fifth and last way to increase your Luck in Terraria: Journey's End: through Torches. Holding a torch also has significance, but you will have to make sure that you are using the correct ones in each biome. Here is a complete list of torches and their biomes:
Torch: Does not grant Luck
Bone Torch: All biomes except Corruption, Crimson, Desert, Hallow, Jungle, and Snow
Coral Torch: Ocean depths
Desert Torch: Desert, Underground Desert
Hallowed Torch: Hallow, Underground Hallow
Ice Torch: Snow, Underground Snow
Jungle Torch: Jungle, Underground Jungle
Corrupt Torch: Corruption, Underground Corruption
Cursed Torch: Corruption, Underground Corruption
Crimson Torch: Crimson, Underground Crimson
Ichor Torch: Crimson, Underground Crimson
Each torch will grant a maximum of 0.2 Luck, based on whether it is in your vicinity. Using torches in the wrong biomes will decrease your Luck as well, so make sure you do not make that mistake.
Significance in the gameplay
A player's damage is directly influenced by Luck in many cases. Like it was mentioned earlier, anything with a programmed random occurrence or random number generation is strongly influenced by Luck. This includes the following entities:
Material drop rates
Fishing
Unique item drops
NPC inventory
Enemy spawns
Damage output calculations
Coin drop rates
Calculating Luck
A player that has maximized their Luck has double the chance of coming across certain items, non-playable characters, and opponents, and a player that has minimized their Luck has around half the chance of coming across those very same things.
The most convenient way to determine your level of Luck is by talking to the Wizard. He will give out different dialogues depending on how Lucky you are at that moment. All of them have been listed below for your convenience.
0.75 Luck or higher
"You are overflowing with a blessing of stupendous prosperity!!"
"Excessive health and happiness gush from your very being! You are a Godsend!!"
0.5 Luck or higher
"Have you a garden of four-leaf clovers? You are bursting with essences of great fortune!"
"Serendipity smiles upon you! It is likely you shall find profit in all things!"
0.25 Luck or higher
"You are giving off positive energy, like something grand could occur at any moment."
"There are vibes of good fortune emanating from you, as though your wishes could come true."
0 Luck or higher
"I sense a speck of good karma about you, but I could be mistaken."
"There's something unusually warm about you. I'm not sure how to place it, but keep walking in that direction."
Less than 0 Luck
"The air feels dull and gloomy where you step. Be wary of ill feelings."
"Is something bothering you? Something doesn't feel quite right about you."
Less than -0.2 Luck
"Negative energy is seeping from your pores. I wouldn't take any chances today."
"Unfortunate omens hang over your head. You DID forward that letter, right?"
Less than -0.4 Luck
"I feel a terrible fate surrounding you! You should stay in bed today!"
"What manner of salt did you spill to receive such misfortune!?"
You can surely see the significance of Luck in Terraria: Journey's End. We hope our guide helps you boost this unique and useful stat to its maximum possible value in your game!
This guide was to help the players of Terraria Journeys End who want to improve their Luck. After reading our guide, they will understand the essential terms related and eventually do the same in their gameplay. GetDroidTips works seamlessly for you people day and night to offer the best iPhone Tips and Tricks, PC tips and tricks, Games and Android Tips and Tricks. So it does become your task to subscribe to our YouTube Channel. Moreover, there you will get great benefits. We are offering a $150 giveaway contest for all our subscribers who watches our videos there. Now signing off here, to prepare another best guide for you. You can also comment down below with your feedback and queries with your name and e-mail ID, and we will love to help. Good Luck!