COD: Modern Warfare is one of the greatest call of duty games since our beloved Black Ops 2. But it gains more attention from users worldwide. People can't stop themselves from playing this game. However, at GameSpot, the Warfare gets a tremendously amazing 4.3 rating out of 5. But does this first-person shooter game the best created COD game to date? There is still doubt about this because it's almost regular since users face several issues while playing the game.
At first, everything was going well for COD Warzone players, but one day a few players are started getting the install suspended error or missing data pack when trying to play the COD Modern Warfare campaign mode on consoles. There could be a couple of explanations for this error that we can discuss further in this article and try to fix it. So, let's get started with the guide.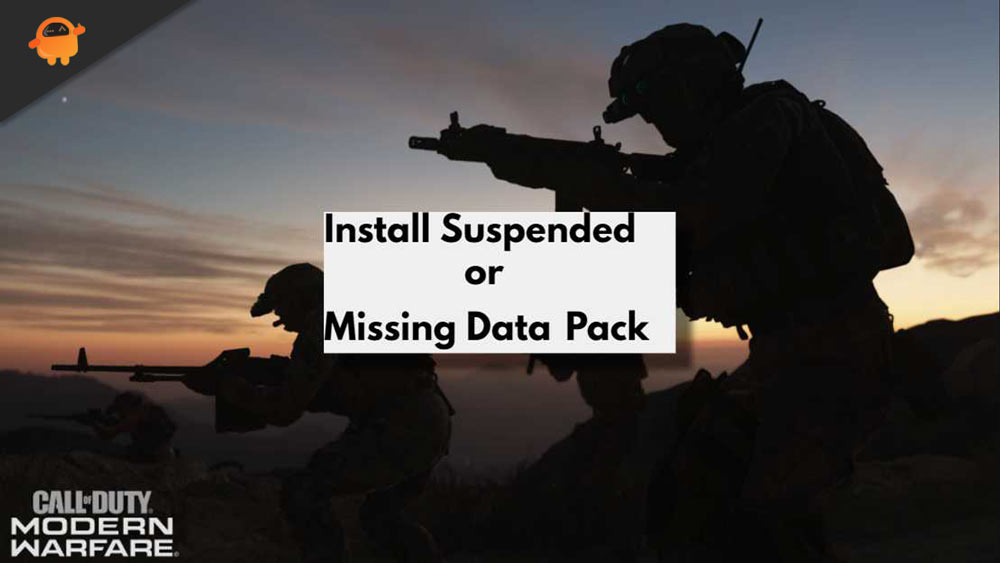 How To Install Suspended or Missing Data Pack on Modern Warfare
So, as the title sounds, the exact reason why we are here today. Therefore, follow the instructions we have discussed below to install a suspended or missing data pack. But, before we start, you need to be assured that you won the game.
Generally, most of the players are getting confused between Warzone and Warfare, and they think both game is available for free. But that's not the truth, and you need to buy the Warfare from the PlayStation Store, Xbox Store, Microsoft Store, etc. Well, if you own the game and still getting the error, then you need to download the multiplayer pack on your device manually. So, let's begin with the guide.
#1. Download

Multiplayer Pack
Suppose you are getting the install suspended error or missing data pack error; that means the multiplayer data file is missing or corrupted on your console. Therefore, you have to install them again manually. But, in case you don't know how to do it, follow the steps given below:
Initially, run the COD game and log in using your credentials.

Now, when you see the other games, such as Vanguard, Modern Warfare, etc., under the game menu.

Then, navigate to the

Games Installs

window. To do this, use the gamepad and press the

Options

button followed by the

RS

or

R1.

This key combination will be different for Xbox and other devices.

Then, locate the

Manage Installs

option. However, on the

Game Installs

window, all the different game packs that are installed on your console will appear.

Now, you have to select the multiplayer packs you want to install on your device. However, if you are getting a message that

The Store Is Currently Unavailable

, we suggest you spam the button until it lets you in.

Once you have installed the required packs, the problem should go away, and you can play and enjoy the game without any issues.
#2. Alternate Method to Install Suspended or Missing Data Pack
So, in case you find the above method a bit complicated, then you can use this alternate method as this will be much easier for you. Also, many users find this method really helpful; therefore, it is one hundred percent safe and working. So, now let's deep look at the steps that we need to follow:
Go to your console user's interface, or we say home screen. Then, locate the

Warfare

and select it.

Now, simply press the

options

button. Then, a menu will open containing many options appears; therefore, select the

Manage game and add-ons

option.

Then, select the

Call of Duty Modern Warfare,

and on the next screen, select the

Multiplayer and Special Ops Pack

by check-marking the box located in front of this option.

After that, select the

Save Changes

button to save the overall modification.
That's it. Now, just wait until the whole process gets completed. Once done, launch the game, and you'll see that the install suspended or missing data pack issue get vanished.
#3. Reinstall The Game
This is the easiest method to install a suspended or missing data pack. If you think you won't be able to perform the methods mentioned earlier. Then, it is suggested to reinstall the game on your device.
Once you do that, each file will automatically get installed on your system. So, if nothing helps, then try this out. Many users find this method really helps to fix the install suspended or missing data pack issue. Therefore, you can also try this out if you have an internet connection with an unlimited data plan.
Also Read: Fix: COD Modern Warfare Multiplayer Missing Data Pack Error
Author's View
So, that's it for today on how to install the suspended or missing data pack from Call of Duty Modern Warfare. We hope you find this guide helpful. However, for further details, comment below. Also, don't forget to check out our other latest gaming and troubleshooting guide too.