The latest iOS 15.5 / 15.6 update definitely brings plenty of improvements, fixes, and additional features but there are some bugs or glitches too. Several users have recently started reporting that they're getting the verification failed error message while trying to install and apply the software update on their iPhones. Now, if you're also one of them, you can follow this guide on How to Fix the iOS 15.5 / 15.6 Failed Verification Update Issue.
Affected users become clueless about what to do and why such an error notice is appearing to them. Well, this isn't a new issue, and it's troubling iOS users for quite some time, even before iOS 15.5 / 15.6. So, we can consider it as one of the common issues for iOS users, and there are a couple of possible workarounds available that should help you out. So, without wasting any more time, let's get into it.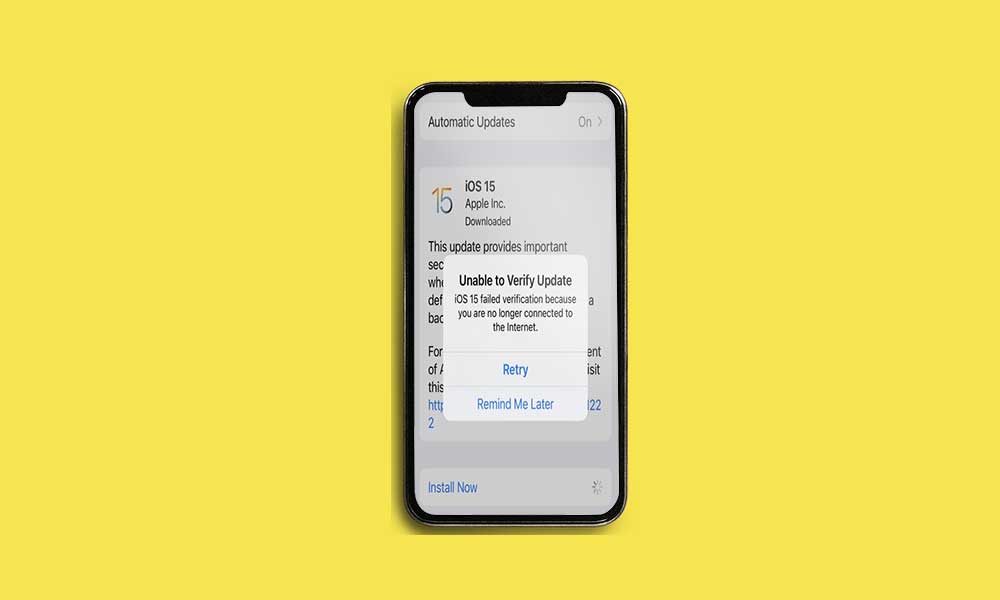 How to Fix iOS 15.5 / 15.6 Failed Verification Update Issue
To be precise, the particular error message "unable to verify update" says that "iOS 15.5 / 15.6 failed verification because you are no longer connected to the internet." Well, do not worry. Meanwhile, some of the users are really irritating because the update verification gets failed at the end which means the time and data all go in vain. Here we've mentioned avoiding such an error and successfully install the iOS 15.5 / 15.6 update on your iPhone.
1. Reboot your iPhone
Make sure to restart your iPhone before jumping to any other conclusion. Sometimes a normal reboot can fix multiple system glitches or cache data issues completely.
2. Turn Off VPN
Try turning off the VPN service on your handset if in case, you're using any third-party VPN app or directly enabled VPN from the settings menu. Just disable it and check for the issue again.
3. Cross-check Internet Connection
Make sure to cross-check your internet connection whether it's working fine or not. Whether you're using mobile data or the Wi-Fi network, try switching between them to ensure the main issue. If the internet connection is doing well then head over to the next method.
4. Delete Downloaded Update File
It may also be possible that the incomplete downloaded update file has been stored in the iPhone storage and the cache causing such an issue. It's better to manually delete the incomplete download file from the device storage to keep things running back on track again. To do so:
Open the 'Settings' app on your iPhone > Tap on 'General'.
Scroll down a bit and tap on 'iPhone Storage' > Search for 'Update'.
Now, tap on 'Update' and tap on 'Delete Update'.
Once deleted, go back to the 'General' section, and tap on 'Software Update'.
Tap on 'Download and Install' > Wait for the update to complete the installation process.
Finally, your iPhone will automatically reboot to the system again. [If prompted, allow it]
Must Read: Latest iOS 15.5 / 15.6 update causes Spotify Background Playback issues
5. Reset Network Settings
Another thing you can do is simply reset the network settings option on your iPhone to clear out any possible glitches or cache data issues that are related to the network or internet connectivity. To do that:
Open the 'Settings' app on your iPhone.
Now, tap on 'General' > Tap on 'Transfer or Reset iPhone'.
Tap on 'Reset' > Choose to 'Reset Network Settings'.
Wait for the process to be completed.
Once done, make sure to restart your iPhone to apply changes immediately.
6. Free Up Storage Space
If in case, the update verification failed error is still bothering you then make sure to free up the storage space on your iPhone so that the update file size can easily get downloaded and installed without any low storage issue. The iOS 15.5 / 15.6 update file size is around 3.2GB which is quite big as compared to other updates.
Therefore, it's always better to have enough free storage space by deleting unnecessary files, images, videos, chat backups, other files, etc from your iPhone. You can also uninstall unnecessary apps or games or duplicate media files to fix such an issue. Just head over to Settings > General > iPhone Storage > Here you'll need to delete files or apps according to your preference.
7. Check for Apple System Status
It's also worth mentioning to check the official Apple System Status page at least once to ensure there is no server downtime or service maintenance happening in the background. If there is an issue at the server-end then we'll ask you to wait for a couple of hours before retry installing the iOS 15.5 / 15.6 update again.
If there is no issue with the system status then you can jump into the last method below.
8. Update iOS via iTunes on a PC
If none of the above methods worked for you, then make sure to try checking for iOS 15.5 / 15.6 updates on your iPhone via the iTunes desktop application on your PC. Simply connect your iPhone to the computer via the lightning cable or USB Type-C cable. Once the iPhone is connected to the PC, open iTunes it'll automatically scan or detect your iPhone.
Now, from the home page of the iTunes desktop application, you'll see the 'Check for Update' button. Just click on it to do so. The iTunes app will automatically detect the available update package for your model and start downloading then installing it on your iPhone straightaway.
Note: Do not power off or unplug your iPhone during the update download or installation process via iTunes to make the update process successful at the first attempt.
That's it, guys. We assume this guide was helpful to you. For additional queries, you can comment below.