Infinix launched its all-new device Infinix Hot 9 Pro on 29 May 2020. The price of this device is 9,499, and it is available on Flipkart for sale. This is a budget phone and has good features compared to its price.
Infinix launched many good devices before, and they were great for their prices, and Infinix Hot 9 pro is just like them as this is a budget device question about its durability and safety rises. But most budget smartphones are not waterproof, so that arises a question whether the Infinix Hot 9 Pro is a waterproof device or not. We are going to give you information about it's waterproofing in this article.
The easiest and fastest way to check if a device is waterproof or not is by checking its IP rating. Different Phone testing companies around the world created an international major to provide information about various safety features like dustproof, waterproof, and other durabilities. If a device has an IP68 rating, it means it is a completely waterproof device. It is hard to get An IP68 certificate as the device has to pass various tests to get it.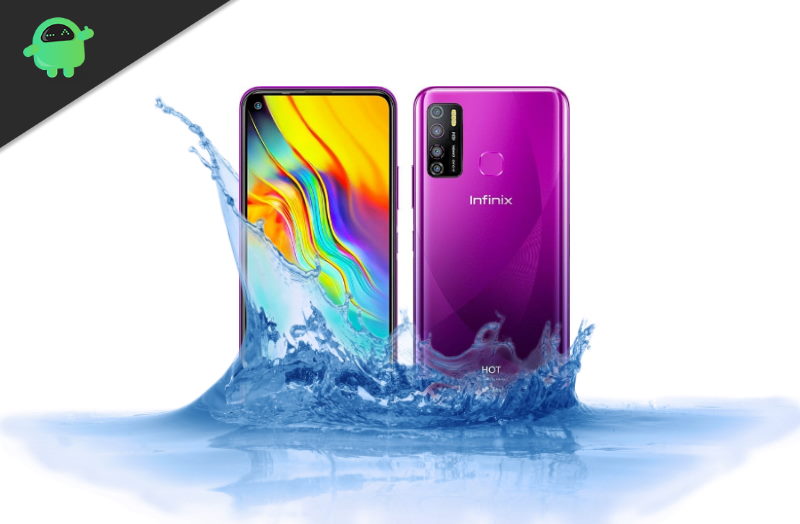 Is Infinix Hot 9 Pro a Waterproof device?
We checked the official website of Infinix Hot 9 pro after that we checked other sites where it is available for sale, and none of them has any mention of IP rating. The simple meaning of no mention of IP rating is that this Infinix Hot 9 pro is not a waterproof device. Well, this is not it because sometimes IP ratings are not available for some devices.
There are other ways to know if a device is waterproof or not. We are going to do it for you. Yes, we are going to check if Infinix Hot 9 Pro is a waterproof device or not. We are going to conduct a waterproof test our self and provide you results of the test. Before the waterproof test and its result, have a look into the specifications of Infinix Hot 9 pro.
Infinix Hot 9 pro Device Specifications
Firstly, we are going to provide you with information about its display after that secondly, the information about its performance. Thirdly, the camera quality and camera features and lastly network and connectivity features.
The Infinix Hot 9 Pro has an immense 6.6 inches (16.76 cm) display. The display has a resolution of 720 x 1600 pixels as well as the aspect ratio of 20:9 and pixel density of 266 PPI. It has a Bezel-less display with a punch-hole display feature. The display type is IPS LCD.
The device is equipped with MediaTek Helio P22 chipset and Octa-core, 2 GHz, Cortex A53 processor. Infinix Hot 9 Pro has a great benchmark score. It has 4GB of ram and 64GB of internal storage, which is expandable up to 256GB. The device has USB-OTG support as well.
If you are concerned about the camera, the device has a Triple rear camera setup. The triple rear camera has a 48-megapixel primary camera after that a 2-megapixel depth camera and lastly a normal 2-megapixel camera. It has a quad-LED flashlight. Infinix Hot 9 Pro has an 8-megapixel single front camera that, too, with a front LED flash. This clearly means it has one of the best camera setups in this price range.
This is a dual (gsm+gsm) SIM phone. It supports 4G, but sadly, there is no 5G support, and it is not even possible to get at this price as for now. Both SIM slots are nano-SIM slots. The device also supports Wi-Fi Calling. The Infinix Hot 9 Pro has a 5000 mAh Li-Polymer non-removable battery. There is no USB Type-C port.
For security, it Has a rear fingerprint sensor. Some other sensors, like Light sensor, Proximity sensor, Accelerometer, Compass, Gyroscope, are also available in this device.
Infinix Hot 9 Pro a Waterproof device? – waterproof test
To test the Infinix Hot 9 Pro, we took a bowl filled with clean water. We put the device inside the bowl for one full minute and took it out. Now to check the result, we ran a full checkup and performance test of the Infinix Hot 9 pro. The camera is working fine after that, we checked the touchscreen, and it is also working.
Lastly, we checked the Mic and Speakers. We noticed that the speaker has a distortion sound. This means the device is affected by water. This happened because Infinix Hot 9 Pro does not have waterproof protective layers.
Disclaimer
The waterproof test results are purely based on individual/team observation. These tests will only give an idea of whether a device is waterproof or not. We recommend users not to try this test at home, as it might damage your device.
Conclusion
In conclusion, The result clearly proves that the Infinix Hot 9 Pro is not a waterproof device. As it got affected by being inside the water for a minute means it might get more damage if it stays inside the water for a long time. Also, the waterproof test we did was with clean water, and other liquids like cold drinks or oils may affect the device differently. To sum up, according to results, it is somewhere water-resistant and a splash-proof device, but it is vulnerable to water. It is highly advisable you must be careful while using it around the water.