Is the latest Realme 5 waterproof and dustproof Well, if you're looking for answers then you're at the right place. Here at GetdroidTips, we will conduct the Realme 5 waterproof test to find out whether the new Realme 5 is waterproof or not. Realme smartphones are giving real competition to other budget price segment devices like the Xiaomi Redmi series. There are many rumors going around in the market that the latest Realme 5 will come with a waterproof and dustproof body. Well, if this is true then it will be a real gamechanger for budget smartphones. Since no company has ever given a sort of official splashproof or waterproof test to their budget devices. Whether the rumor is true or not, we are here to find out whether the new Realme 5 is waterproof or not. So without wasting any time, lets right jump into it.
Realme is new to the smartphone market and is launching new smartphones every 6 months and so. Most of their devices are an absolute hit in the budget smartphone range and so far people are loving the Realme Brand. Now Realme might have decided to step up the game by introducing premium features like – waterdrop notch, quad camera and waterproof security in mid-range devices. Well, this is really good news for Realme fans since they will be the first to use a waterproof smartphone by Realme.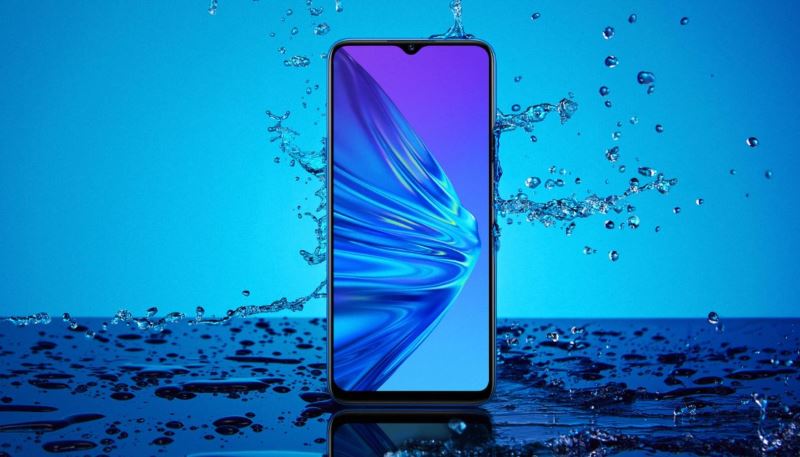 Is Realme 5 Waterproof and Dustproof Device?
A waterproof smartphone is a kind of smartphone which can hold itself underwater for a long period of tie without getting any damage. Due to this, people can enjoy their time without worrying about water damage. Moreover, that, if your device is waterproof, you can enjoy many special features like underwater photography, listening to music in rain, etc. All waterproof smartphone comes with special IP ratings. These IP Codes (or International Protection Rating, sometimes also interpreted as Ingress Protection Rating*) consists of the letters IP followed by two digits and an optional letter. It mainly tells us whether the device is splashproof or waterproof. Every officially waterproof smartphone has IP ratings which prove its waterproof features.
You will be extremely happy to know that the new Realme 5 comes with official splashproof support. Which means you don't need to worry about any accidental water splashes or coffee/juice spills. This is great news for Realme Fans. The company adds further-"The airtight waterproof sealing protects all interior and exterior components, including the screen, back cover, and the buttons. The waterproof design has passed the Real Quality test." This shows that the new Realme 5 has a splashproof design. However, we will test this to its extreme in our Realme 5 waterproof test.
Realme 5 Waterproof & Dustproof Test
The official website does contain adequate information about splashproof capabilities. However, there is no mention of waterproof and dustproof capabilities of the devices. So we are going to conduct our own test. However don't keep any high hopes, since it is a budget smartphone there are very fewer chances of it being a proper waterproof device. Get ready for the Realme 5 waterproof test. But before that, have a look at device specifications:
| | |
| --- | --- |
| Device Name | Realme 5 |
| Screen | 6.5 inch, 720x1600pixels |
| Processor | Qualcomm Snapdragon 665 SoC |
| RAM/ROM | 3 GB | 32 GB |
| Battery | 5000 mAh, Li-Ion |
| Primary Camera | Quad cameras – 12MP + 8MP + 2MP + 2MP |
| Waterproof rating | Splashproof |
Since the new Realme 5 is already splashproof, so we don't need to do any splashproof test. We will jump right into the waterproof test. Here we will check whether the new Realme 5 can survive underwater or not.
Realme 5 Waterproof Test
In this waterproof test, we are going to put the device in a small tank for a few minutes. After that, we will take the device out and test it for any abnormalities. This test will give us a rough idea of whether the new Realme 5 is waterproof or not.
| | |
| --- | --- |
| Camera | works |
| Screen | Works perfectly |
| Speaker | Little distortion in sound |
After conducting this test, we can say that new Realme 5 is somewhat waterproof. As it does gt a little water damage in the speaker but that is pretty common in splashproof devices. Since Realme 5 is not actually waterproof, you must take proper care while sitting near water ponds, lakes, beaches and swimming pool.
Realme 5 Dustproof Test
In our dustproof test, we will keep the device in a sandy environment with lots of grain and sand particles with a running fan around it. This situation mimics dust storms and will check how the device holds in such conditions.
| | |
| --- | --- |
| Camera | works |
| Headphone jack | works |
| I/O ports | Little dust, but ports still work fine |
As you can see from the test results above that the new Realme 5 is fully dustproof. This is because it doesn't have any moving mechanical parts like pop up camera etc. Also, the inner body of Realme 5 does contain a rubber membrane which protects it from accidental water splashes and dust particles.
Conclusion
After conducting both the tests, we can see that the new Realme 5 is a splashproof and dustproof device. We can't say it is a fully waterproof device since the speaker doesn't work properly after our Realme 5 waterproof test. However, we can say that this device will not get and water damage easily thanks to the splashproof seal.
However, the device is fully dustproof so you if you leaving near to a farm or sand dunes, this device will not fall in trouble anytime soon.
warning
You are advised not to try to mimic this test at your home. We do not take responsibility for the authenticity of this test. This test is purely based on individual/team observation. This test will only give an idea of whether a device is waterproof or not. We recommend users not to try this test at home, as it might damage your device.