Are you a die-hard fan of Madden games? If so, most probably you are playing Madden 22 and end up getting not connecting to the EA server error message. It is obvious that many users from all around the globe are bothered right now due to this server error.
Well, talking about Madden 22, then, in my opinion, it is the best game in this series to date. As an avid player of sports video games and specifically an avid player of Madden, I truly mean it when I say that Madden 22 is the best Madden of all time. However, this type of issue is frustrating, but now a very tough task to fix it. Well, don't worry if you don't know how to fix this issue as here we have mentioned some best fixes that will surely help you fix the not connecting to EA server error.
Also Read: Madden 22: Best Playbooks (Offensive and Defensive)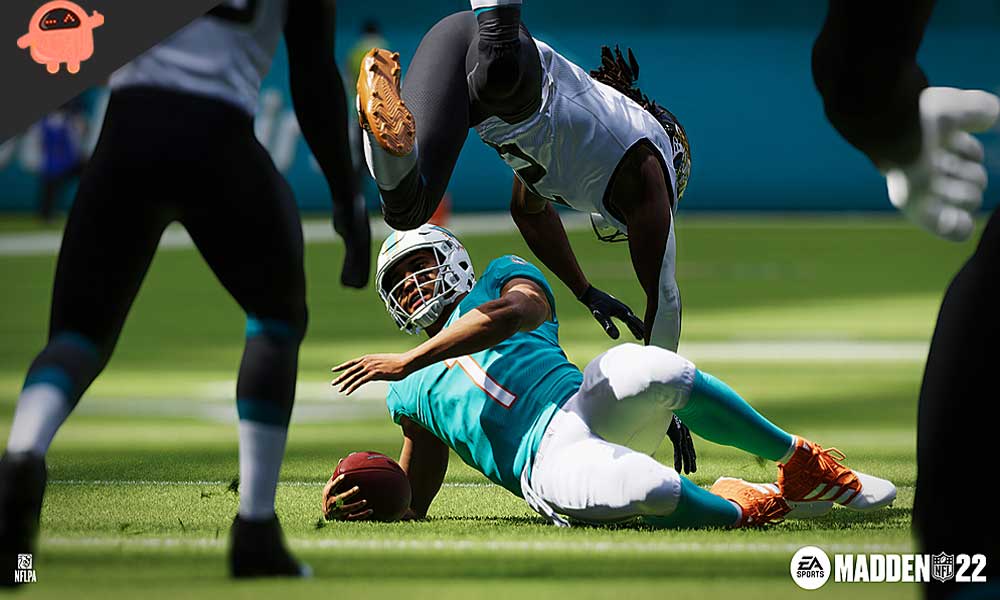 How To Fix Madden 22 Not Connecting to EA Server
There are some reasons behind this error, but I found the most genuine reason for this issue is either it is a server issue from the developer's end, or your internet connection may not be good. So, from this perspective, some fixes have been proven previously to resolve this type of error. Therefore, let's see if they are again able to prove themselves or not this time.
#1. Reboot Your Device
Initially, we always suggest our users reboot their devices as sometimes, due to problems causing temporary bugs and glitches, our apps are not able to work properly. Well, this is really frustrating!
But, when we restart our device, it removes those bugs and provides your device a fresh start to work using full energy by disabling the background processes. So, therefore, for whom are you waiting for? Go and reboot your device and check if the server error gets resolved in Madden 22 or not.
#2. Check The Server Status
Did you check if their servers are working or not? Well, there are endless possibilities that the Madden 22 servers may get down due to maintenance purposes. If that's the case, then you have to wait until the servers start working again. We suggest you leave the game for a few hours and then check again if it starts working or not. If it is still not working and showing the same not connecting to EA server error, then hover to the next method.
#3. Follow Them on Twitter
If you are still not following the officials on their Twitter page, we recommend you follow them immediately. This is because every time, the developer tweet about the ongoing issue with the game. Well, not just that, they also provide the latest news and upcoming event notification on their Twitter handle.
#4. Check Your Internet Connection
If it is not an issue that occurs from the server's end, then it is for sure occurring from your's end. Therefore, now it is very crucial to check if your internet connection is working properly or not. As many of you already know, the Madden 22 multiplayer needs an active internet connection to connect your PC to its server, but if your internet is not working properly, then chances are there that you get this type of error.
So, to check your internet connection, you can use any website available on Google. But, if you ask me, then I will suggest you hover to the Ookla speed tester website and test your WiFi connectivity speed.
#5. Power Cycle Your Router/Modem
Suppose you check your internet connection and find that your router or modem does not give you the required speed; then it is a serious issue. So, in that case, we suggest you power cycle your router/ modem. To do so, plug out all the wires and cable from your router/modem. Then, wait for at least 40-50 seconds and plug in all the wires. Now, turn on the power button and wait until all the LEDs again start blinking.
That's it. Now, again hover back to the speed tester website and check if the network issue gets fixed or not. However, in a very unfortunate situation, if the issue still occurs, I recommend you contact your ISP provider and explain everything to them. Thereafter, they will schedule a repair within 24hours.
#6. Try to Flush DNS
Many users reported that after flushing the DNS, the Madden 22 not connecting to the server error got fixed. Therefore, it is possible that in your case, the issue may get fixed just by following the below-mentioned steps. So, let's get started with the steps:
Initially, open the command prompt using admin rights on your Windows PC.

Then, execute the command:

ipconfig/flushdns 

 
#7. Disable The VPN
Are you using a VPN service? Well, it is not recommended to use VPN servers while playing this type of game. This is because when the game server tries to detect your location, it gets multiple locations in return and considers your IP as a threat due to which started blocking you. So, if you are using any VPN service, then make sure to disable it and try to run the game again to check if the not connecting to the server screen gets vanished or not.
#8. Run the Madden 22 With Admin Rights
It is also possible that it starts showing this type of issue just because Madden 22 doesn't have permission to use your system resources. So, you should try running the game using admin rights, and do so; here are the steps that you need to follow:
Firstly, hover to the desktop and right-click on the

.Exe

file of Madden 22.

Then, from the drop-down menu, select the

properties

option.

Now, hover to the

Compatibility

tab and tick mark the box located beside the

Run This Program as Administrator.

Then, click on the

Apply

button and then the

Ok

button.
That's it. From now whenever you run the game, it will open with admin rights. SO, run the game and check if the issue gets resolved or not.
Also Read: Fix: Madden 22 Mobile Crashing or Not loading on Android/iOS.
#9. Contact Support Desk
Still, no luck? Don't worry! Now, you have only one option left; you have to contact their official support desk. So, contact them and explain everything to them. After that, if possible, they will surely help you out. Otherwise, register your complaint, and if more players reported the same, then they surely consider this as an issue. Thereafter, resolve by providing a new patch update.
So, that's all for now on how to fix if the Madden 22 is not connecting to the server. We hope the fixes mentioned in this guide helped you. Well, if in case you still need any extra information, comment below.