Overkill Software and Starbreeze Publishing did release PAYDAY 2 back in 2013 as an action-packed, four-player co-op shooter video game that's a sequel to 2011's PayDay: The Heist. The game is available for PC, PS3, PS4, Xbox One, Xbox 360, and Nintendo Switch platforms. As a multiplayer online title, some players are experiencing the PayDay 2 Error Failed Joining Game in 2023. This issue appears on the PC, which feels irritating to the players.
Well, most co-op PC games encounter server connectivity issues while trying to get into the gameplay or joining friends online. This kind of issue may appear due to the technical faults of the server or scalability that developers always try fixing. However, the overloaded number of active players simultaneously on a specific server region may trigger server connectivity errors whatsoever, such as 'Unable to summon co-operator, failed to join session error.'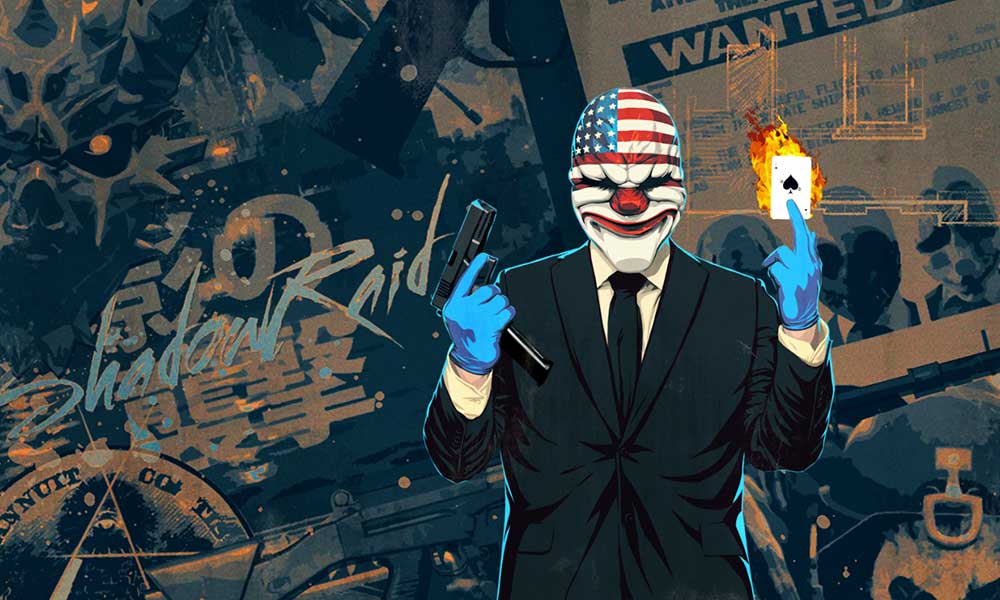 Fix: PayDay 2 Error Failed Joining Game 2023
Several PayDay 2 players are also experiencing the same kind of issue currently while trying to get into the gameplay or joining friends in the co-op mode. Now, if you're one of them, don't worry. Luckily, a couple of possible workarounds mentioned below should come in handy for you. So, without wasting any more time, let's jump into it.
As per multiple reports on the Steam Community Forum, plenty of unfortunate players are getting the error while joining the game. It becomes quite irritating for the affected players to carry out this error because they cannot play the co-op multiplayer mode with their friends. Other possible reasons can trigger such an issue, such as a poor internet connection, game server issues, outdated game version, DNS cache issues, etc.
1. Restart the game and PC
First, you should reboot the game and the PC properly to refresh the system. That way, you'll be able to clear out temporary system glitches or cache data issues. This specific trick might come in handy for you. However, if your game is still bothering you, try following the next method.
2. Check the server status of PAYDAY 2
You can also try checking out the PAYDAY 2 server status by following the official @PAYDAYGame Twitter handle to get all the latest notifications regarding the known issues and patch updates. If there is an issue with the server, you should wait for a couple of hours and then try again. You can also check the DownDetector site for the same. However, if the servers run well for you or your friends, you should follow the next method.
3. Check the Internet connection
You should also check the internet connection at your end to ensure there is no issue with the poor or unstable network. If in case, your internet connection isn't running well, make sure to try using another network or switching the Wi-Fi network to a wired (ethernet) connection or vice versa. Alternatively, you can try using the mobile data connection as a hotspot to check for the issue.
4. Verify and repair the game files
The chances are high that your installed game files become corrupted or missing, triggering multiple conflicts with the game launching and connecting to the servers. Therefore, you should check for bad files on your system and repair them automatically via the Steam client. Just follow the steps below to do the same.
Launch Steam > Click on Library.
Right-click on PAYDAY 2 from the list of installed games.
Now, click on Properties > Go to Local Files.
Click on Verify Integrity of Game Files.
You'll have to wait for the process until it gets completed.
Once done, restart your computer.
5. Close unnecessary background programs
If a couple of unnecessary tasks or programs run in the background on your Windows system, the chances are high that they always consume a lot of system resources like CPU or RAM. That means whenever you run a heavy task on the PC or run a multiplayer online game to connect to the servers, your system performance won't work like a charm due to the low resources. It's better to close all those tasks manually to fix the issue.
Press Ctrl + Shift + Esc keys to open up the Task Manager.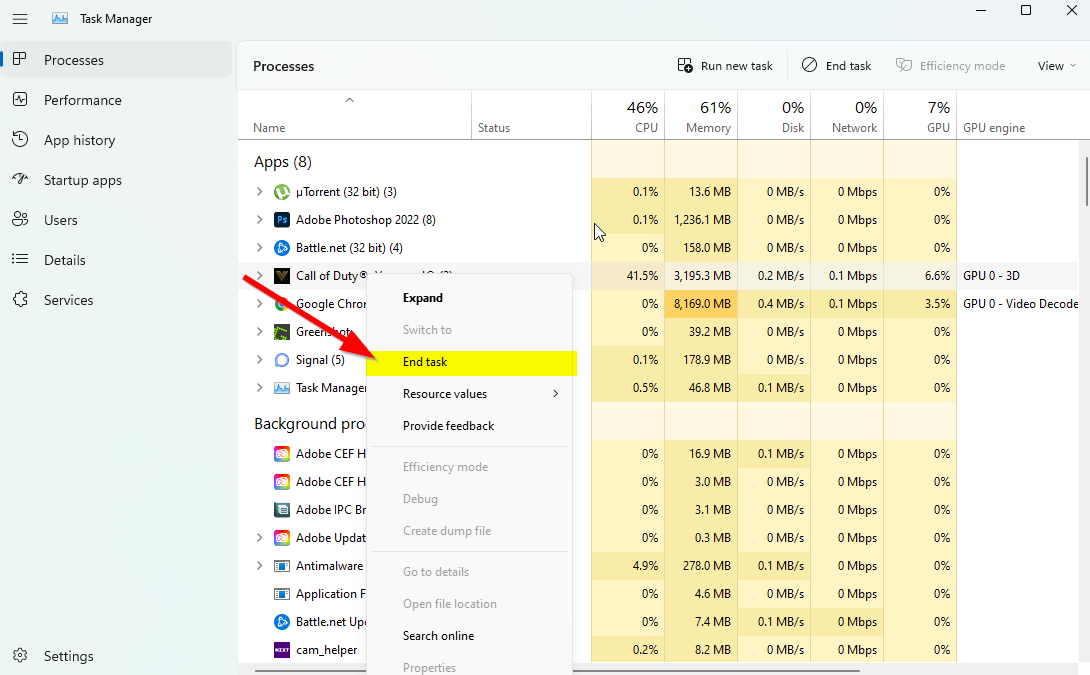 Now, click on the Processes tab > to select a task you want to remove.
Click on End Task to close it one by one. Make sure to do the same steps for each third-party process except for core Microsoft or Windows tasks.
Once done, restart your system, and check for the PayDay 2 Failed Joining Game error.
Note: The Microsoft OneDrive, Dropbox, Any Cloud Data Syncing program, Google Chrome browser tasks, background data uploads/downloads, Adobe Apps & Updater Tool, Overlay apps, etc., may trigger several issues.
6. Flush your DNS
Somehow, your system has gathered plenty of DNS cache data related to the internet configuration. Following the steps below, you can easily connect with the game servers after removing the DNS resolver cache data from the system.
Press the Windows key to open the Start menu > Type Command Prompt and search for it.
Now, right-click on Command Prompt > Select Run as administrator.
Click on Yes to run with the admin access > Once the command prompt window opens, type the following command and hit Enter:
ipconfig /flushdns
A successful message will appear that says, "Successfully flushed the DNS Resolver Cache."
Finally, close the command prompt window, and restart the PC to apply changes.
7. Change to a public DNS server
Sometimes a custom DNS server address specified by your ISP (Internet Service Provider) might have issues with the game server connectivity. You should always try changing the DNS server address to a public domain such as Google DNS for better reachability and speed. Make sure to follow the steps below to easily add the Google Public DNS address on your Windows computer to fix the particular error.
Press the Windows + R keys to open the Run dialog box.
Now, type control and hit Enter to open Control Panel.
Click on Network and Internet > Select Network and Sharing Center.
Go to your Connections to select Ethernet, Wi-Fi, or others, depending on your use.
Next, click on Properties > Double-click on Internet Protocol Version 4 (TCP /IPv4) to open a new window.
Click on Use the following DNS server addresses and input 8.8.8.8 as a Preferred DNS server.
While you'll have to enter 8.8.4.4 as the Alternate DNS server,> Click on the checkbox of Validate settings upon exit.
Click on OK to confirm the changes > Launch PAYDAY 2 to check for the issue.
8. Set up Game Network Settings
The in-game network settings might not be set up correctly, which can eventually trigger server connectivity issues. Proper configuring of the network options in the game settings menu is recommended. Once you're inside the game menu > Go to the Settings option > Navigate to Network > Select Cross-Region Play as Perform Matchmaking. Make sure to select Play Online for the Launch Settings option.
9. Check for available game updates
An outdated or buggy game version can also trigger multiple issues with server connectivity. You should try checking for the available game update at your end and installing the latest update. To do this:
Open the Steam client > Go to Library > Click on PAYDAY 2 from the left pane.
It'll automatically search for the available update. If there is an update available, make sure to click on Update.
It may take some time to install the update > Once done, make sure to close the Steam client.
Finally, reboot your PC to apply changes and relaunch the game.
10. Reinstall PAYDAY 2
If none of the methods worked for you, try reinstalling the PAYDAY 2 game on your PC to check if that helps you fix the server connectivity issue. To do so:
Launch the Steam client on your computer.
Now, go to Library > Right-click on PAYDAY 2.
Head over to Manage > Select Uninstall.
If prompted, click Uninstall again and follow the on-screen instructions to complete the uninstallation process.
Once done, make sure to reboot your computer to apply changes immediately.
After searching for it, open the Steam client again and install the PAYDAY 2 game again using the same Steam account.
Enjoy! You should have now fixed the PAYDAY 2 Failed Joining Game error.
That's it, guys. We assume this guide was useful to you. For further queries, you can comment below.