Do you know that Adobe has pulled the plug on their immensely popular Flash Player.? Yes, it's the same platform that allowed you to play your favorite Flash games. I'm sure a lot of you who grew up through the late 90s and 2000s have a fresh memory of mini-games supported by Flash. In the fall of 2020, Flash Player support was disabled globally. You may think that this move will forever stop you from playing those Flash games. Well, not really. There are some ways by which you can still play Adobe Flash games without having the Flash Player. In this guide, I will explain to you how.
Why only games, even the YouTube back in the late 2000s and later required Flash Player to run the videos. You must have come across pop-ups asking you to enable Flash Player to play a certain video. That is a thing of the distant past now. Those of you who are nostalgic about flash games can access certain trusted platforms and easily enjoy any games. Before you think I will talk about some paid stuff, let me tell you playing the games will be free. Let's check out what platforms are those and how to utilize them to play your favorite Flash games.
Play Adobe Flash Games Without Adobe Flash Player
First, check out an online method to enjoy Flash games sans Adobe Flash. This means you need to have an active internet connection to play the games.
Use Internet Archive
The steps are as follows.
On your browser put the following URL | www.archive.org/details/softwarelibrary_flash
Hit enter and wait for a second as the page loads

Under the Collection tab, click on Software Library: Flash Games
For example, I wish to play the famous Pacman game.

All I did was click on the game to start playing
The games run using an inbuilt emulator. [loading the game may take a few seconds though]
Flash Games 247
There is yet another online warehouse of Flash games that doesn't require Adobe Flash Player to run the games. It is the website Flash Games 247. It has a super huge collection of mini-games that date back to the early 2000s. I remember playing them on my good old windows XP computer back during my pre-high school days.
On your browser, enter the URL: flashgames247.com
In the search bar type the game name and it will show up
I searched up for this game Burnout Drift

This website has a vast repository of flash games and you can find out any game you know of
As you can see from the screengrab above the game which I searched about is right there
You can follow a similar search and click on the game when it shows up
Then click on the Play-Now option to start the gameplay
Install BlueMaxima Flashpoint Software to Play Flash Games Without Flash Player
The previous platforms were all online sources where you can find and play your favorite Flash games without needing to have the Adobe Flash Player installed. However, if you like to enjoy things without spending your data on the internet, then you have to install the BlueMaxima Flashpoint software. It basically provides you with a completely free but huge collection of Flash games.
All you have to do is visit this page: bluemaxima.org/flashpoint/downloads/
The software has two options for download depending upon the type of user you are. If you are someone who likes to collect games that date back all the way to the 90s, then you can install the Flashpoint Ultimate 9.0. The download is pretty huge and spans up to a download size close to 500 GB.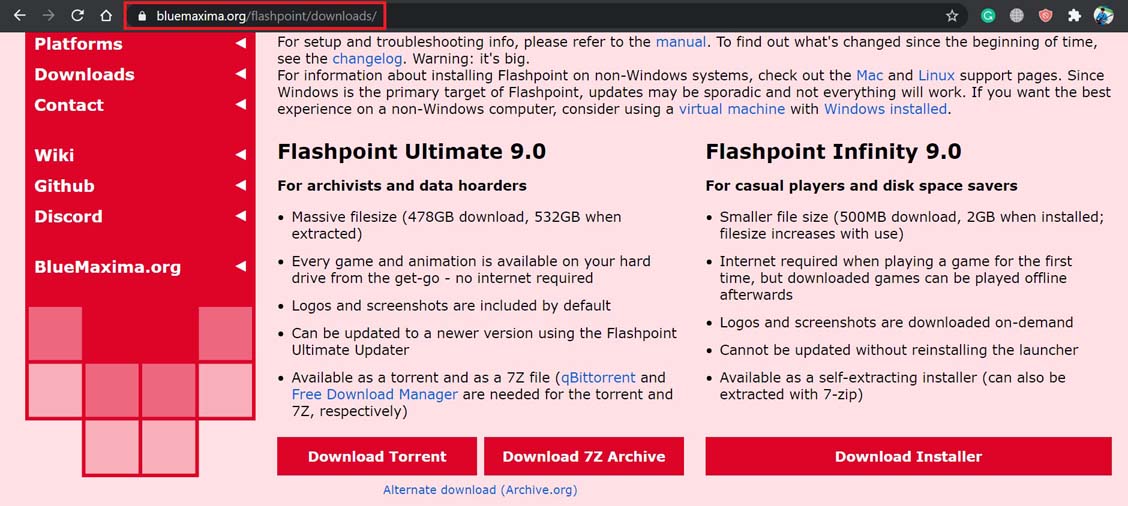 If you are a casual gamer, then you can download the Flashpoint Infinity 9.0. It will ask for 500 MB of download and 2GB of storage space. Only for the first time when you play a game, you will require an internet connection. Then later, you can easily play the same game in offline mode.
So, these are the various platforms that you can use to play your Favorite Flash games for free. Also, you do not need the Adobe Flash Player to play these games. Try them out and do share your experience in the comment section.