There are several instances where our devices just give up an excuse about "not enough space" if we try to download anything on it. Well, Play Station 4 is not anything different and there are several users reports that you might have come across on the internet where users are pretty baffled with this error. Basically, this PS4 error does not let the users download any game stating not enough space, even though there is plenty left in the barrel.
This can be really frustrating for PS4 owners as their favorite game might just have received an important patch that fixes certain errors, but thanks to this error, they are not able to patch it. If you are also one of such users who are trying to get to know the real reason behind this "not enough space" error on PS4 then, you are at the right place. As in this post, we will try to give you a possible explanation on how you can fix this issue on your PS4. So, with that being said, let us take a look at the article itself:
Why your PS4 is showing up this "not enough space" error?
Before you put on your hat and try to fix this issue with the solution, you should first try to understand the reason why this issue is popping up in the first place. Firstly, this could be a legitimate reason on your hard disk, that there is actually no space available and you really need to buy a new hard disk of more capacity to fix this issue. But, there are a majority of reports, that reveal this isn't the case. You might have come across reports, where users have reported that even though their disk space has enough space, they are just unable to download the game due to this error.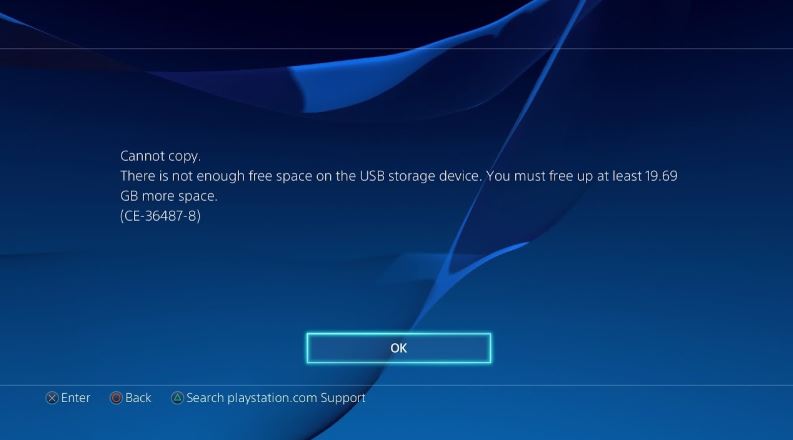 Why does this happen? Well, a good example is what you need to understand this situation. Let say that you are downloading a game of about 50 GB which should exactly take up 50 GB of your Play Station disk space. And you have 60 GB of free space. In this scenario, by default, you should think that this game will get installed without any issues. But that doesn't happen and you get "not enough space" error because your Play Station 4 tries to download the game with all the latest patches to ensure that you are having the latest available version of the game. This inflates the size of the game and hence, the error.
Another reason why your PS4 is showing this error is that, whenever you are trying to download an update of your game, PS4 tries to first download the update file, make a second copy of your game, install the update, and then removes the old version of the game. In this entire process, PS4 requires double the size of your disk space in order to install and uninstall the new and old version of the game.
What can you do to prevent this error?
There is no permanent fix for this error, unfortunately. The only thing that you can do is to ensure that you have a large capacity hard disk or enough space in your HDD, to prevent this error. You can also try removing old games that you do not play and make space for the active games. Personally too, I prefer giving my time for one game and after completion of it, move over to a new game. This gives you enough space to install new updates, bugfixes for that particular game without any issues.
So, there you have it from my side in this post. I hope you guys liked this post and were able to understand what actually is causing the issue and what you can do to prevent it. Let us know in the comments below if you also have faced such a "not enough space" issue on your PS4 or not. Until the next post…Cheers!