oneIn this guide, we will be listing out the instructions to play the ever-popular PUBG Mobile game on your PC. Very few games have seen such a meteoric rise to fame that PUBG has managed to achieve. Within a short period, it has managed to attract a large loyal fanbase. Also known as PlayerUnknown's Battlegrounds, this real-time multiplayer game is without a shadow of doubt one of the best battle royal games across all platforms. Many users might already be enjoying the ever-popular PUBG on their mobile devices.
Although the screen size of today's smartphone is considerably large, yet it can't match the gameplay experience that we get on a PC or laptop. And if you echo this feeling as well, then you have come to the right place. Today we will show you how you could download, install, and play the PUBG Mobile game on your PC. Furthermore, we will also be stating the five best PUBG emulators. So fasten your seat-belts and get ready for completely new and unique user experience. Let's begin.
How to Play PUBG Mobile on PC
The method we are about to discuss isn't any unofficial hack. Rather, we will be using the official emulator developed by Tencent, the developer of PUBG. Popularly known as Tencent Gaming Buddy, it has now been renamed to Gameloop, but that's the only change. Everything else is as before and provides the same amazing experience and a handy platform to play the PUBG game on your PC. If you wish to try it out, which I sure you will, then here are the required steps. Furthermore, we will also share some optimizations tweaks with you with will help in making the game run more smoothly. Don't forget to check them out too. On that note, also check out All PUBG Mobile Error Codes and Their Fixes.
STEP 1: Installing Gameloop Emulator on PC
First of all, download the Gameloop emulator (earlier known as Tencent Gaming Buddy) on your PC. It will only be around 10 MB.
Next, when the setup launches, select your region and click Continue. Accept the terms and conditions that pop up and proceed ahead.

Now the Install option will appear. By default, it will get saved to C Drive. To change this location, click Customize and then click Browse. Select the desired location and click on Install.

The downloading will now start. The total installation time will vary, depending on your network speed.

Once it is done, click on Start. The Gameloop Emulator will now launch and will be in Chinese.
Unfortunately, the English language has been removed from the menu. But there is still a workaround to get it back. For that, you will have to deal with the software's registry editor files. Do so only if you have prior knowledge about this. GetDroidTips or any of its members won't be held responsible in any case whatsoever.
Step 2: Changing Language
To change the Gameloop Emulator language from Chinese to English, follow the below steps: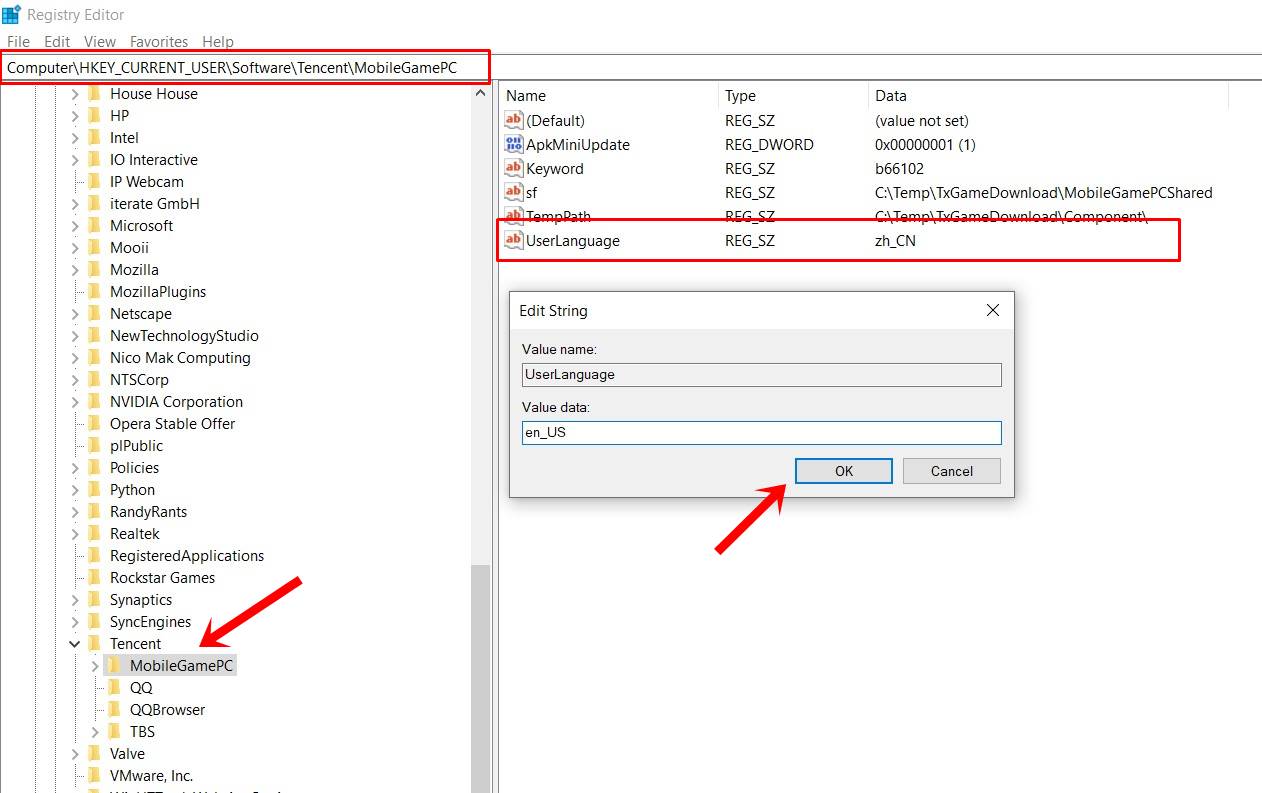 Head over to the Start menu and type in regedit. Registry Editor will now launch.
In the address bar situated at the top, copy-paste the below location and hit Enter.

Computer\HKEY_CURRENT_USER\Software\Tencent\MobileGamePC

On the right side, you will now see the UserLanguage file. Right-click on it and select Modify.
In the Value Data field, enter en_US and hit OK.
Close the Gameloop Emulator and restart it. That's it. The emulator will now be in English. Now follow the below instructions to install and play PUBG on your PC.
STEP 3: Install PUBG on your PC
Inside the Gameloop Emulator, click on the search icon situated at the top right.
Type in PUBG mobile hit Enter and select PUBG Mobile from the list.

On the right-hand side, you will see the Install option, click it to begin the process.
The installation will take some time, depending on your internet speed. Once the installation is successful, the game will launch.
If it doesn't, you could do the same from the emulator as well. As you could notice, the Install button has changed to Play, so just click on it and start playing PUBG on your PC.

STEP 4: Optional Tweaks
There are some optional tweaks that you could try out to get the most of PUBG on your PC. To do so, click on the hamburger menu situated at the top right and select Settings. It should be just left of the minimize option.
By default, you will be taken to the Basic section. Under that, you will see the option Run at Startup. If your OS isn't installed in the SSD, it is recommended to untick this option otherwise your PC might take some time to boot up.

Next up, head over to Engine tab and there you will find the option to increase Memory, Processor, and Resolution. If you are having a high-end PC, you could try increasing the said values.

Likewise, you could also enable the Prioritize Dedicated GPU option under the Engine tab itself. If your PC doesn't have a decided GPU, then this option wouldn't conflict with the normal functioning of the game. But if you're having it, you will witness a considerable overall improvement to the gameplay. On that note, don't forget to check out our guide to get better at PUBG: important tips and tricks.
Top 5 Best PUBG Emulators
Now that you have been acquainted with the steps on how to install and play PUBG Mobile on your PC, it is time to check some of the best PUBG Emulators out there. Although the official Tencent Gaming Buddy does its job pretty well, yet there are others as well giving tough competition to it. And today we will make you aware of such alternate ways of playing PUBG on your PC. Let's check it out.
Nvidia GeForce Now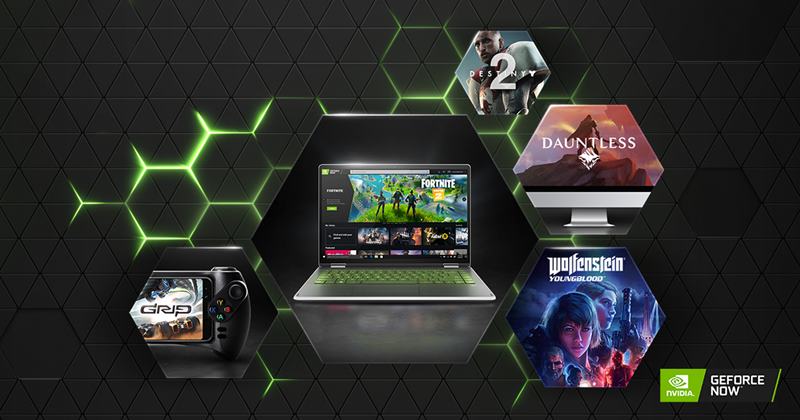 One of the most interesting concepts is brought about by GeForce. This is a cloud-based gaming service in which the entire game is stored on their servers. Yes, you don't have to download the game onto your PC. This way you could save a considerable amount of storage space. Furthermore, even if your PC is short of RAM, then it shouldn't be much of an issue.
The most important and perhaps the only prerequisites that need to be followed is that you should be having excellent internet connectivity. Although a decent internet might do the job, you might experience occasional frame drops as well. In that case, you could head over to Settings and enable the Ultra Streaming Mode. This will minimize power consumption but will lead to restricted visuals.
Nox Player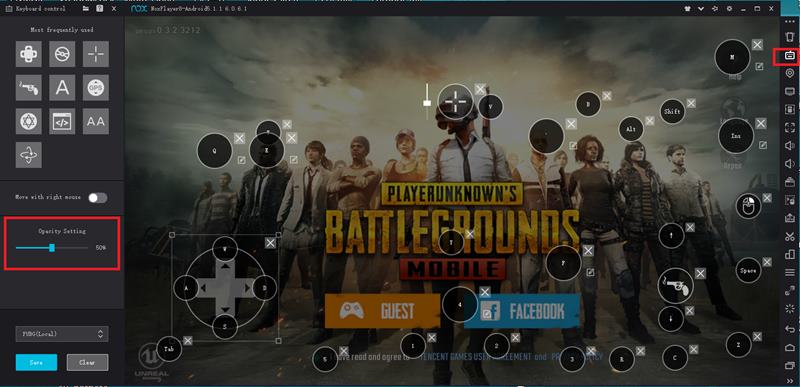 Another pretty handy player in the market, this is taken in high regards by many. It's solely based on the game-playing mechanism and does its job pretty well in that aspect. It is capable of handling high FPS games like PUBG with quite an ease and there's no lag or stutter from its end too. Furthermore, it supports all three major components, i.e, keypad, gameplay, and script quite efficiently.
However, some users might face an issue or two in the initial phases of getting acquainted with the controls. But once your hands are all set, well no one is stopping you then. On top of that, you could also customize all the controls from the Settings menu. Likewise, changing the game's graphics could easily be dealt with from within the Nox Player.
Bluestacks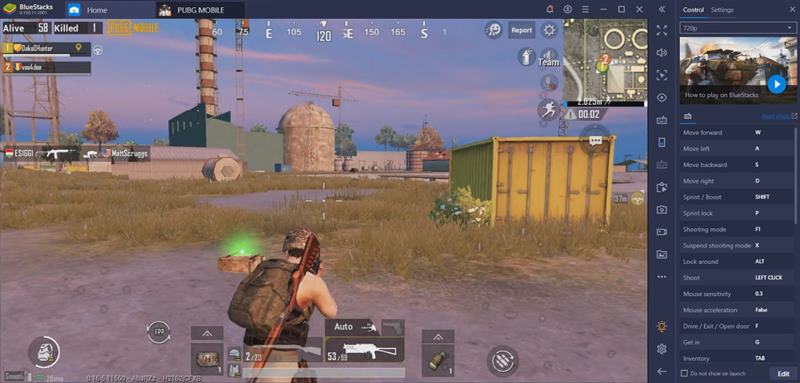 Bluestacks is a popular Android emulator that works on both Windows and Mac computers. You can download this emulator on your PC, then download PUBG Mobile, and get gaming without any fuss. This emulator is great at handling the PUBG mobile graphics, and you can run it on a low-end computer without any issues. Here's how to get this emulator running on your Mac or PC.
Similarly playing high-end and graphic-intensive games is also dealt with efficiently in Bluestacks. On that note, we will advise you to have a pretty decent PC setup, otherwise, some lags might be imminent. So in short, if you are looking for a pretty decent emulator with manages your PUBG experience with ease, but without any fancy features, then Bluestacks is the name to remember.
You will now be able to play PUBG mobile on your Windows or Mac PC via this emulator.
Remix OS Player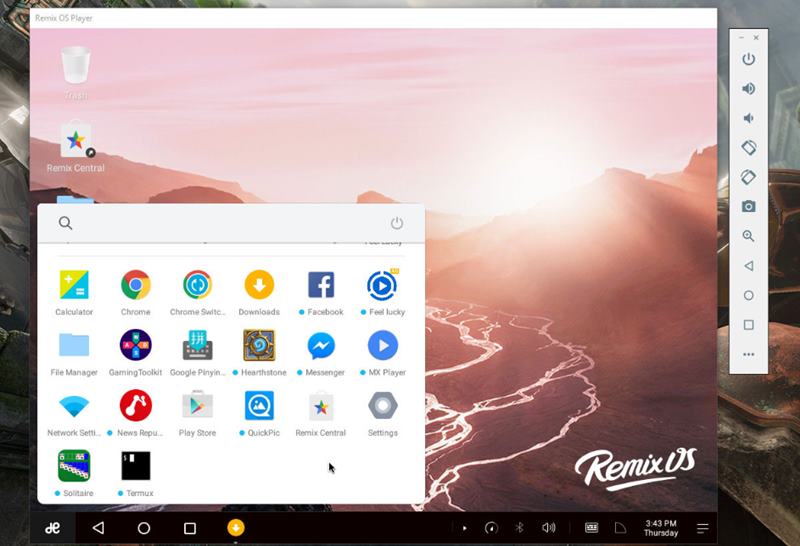 This one is for the feature-lovers. Quite literally it has a vast number of customizations that you aren't able to find any other emulator. But even then, the stability doesn't take a hit. It has managed to strike a chord between features and stability. You could also map/remap all the key controls as per your liking. Furthermore, the app provides a clean and fresh user experience and makes it quite appealing for playing games like PUBG.
Along the same lines, the player will also help you out in finding the perfect graphics settings. On that note, do keep in mind that Remix OS doesn't support AMD chipset. It, therefore, requires a Virtualisation Technology that needs to be enabled on your BIOS. Further customizations are also possible via the Game Toolkit feature incorporated in the player. The icing on the cake is the ability to play multiple Android games at the same time, something we don't find in many emulators.
MEmu Player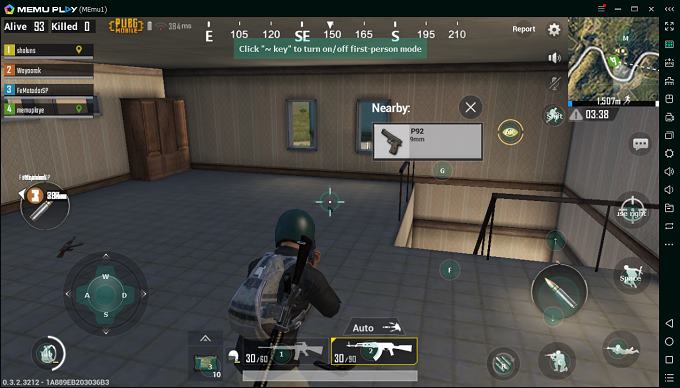 Don't get tricked by its name, it is a pretty handy application for playing PUBG game on your PC. Even if your setup doesn't have a high specs sheet, it could still maintain a great gaming experience. There are also some other nifty features integrated into the player.
For example, you could tweak the in-game settings, remap the buttons as per your convenience, and even enable the virtualization technology on your PC. Likewise, the player makes full use of both the integrated and dedicated graphics card as per the requirement. For a decent gaming experience, we would recommend having at least Windows 7 and a dual-core processor, something which shouldn't be an issue nowadays.
LDPlayer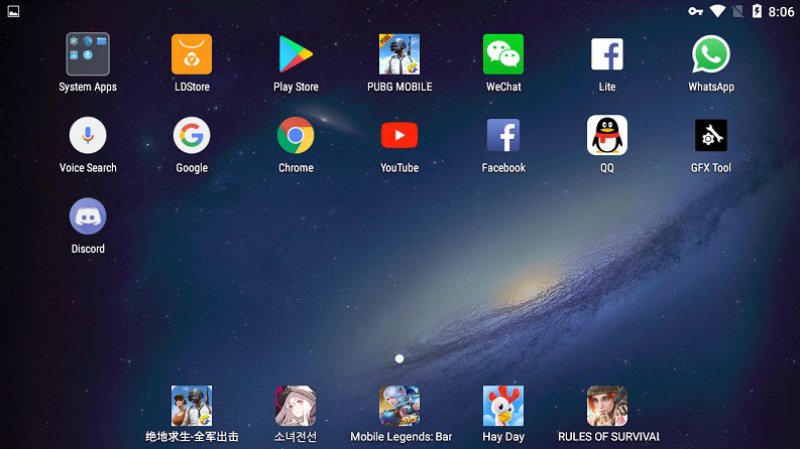 This Android emulator is also mainly focused on delivering a great gaming experience on your Windows computer. LDPlayer is available on for Windows and requires certain minimum specifications to run perfectly. It allows for gaming with the keyboard and mouse, and can also run multiple games simultaneously. The emulator offers easy controls, smooth graphics, good performance, and supports high-graphics games such as PUBG mobile. You can download LDPlayer for Windows from their official site, launch the Play Store, and then install the game to get started.
PrimeOS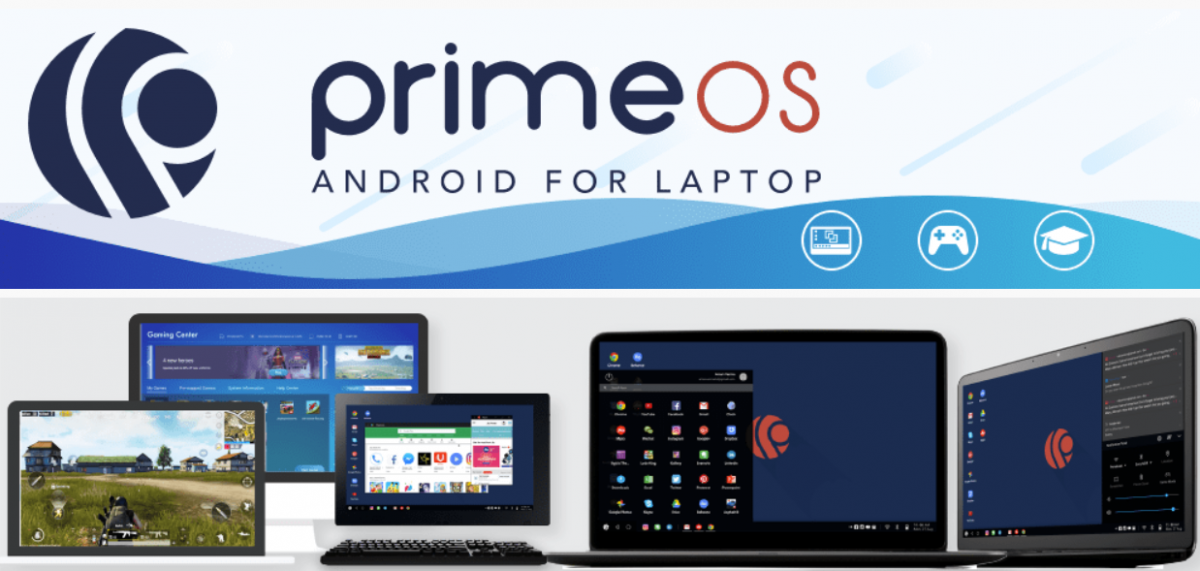 The PrimeOS is more of an operating system than an emulator. This is a little tricky to get used to and is best for advanced users. You will need to create a separate partition to install PrimeOS and the dual-boot it when Windows or Mac starts. The OS has a clean interface and offers a desktop that runs Android. It comes with several features that include control settings, key mapping, a game center, GPU tool, and more. You can easily run PUBG mobile using this emulator after installing it via the Play Store or sideloading it. Head over to this website to download PrimeOS for both Windows and Mac.
KO Player
KO Player is an Android emulator that works on Mac and Windows; it is easy to use and has game-oriented features. You can map keys to make controls easier, and it also features built-in game optimization. However, the emulator hasn't received an update in some time, so we would suggest that you only try this if the other options don't work. You can download KO Player from this link. It requires a dual-core Intel or AMD processor with at least 2GB RAM, 10GB storage, and OpenGL 2.1 supporting GPU to run properly. You can install PUBG via the Play Store and start gaming right away.
Andy OS
This one is somewhat different from the other emulators on this list. It works on Mac as well as PC and basically integrates systems. Andy can sync across all of your connected devices, which means that you don't have to transfer any game data. It also lets you move apps from your smartphone to the emulator. You can play PUBG mobile on the TV while using your smartphone as the controller. Head over to the website, download the Andy OS emulator, follow the instructions to set it up, and start playing any game, including PUBG mobile.
Conclusion
So with that, we conclude this guide on the steps to install and play PUBG Mobile on your PC. The steps might seem long to you, but it's just because of the additional efforts required to bring back the English language. which for some strange reason, is missing from the emulator. Furthermore, we have also shared some of the best PUBG emulators for your PC. Which one stands your favorite from among the five that we have mentioned? On that note, if you still have any issues, do let us know in the comments section below. Furthermore, don't forget to check out our iPhone Tips and Tricks, PC tips and tricks, and Android Tips and Tricks section.