The Rainbow Six Extraction 'Server Connection Error' becomes one of the major issues among players no matter which platform they're using. If you're one of the victims to encounter the same Rainbow Six Extraction Server Connection Error BRAVO-00000206 on your PC or other gaming consoles like PS5, PS4, or Xbox devices while trying to boot up the game then you can follow this troubleshooting guide completely to resolve such an issue.
It seems that the unfortunate players are experiencing Tom clancy's Rainbow Six Extraction error code "BRAVO-00000206" that indicates 'servers are unreachable' and maybe the game 'requires an online connection'. Well, the problem is most probably occurring due to the poor internet connection or game server-related issues in most scenarios. However, the chances are high that somehow the problem is appearing due to some other possible reasons mentioned below.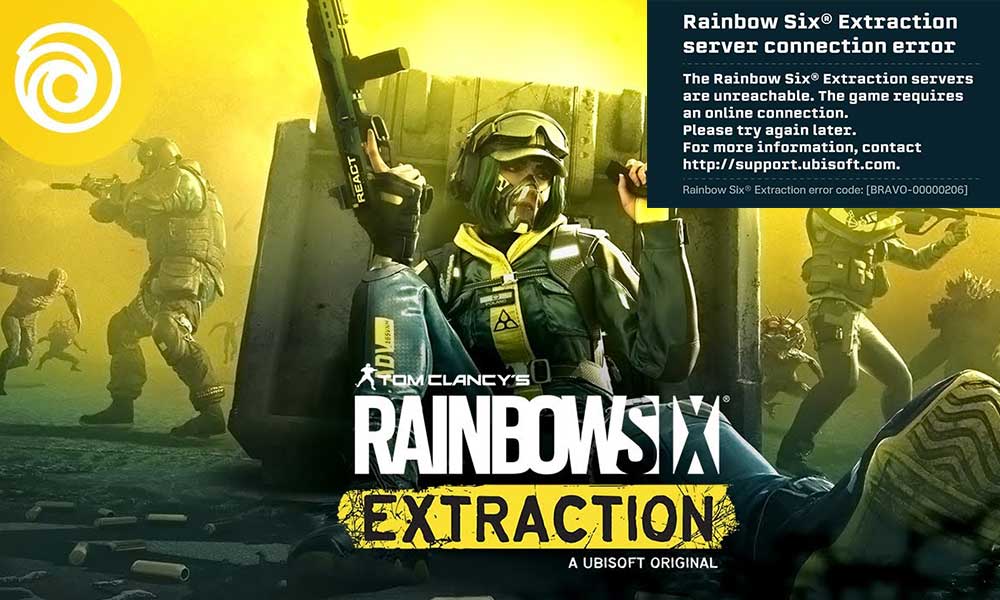 Fix: Rainbow Six Extraction Server Connection Error BRAVO-00000206
If we take a brief look at the error message, it says "Tom clancy's Rainbow Six Extraction servers are unreachable. The game requires an online connection. Please try again later. For more information, contact http://support.ubisoft.com." Next, you'll be able to see the BRAVO-00000206 error code at the bottom of the error message. Luckily, there are a couple of possible workarounds mentioned below that should gonna help you out. So, without further ado, let's get into it.
1. Retry Connecting to Game Servers
You should try exiting the game by clicking or selecting 'OK' and then launching the game again. Sometimes retrying to connect to the game server may come in handy. Try it multiple times to ensure there is no server queue or connectivity issue troubling you.
2. Check your Internet Connection
You'll require a high-speed and stable internet connection to smoothly run the Rainbow Six Extraction game on your gaming device. Sometimes issues with the internet stability or DNS-related issues may cause server connectivity glitches while launching the game. If you're using a wired ethernet connection then make sure to switch it to the Wi-Fi connection or vice versa to check for the issue.
3. Check for Game Server Status
It seems that the Rainbow Six Extraction game servers are either down or going through a maintenance process while you're trying to get into the game. Make sure to check for the game server status by visiting the official Ubisoft Support Twitter handle and DownDetector webpage to keep track of Rainbow Six Extraction.
4. Disable VPN
Make sure to disable VPN while launching and playing the Rainbow Six Extraction game on the PC or gaming consoles. Otherwise, you may face server connectivity issues in most scenarios depending on the region or connectivity.
5. Use Google DNS Addresses
Make sure to use a Google DNS address (public DNS) to ensure there is no server connectivity issue with the game. Sometimes issues with your blocked DNS address that has been provided by the ISP may have some issues. To do this:
For PC:
Press the Windows + R keys to open up the Run dialog box.
Type ncpa.cpl and click on OK to open the Network Connections page.
Now, right-click on your active network adapter > Click on Properties.
Select Internet Protocol Version 4 (TCP/IPv4) > Click on Properties.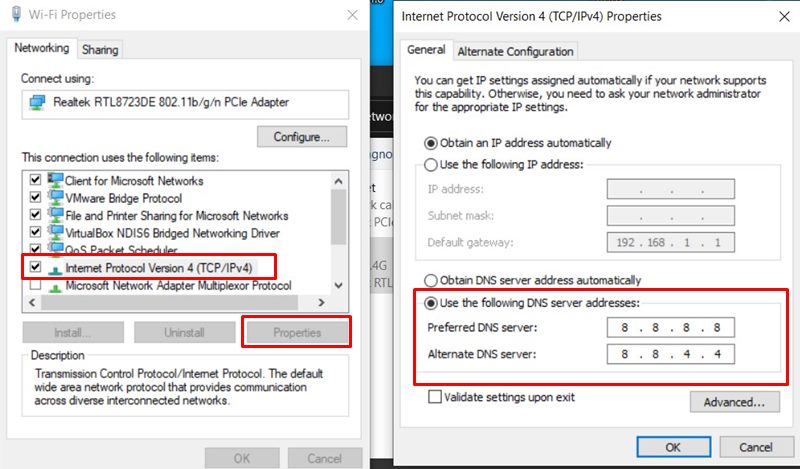 Click to select Use the following DNS server addresses.
Now, enter 8.8.8.8 for the Preferred DNS server and 8.8.4.4 for the Alternate DNS server.
Once done, click on OK to save changes.
Make sure to restart your computer to apply changes.
For PlayStation:
Go to the Settings menu on the PS4/PS5 console.
Select Network > Select Set Up Internet Connection.
Select WiFi/LAN (according to your internet network) > Select Custom.
Choose to Automatic for IP Address Settings.
Select Do Not Specify for DHCP Host Name.
Choose to Manual for DNS Settings.
Now, enter 8.8.8.8 for Primary DNS and 8.8.4.4 for Secondary DNS.
Select Automatic for MTU Settings and Do Not Use for Proxy Server.
Finally, finish the setup process, and make sure to reboot the system to apply changes.
For Xbox:
Open the guide menu by pressing the Xbox button on your controller.
Select Profile & system > Hit Settings.
Hit General > Select Network settings.
Choose to Advanced settings from the Network screen options.
Select DNS settings > Select Manual.
Enter the DNS settings 8.8.8.8 for primary and 8.8.4.4 for secondary addresses.
Once done, reboot the Xbox console to apply changes.
6. Reboot the System
It's also recommended to simply exit the game and restart the system of the PC or console to check whether the problem is still bothering you or not. A normal reboot of the system can fix temporary glitches or cache data issues whatsoever.
7. Repair Game Files (PC)
If none of the methods worked for you then you can follow the steps below to quickly repair the game files on the PC. By doing so, you can launch and run the game again on the Windows computer easily. To do so:
Open the Ubisoft Connect software on the PC.
Click on the Games tab > Select the Rainbow Six Extraction game tile.
Now, select the arrow icon on the bottom right side.
A drop-down menu will appear > Click on Verify files.
If prompted, click on Repair.
Finally, Ubisoft Connect will start repairing any missing or corrupted files (if any). Wait for it to complete.
Once done, make sure to close Ubisoft Connect as well as the game if running, and restart your computer to check for the issue.
That's it, guys. We assume this guide was helpful to you. For further queries, you can comment below.