Ubisoft's Rainbow Six Siege first-person shooter is very popular. There is a strong focus on tactical gameplay, team-based strategy, and a highly competitive player community. Players have reported difficulty joining squads when trying to play with friends or teammates, which can be frustrating. Here are some common reasons why Rainbow Six Siege may not able you join a squad and how to fix them.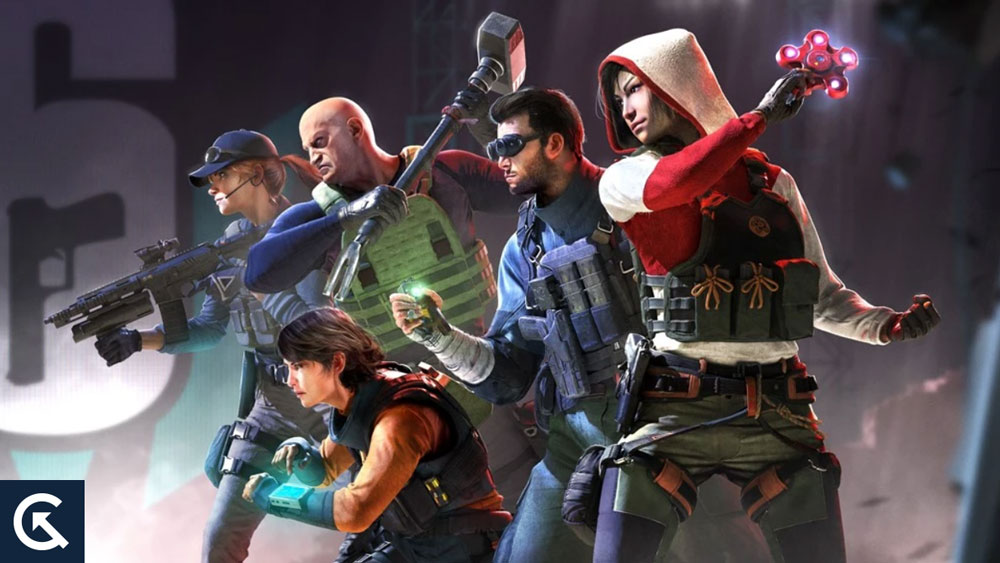 How to Fix Rainbow Six Siege Not Able to Join Squad
So, here are some fixes that will help you resolve the Rainbow Six Siege not able to join squad issue:
Fix 1: Check your network connection
When troubleshooting connectivity issues, it is important to check your network connection first. You must have a stable internet connection to enjoy Rainbow Six Siege, and any network disruptions or high ping can cause you problems joining a squad. Here are some things to check:
Make sure your internet speed and ping are up-to-date. For checking internet speed, use online speed tests tools such as Ookla or Fast.com, and for checking ping, use PingPlotter or PingTest.net. Slow network speeds or high pings can cause Rainbow Six Siege connectivity issues.

You may also experience network issues due to your firewall or antivirus software. It is possible for these programs to block network traffic, which may make it impossible for Rainbow Six Siege to connect to the game servers. Your firewall or antivirus software may block Ubisoft's servers or Rainbow Six Siege.
Fix 2: Verify game files
In order to resolve Rainbow Six Siege squad issues, the game files must be verified. It ensures that all game files are present and correct, which can resolve issues that may have arisen due to missing or corrupted files. Here's how to verify game files:
Depending on how you installed it, you'll need either Uplay or Steam to play Rainbow Six Siege. While Uplay is the game launcher of Ubisoft, Steam is the platform for distributing games.

In your game library, select Rainbow Six Siege from Uplay or Steam.

Select the settings icon.

In the settings menu, select Verify files. If your computer is slow and the game is large, this process may take a while.
Fix 3: Restart your router and modem
It can be helpful to restart your modem and router if you have problems playing Rainbow Six Siege squads. You will be able to connect to the game servers once this process has cleared any network congestion. You can restart your router and modem by following these steps:
To begin, turn off your router and modem. To do this, unplug them from the power source or press the power button if you have one.

It is a good idea to wait a few minutes before turning back on your router and modem after you have turned them off. By doing so, they will have time to completely power down and reset.

Lastly, turn on your router and modem and wait for them to fully power up. You can then try joining another Rainbow Six Siege squad when they are ready.
Fix 4: Disable third-party software
Rainbow Six Siege squad issues may also be caused by third-party software on your computer. In some cases, these programs can interfere with the game's network connectivity, causing problems joining squads. Here are some examples of third-party software that can cause issues:
Your internet traffic can be routed through a number of different servers with VPN software.

It is possible for servers to cause problems with Rainbow Six Siege squad play. Disable your VPN if you're using one and see if the problem goes away.

It is also possible to run into issues with Rainbow Six Siege if you use overlay software, such as Discord. In addition to interfering with the game's graphics and the network's connectivity, these programs overlay information on top of the game screen. Ensure that any overlay software you are running is disabled and see if that solves the issue.

It is possible to optimize your computer for gaming with a game booster, such as Razer Cortex, but it is also possible to interfere with the network connection of the game. If you are experiencing a problem with your game, try disabling any game boosters you have installed.
Fix 5: Clear your cache
It may also be necessary to clear your cache in order to fix Rainbow Six Siege squad not Able to Join Squad issues. It is possible for your cache to store corrupted temporary files and data, leading to game issues. Here's how you can clear your cache:
It is first necessary to open your file explorers, such as Windows Explorer or Finder.

Next step is to navigate to the Rainbow Six Siege program files folder.

Once you find the Rainbow Six Siege folder, find the "cache" folder and delete it. Next time you launch the game, your cache will be cleared and rebuilt.
Fix 6: Contact support
Getting in touch with Rainbow Six Siege support may be necessary if none of the above fixes work. If necessary, they can assist you in troubleshooting the issue and may be able to provide a solution. Here's how to contact support:
In order to get help, you should visit Ubisoft's Rainbow Six Siege support page.

Upon reaching the support page, open a support ticket and describe your issue. Include any troubleshooting steps you've already taken.

If you submit a support ticket, Rainbow Six Siege will respond as soon as possible. Depending on the situation, they may ask for more details or provide a solution.
Fix 7: Disable Windows Firewall or Antivirus software
Your Windows Firewall or antivirus software may interfere with your Rainbow Six Siege gameplay. It might be a good idea to temporarily disable your firewall or antivirus if you suspect this may be the case. Here's how to do it:
Disable Windows Firewall
These steps will enable you to disable the Windows Firewall:
Firstly, go to the Start menu and search for "Windows Security."
Select "Firewall & network protection."
You can turn off the firewall for each network type by clicking on "Domain network," "Private network," and "Public network."
Disable Antivirus Software
You can disable your antivirus software by following these steps:
You'll need to open your antivirus software (such as Windows Defender, McAfee, Norton, etc.).

Temporarily turning off or disabling the software should be possible.

You may be able to find this option in the help documentation of the software if you can't find it.
Note: After playing Rainbow Six Siege, make sure to re-enable your firewall or antivirus software.
Fix 8: Port Forwarding
Your router can be configured to forward certain ports, which improves network connectivity and reduces lag. Here's how to do it:
Find your router's IP address
Here are the instructions you need to follow in order to find your router's IP address:
Firstly, go to the Start menu and search for "cmd"

To open it, click on "Command Prompt."
You can type "ipconfig" and press Enter.
If you find a "Default Gateway" entry, take note of the IP address (e.g., 192.168.1.1).
Access your router's settings
You can access your router's settings by following these steps:
Choose a web browser (e.g., Chrome, Firefox, Edge, etc.).

You will need to type the IP address of your router into the address bar and press Enter.

Please enter your username and password (if prompted).
Forward the necessary ports
Here are the steps for forwarding Rainbow Six Siege's ports:
Firstly, find the "Port Forwarding" or "Virtual Server" section of your router's settings

For Rainbow Six Siege, add UDP 3074, 6015, 10000-10099, and 20000-25000

Once you've made your changes, save them and restart your router.
Note: Port forwarding may vary by router model and provider, depending on how you set it up. If you are unsure about how to do it, you can contact your ISP or router manufacturer for assistance.
Fix 9: Reinstall Rainbow Six Siege
It is also possible to uninstall and reinstall Rainbow Six Siege in case everything else does not work. By doing so, you will remove any corrupted files or settings that may be causing the problem. Here's how to do it:
Uninstall Rainbow Six Siege
You can uninstall Rainbow Six Siege by following these steps:
Initially, search for "Add or remove programs" in the Start menu.
To open it, click on "Add or remove programs."

Select Rainbow Six Siege from the list of installed programs

To uninstall the game, click "Uninstall" and follow the on-screen instructions.
Reinstall Rainbow Six Siege
Here are the instructions you need to follow in order to reinstall Rainbow Six Siege:
Visit the Rainbow Six Siege website or your favorite game store (e.g., Steam, Uplay, Epic Games).

You can download the game here and install it

If the squad issue has been resolved, launch the game.
Note: Reinstalling Rainbow Six Siege can be time-consuming and will.
Final thoughts
It can be frustrating for players in Rainbow Six Siege not to be able to join a squad. You can troubleshoot and fix the issue in no time by following the steps outlined in this article. To improve your gameplay, make sure your game and drivers are up-to-date, and try different network and firewall settings. For further assistance, contact Ubisoft support. So, that's all we have for you. I hope that this guide has helped you. Moreover, comment below and let us know.