The Realme Narzo 10 is a low-cost phone that claims to offer a great experience for young gamers thanks to the MediaTek Helio G80 SoC. It has an interesting look with subtle stripes down the back that appear to shift as you turn the phone under the light. It feels well built but is a little heavy thanks to the 5000mAh battery. The 6.5-inch display is quite good and the HD resolution won't stress the processor too much, but some might prefer a crisper full-HD panel at this price.
In this guide, we will show you the real image of the ISP pinout and test point for the Realme Narzo 10 RMX2040. By using the ISP PinOUT, you can easily restore the stock ROM, bypass FRP lock, or reset user data on your device via UFi Box. In this guide, we will also guide you on how to reboot into 9008 EDL Mode.
What is ISP PinOUT?
ISP or In-system programming also known as in-circuit serial programming (ICSP) for hardware that has a cross-reference of pins or contacts. By shorting the pins together, you can power or signal the logic board (motherboard) of an electronic device such as a mobile, computer. You will find the IS Pinout connection on the logic board of your device. Therefore, you will need to remove the back panel of the handset and follow the below image to locate the pinout.
Also Read: Unlock Bootloader Realme Narzo 10 and Narzo 10A | How to
Realme Narzo 10 RMX2040 ISP Pinout Image: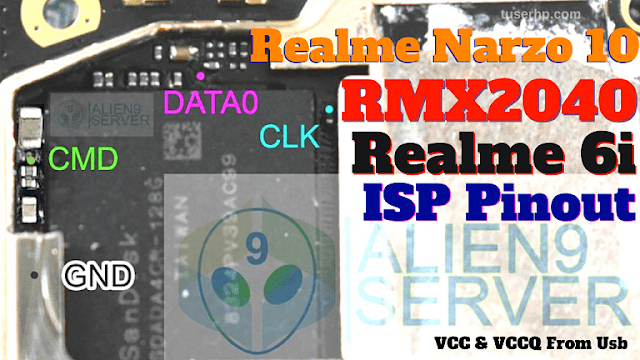 How to Enter EDL Mode on Realme Narzo 10 (RMX2040)
Follow this instruction carefully to boot your device into EDL Mode (aka Emergency DownLoad Mode)
Method 1: Using ADB
Download ADB and Fastboot Tool and extract it in your PC (C:/ Drive)

Connect your device to your PC

Open the adb command and enter the command

.\adb reboot edl
Method 2: Using Fastboot
Download ADB and Fastboot Tool and extract it in your PC (C:/ Drive)

Boot your device into the bootloader

Open the command window on your PC on the same folder extracted (ADB and Fastboot Tool)

now enter the command

.\fastboot oem edl
Method 3: By Hardware Test Points / Restore Your device
Download the QDLoader driver

Find the EDL PinOUT/Test Point on your device (refer image above to find the test point)

To enter EDL mode, you need to use a metal tweezer or a conductive metal wire to short the points.

Once you are done, connect your device to the PC using a USB cable

This way, your device will enter EDL mode. Now you can open the QFil or QPST Tool to flash the firmware and restore your device.
I hope this guide was helpful to find the Realme Narzo 10 RMX2040 ISP Testpoints.