Amazon Alexa is one of the best virtual Assistant AI technology present right now. This smart device makes work so much ease. However, it keeps recording your voice to process them in their server. So if you're concerned about your privacy and want to remove all Amazon Alexa voice recordings then you can certainly do so.
Alexa listens to everything, and it does not matter if it is a command or not. When you open the Alexa app, it is secretly storing all of your sounds or voices in its data. And it means you are offering a large amount of your personal data to a device that is controlled by a private company.
Amazon may have cleared about the privacy of its users to be safe. But there is always a chance of a problem with the privacy norms, and you also want to be secure in every sort. And whenever you give any voice command to Alexa, it gets stored in the database of Amazon because they want to improve the functionality of their AI.
There are so many reasons why you wanted to delete or remove Amazon Alexa's voice recordings. We all have privacy concerns. But also not that the voice assistants learn only from you, and it will only be fully utilized when it makes more interaction with you.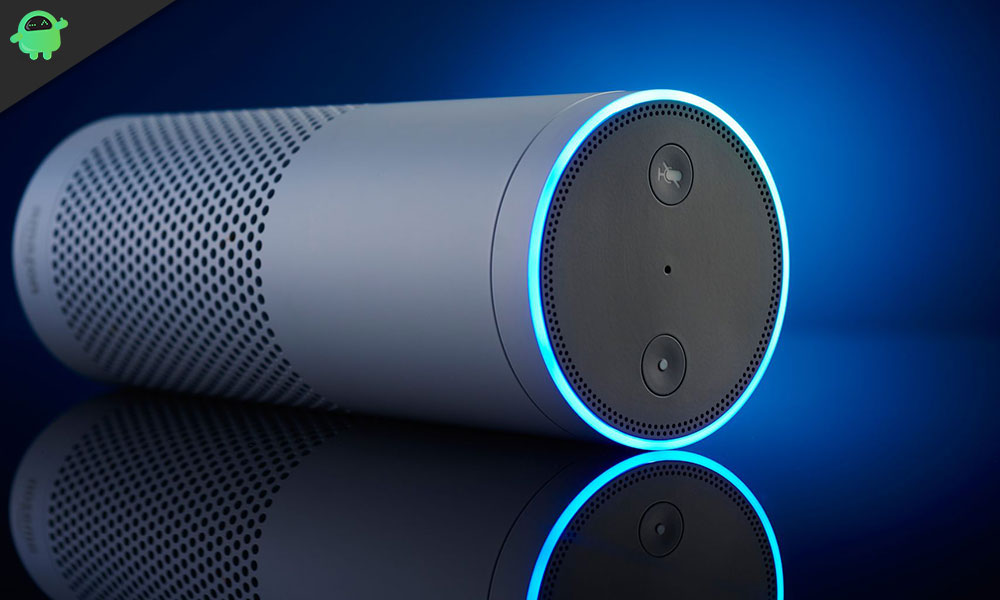 Why Alexa Saves the Recordings?
There are so many reasons for which Alexa saves your recordings. The main reason which Amazon claims is that it helps to improve the experience on Alexa. It uses those recordings to learn more about you. How you speak, what you ask for frequently. It also does warn when you delete them as it could decrease your experience in Alexa. You may also be thinking that it records only when the blue light is on. But it does also records many things that you do not want to get recorded.
Apple had also done this when they released Siri in its initial years to improve the quality & Amazon is also doing the same. But many news that was spread in the past regarding the privacy in Alexa. A family personal conversation was also got leaked, which was stored in Alexa. These types of things make this device so much untrustworthy. But fortunately, there are some ways by which you can delete all of your conversations, which is stored by Alexa. So, let's see how you can delete all of your voice data in Alexa.
How to Remove all Amazon's Alexa Voice Recordings
There are several options by which you can delete or remove Amazon Alexa voice Recordings. You can do this either by using the Alexa smartphone app or their official website. Just follow the steps given below to delete the Alexa recording as you like.
Method 1: Using the app
1) Open your Alexa app on your smartphone, and It does not matter which OS you are using. It works for both Android and iOS.
2) At the top left of the screen, just click on those three lines, It will then open the sidebar in the app.
3) You needed to find the settings option. It will be at the bottom of the sidebar. Just tap on it and proceed to the next step.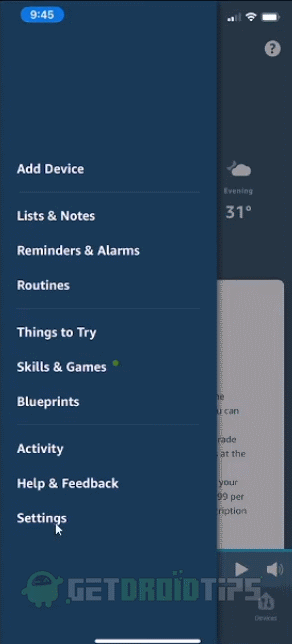 4) Now keep scrolling down and tap on the Alexa Privacy option.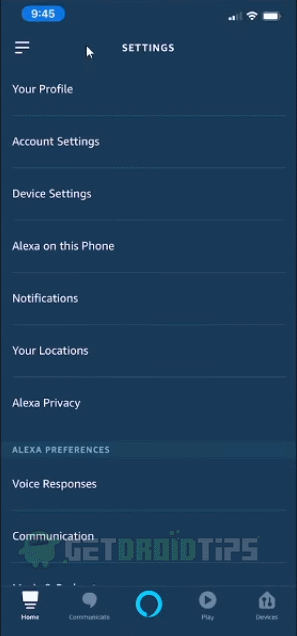 5) After that, tap on the "Review Voice History " option.
6) Now select the "Date Range" by which you want to delete the history.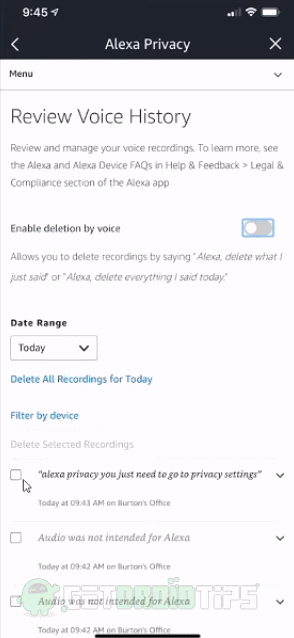 7) Then a drop-down menu will appear. Select up to the time frame you want to delete. All of the recordings within that time period will get deleted.
Method 2: Through a Voice Command
You can also delete all the Recordings you have in the Alexa. For it, you have to change some settings in the Alexa app.
1) Open the Alexa app and then open the sidebar menu by tapping on the three lines icon.
2) After that, tap on the Setting option, Alexa Privacy, and then select the "Review Voice History."
3) Now from there, you will see a toggle in the right of "Enable deletion by Voice." When that option gets enabled, you can now delete all of your Alexa's voice recordings through the Alexa enabled devices.
4) Then a pop up will appear just tap Enable, and it will inform you that anyone who has access to your device can now delete your recordings.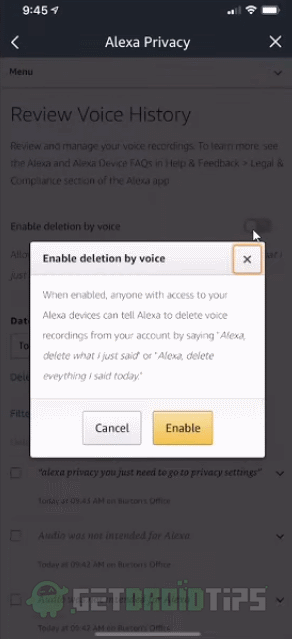 5) After that, you can give Alexa or Echo a voice command that "delete everything I have said today." After that, all of your recordings will get deleted.
Method 3: Through a Browser?
1) Open the website amazon.com/alexaprivacysetttings, from your browser in Windows or Mac.
2) Now click on the "Devices" tab.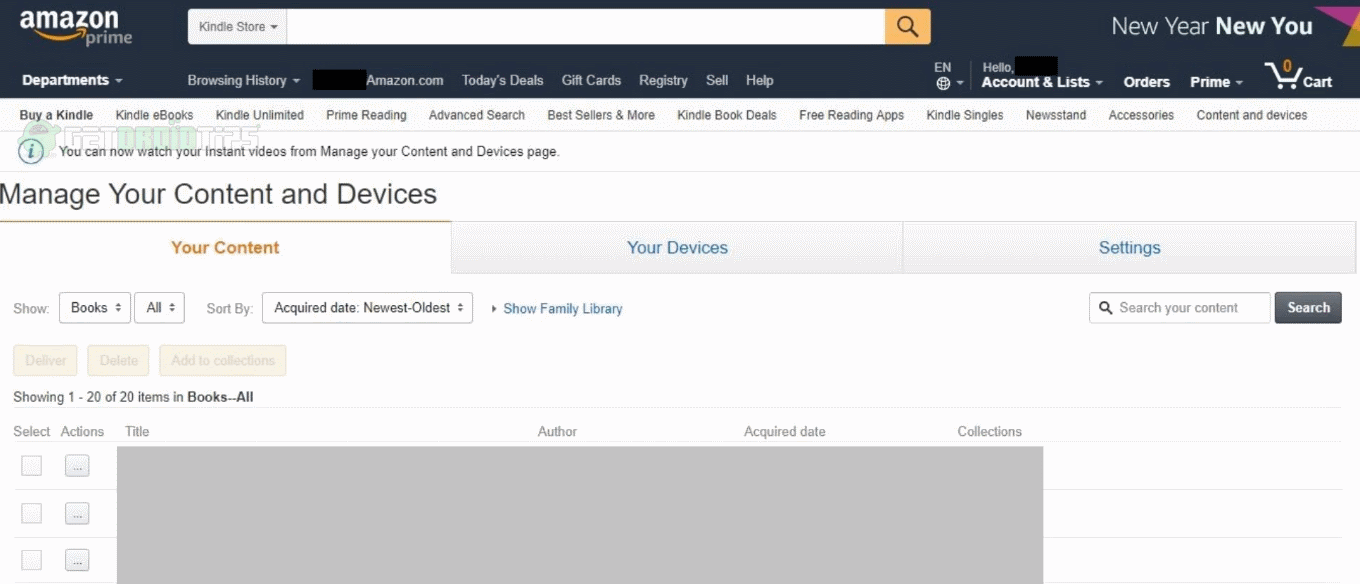 3) Select the Echo device.
4) From there, you can click on the delete voice recording option.

5) Again a pop up will ask you to confirm if you want to delete the voice recordings or not.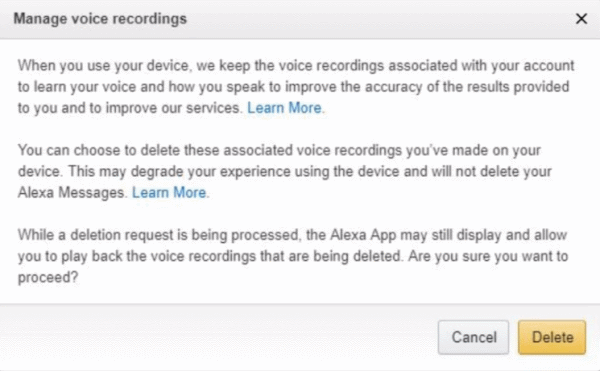 6) Then click on the "Delete" option, and all your recordings will be deleted.
How to Stop Sharing Voice Data With Amazon Alexa?
You can also block the sharing the voice data through the Alexa app, just follow the steps given below:
1) Open the app, tap on the top right option, and open the settings.
2) Now select on the Alexa Account.
3) After that, select the Alexa Privacy option.
4) Then tap on the option which says, "How your Data improves Alexa."
There you will see several toggles. The first toggle is to Help develop New Features, and you have to turn off that option. When you turn off, a pop up will again appear warning you that turning off this feature will reduce some of the features. But in reality, it will not make that much of a difference.
After that, below it, there will be another toggle. It will stop any message which you send to other people by which Alexa used to improve all of the accuracy of its transcription. You may or may not turn off this toggle because it can be useful at some times.