The Samsung Galaxy Ultra 23 is Samsung's latest and greatest flagship offering, boasting incredible zooming capabilities and top-of-the-line hardware in every aspect. With a premium price tag, buyers of this smartphone would understandably be disappointed if standard features like Bluetooth are not functioning optimally.
Unfortunately, some S23 Ultra owners have experienced this issue. If you're one of these troubled users, this article can assist you. We've compiled a list of common solutions that you can try to resolve this problem on your own. So without further ado, let's dive in.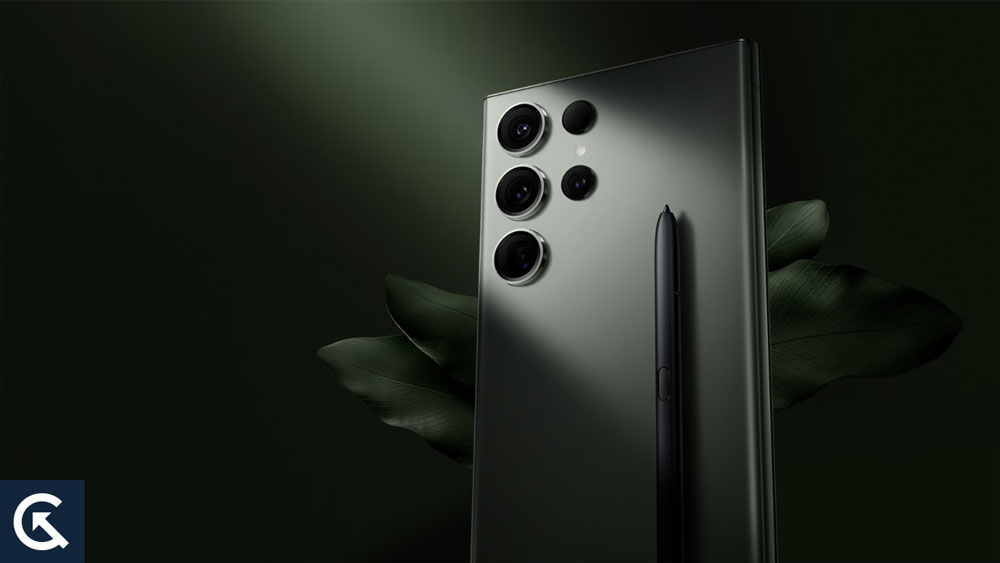 How to Fix Samsung Galaxy S23 Ultra Bluetooth Not Working or Not Pairing Up?
The Bluetooth feature is simply not working for some users. It cannot detect a nearby device or won't pair with any new device. To fix this, you must try all the solutions mentioned here, one after the other, until you find the one that works for you.
Restart Bluetooth:
The most basic fix for a Bluetooth query is restarting the Bluetooth on the phone. You can do the same with the Samsung Galaxy S23 Ultra.
Open Settings.
Go to Connections.
Tap on the Bluetooth menu.
Then turn off the toggle for Bluetooth. Wait for around 10 seconds, and then turn the toggle on again.
You should see the other device, which is in range now. Try pairing your phone with this nearby device again; you should not have any problems now.
If, for some reason, this smile trick does not work, then move on to the next potential solution.
Unpair Other Bluetooth Devices:
Having too many devices paired up with a device sometimes limits its functionality. So if you are trying to pair a new device and are having difficulties, try removing the devices already in the paired list.
Open Settings.
Go to Connections.
Tap on the Bluetooth menu.
Here find the option for the list of paired devices and then tap on it. Once you see the entire paired device list in the directory, tap on the small gear icon next to the name of one of the paired devices.
Tap tap on the Unpair option. This will remove that particular Bluetooth device's information from the smartphone's Bluetooth directory.
Unpair several devices you no longer use with your phone and then try using Bluetooth again. If you still have Bluetooth issues on your Samsung Galaxy S23 Ultra, try the next potential solution.
Airplane Mode:
There is a trick that fixes several network communication issues. This might help with your Bluetooth issue as well.
Open up Settings.
Tap on Connections.
Select the Airplane Mode menu.
Inside the Airplane mode menu, turn on the toggle for Airplane Mode.
Once the Airplane mode is turned on, restart the entire phone using the power key. Once the restart is done, your whole operating system and internal memory will get refreshed.
Now go to the Airplane mode again and turn off the toggle for Airplane mode.
Now the communication systems will resume in your Samsung Galaxy S23 Ultra. Try using Bluetooth with this device again. If you are still having Bluetooth problems, move on to the next solution mentioned below.
Update the Galaxy S23 Ultra:
Samsung pushes out updates to their smartphones whenever a bug needs fixing. Even with the Bluetooth issue, an update could solve it all.
Open your phone's settings.
Go to software update.
If there is any software update pending, it will show up here. Tap on Download and Install.
Once the update is complete, your phone will restart.
After the restart, try using Bluetooth again. If it still does not work, move on to the next solution.
Reset Network Settings:
There is a setting to reset the network settings on your phone. You can try that to fix the Bluetooth issue on your own.
Open up Settings.
Go to General Management.
Tap on Reset.
Go to Reset Network Settings.
Then tap on Reset settings and then finally Reset. You might be asked to enter your device's PIN somewhere. Ensure you enter that correctly.
After the network reset, all your connectivity options will get refreshed. All network-related services you had issues with will clear up after the network Reset.
If, for some reason, the Bluetooth functionalities on your Galaxy S23 Ultra are still not working, try the next solution.
Wipe Cache:
A corrupted cache can lead to several issues with a smartphone. So you must clear up your cache partition entirely and check if that fixes your Bluetooth issue.
Turn off your smartphone.
Connect the device to your PC via a USB cable.
Press and hold the Volume Up and Power buttons.
Let go of the buttons when Android Recovery shows up on the screen.
Use the volume buttons on your phone and navigate to the Wipe Cache Partition option in the recovery menu.
Once you are there, press the Power button to select it.
Confirm your action by choosing Yes in the next menu. Again, use the volume buttons and the power button to perform the selection.
Then your smartphone will prompt for a system reboot. Press the power button to confirm the action.
After the restart, try using Bluetooth again. If it still does not work, move on to the next solution.
Factory reset:
Factory Reset will reset everything on your smartphone to its original form, with everything set to default. Factory reset often works out software inconsistencies with smartphones. So even the Bluetooth issue on your S23 Ultra could be fixed with a factory reset.
This will clear out all your internal storage, which means you will lose everything stored on your smartphone. So, we recommend creating a backup of everything necessary on your smartphone before proceeding with the below steps.
Open up the App drawer and then tap on the Settings application.
Scroll down in the settings menu and tap on General management.
Tap on Reset to view the options.
Tap on Factory data reset.
Scroll down and tap on Reset.
Enter your security lock to confirm your identity.
Tap on Delete all.
Then enter your password and tap on the Ok button.
Wait till the reboot process is complete. It will undoubtedly take a while, like the first time you turned it on after buying it.
After the restart, try using Bluetooth again. If it still does not work, move on to the next solution.
Contact support:
If none of the above solutions worked for you, you should visit your nearest Samsung service center and ask them for assistance. There is a chance that the problem with your Bluetooth could be related to hardware issues. This would mean this is a quality control issue and can happen to someone unlucky.
So your best help in such a scenario would be the service center. They might keep your smartphone with them for several days but will surely resolve your problem. And since the smartphone is new, it is still under warranty. You don't need to worry about the service center charging you a lot for this service.
So these are all the solutions to fix the Samsung Galaxy S23 Ultra Bluetooth not working or not pairing up the issue. If you have any questions or queries about this article, comment below, and we will reply. Also, check out our other articles on iPhone tips and tricks, Android tips and tricks, PC tips and tricks, and much more for more helpful information.