In 2022, Valve announced the Steam Deck, one of the most anticipated gaming consoles of all time when Valve announced it. In terms of power, it's an intriguing device that promises plenty on paper while still offering similar levels of portability as the Nintendo Switch. Gamers who are away from their hardened setup will find the possibility of accessing a collection of games exciting, particularly PC gamers.
Since its launch, Valve has released multiple updates that have ironed out some early kinks. But, there is still some issue that presents in the Steam Deck, which it is really hard for the user to play their favorite games. Yes, they are getting an annoying error, i.e., Steam Deck is Stuck on the loading or boot screen. There is no cause for concern to worry about this issue since we have some fixes to Steam Deck Stuck on the loading or boot screen.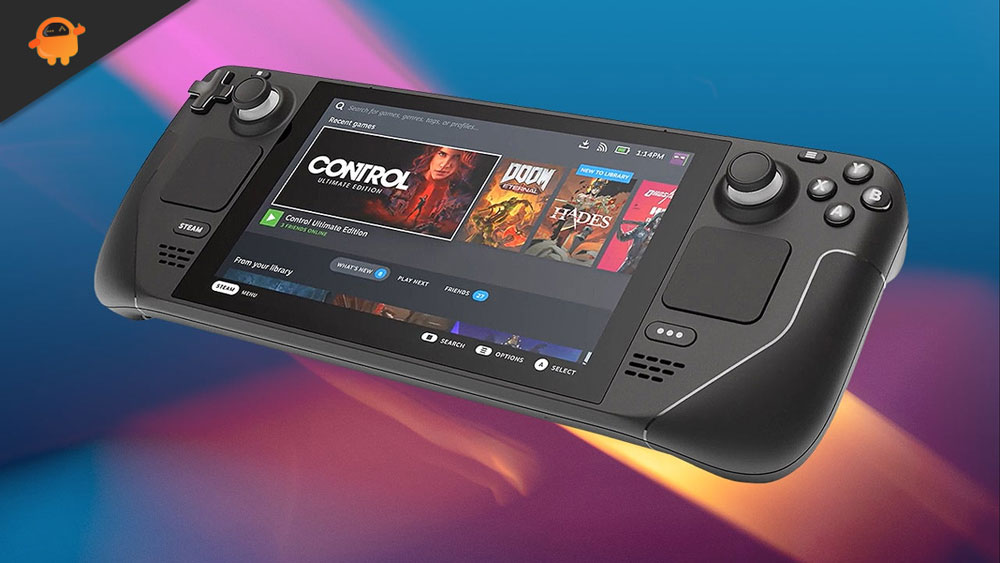 Why is Steam Deck Stuck on Loading Screen?
When I unboxed the Steam Deck, I immediately noticed issues. I plugged in its charger before its screen went black after I pressed its power button without receiving any 'click.' After that, I was able to set up the system as usual, so I assumed that the problem was caused by a hardware issue that needed to be recharged first. However, after playing Rocket League for a while, I found that after turning off the handheld computer, I couldn't turn it back on.
How To Fix Steam Deck Stuck on Loading or Boot Screen
We've listed some fixes for the Steam Deck Stuck on the loading or boot screen. So, let's check out those fixes:
Fix 1: Restart Steam Deck
In order to fix any bug, it is most often necessary to restart the device, which applies to Steam Deck as well. It is possible to restart your device by pressing the power button and holding it for 10 seconds. Once the device has been restarted, you should wait until all the apps have been optimized, then check if the problems have been resolved.
Fix 2: Change the Display Settings
Display refresh rate is another factor contributing to Steam Deck's lagging. Several games do not support the high refresh rate, even though it supports 60 Hz. If the lagging problem persists, change the refresh rate to 30 Hz and ensure that your device has a 30 Hz refresh rate.
Fix 3: Charge It or Change The Batteries
When games haven't been charged properly, Steam Deck doesn't display all of them in the library. However, when the batteries are not fully charged, the Deck is frequently unable to load apps. It is quite common for this to happen, even though it may seem strange.
The charging cables on your iPhone should be plugged in and out properly if you want to ensure that it is charging correctly. Nevertheless, you can check again if your Steam Deck is Stuck on loading or boot screen issue gets resolved or not.
Fix 4: Rollback to Previous Firmware
The above methods may not work in your case, so you can roll back to the previous firmware if the latest update caused the Steam Deck users to face many issues. Moreover, the Steam deck may need to be reinstalled as sometimes the system files become corrupted, and reinstalling the firmware fixes bugs of all types.
Download the Steam recovery image from the Steam support page and connect the Steam deck via USB to create a backup.

It is now possible to roll back to the previous version by restarting the Steam Deck, opening the boot menu, and selecting the previous version.

You will need to restart your device until you reach the home screen (this will take a few minutes).
Fix 5: Power Cycle/Reboot Your Deck
Steam Deck may get stuck on the loading or boot screen when all cables are connected to the Deck station. Therefore, your device's RAM must be flushed as soon as possible to prevent further damage. However, power cycling can be used to accomplish this. For this reason, you need to power cycle the Deck as follows:
Using the power button, turn off your Steam Deck.

Once the power cable and wires have been removed, remove all cables and wires.

You can then plug in the cables after about 20 or 30 seconds.

The Steam Deck may need to be restarted if you are experiencing problems. The issue may have been resolved if you turned on the power again.
Fix 6: Check The Power Connection
Is your device receiving enough power? This may be due to a malfunctioning port or socket on your computer, which makes the Steam Deck Stuck on the loading or boot screen.
It is, therefore, crucial that the electricity does not fluctuate so that your Deck does not suffer damage. In order to determine whether the port is functioning properly, you may want to try another socket or port. If you want to use it again after it has been charged for 2-3 hours, you should charge it again for 2-3 hours.
Fix 7: Check For Damage
Even though there are very few chances that your Deck will have external damage, we can't rule it out. Sometimes, even a small dent can lead to a malfunction. Once the power button is turned off, all cables should be unplugged.
It's a good idea to inspect it thoroughly. If you're not sure your Deck has any damage, it's a good idea to inspect it thoroughly. In case of any damage at the Steam service center, you should contact the Steam service center immediately.
Fix 8: Contact the Support Team
Do you still experience the error? When that happens, we recommend getting in touch with customer service. Alternatively, you can email them or create a ticket on their support page if you have any complaints. Wait for instructions from them regarding how to fix the Steam Deck Stuck on loading or boot screen problem until you receive a reply.
So, that's how to fix the Steam Deck Stuck on loading or boot screen issue. We hope that this guide has helped you. But now, in case you have any doubts or queries, comment below and let us know.