Steam is one of the best platforms to download and buy games. It has a huge collection of games. It supports multiple operating systems like Windows, Mac, and Linux. By default, Steam launches at startup; however, you may want to stop Steam from launching at startup. Therefore, in this article, we will discuss how we can Disable Steam on Startup.
There is a general way to do this; you can go to steam settings and change the startup option. If that doesn't work, for Windows, you can Disable it from Task Manager. In Mac, you can do that in system Preference, and for Linux from Startup Applications.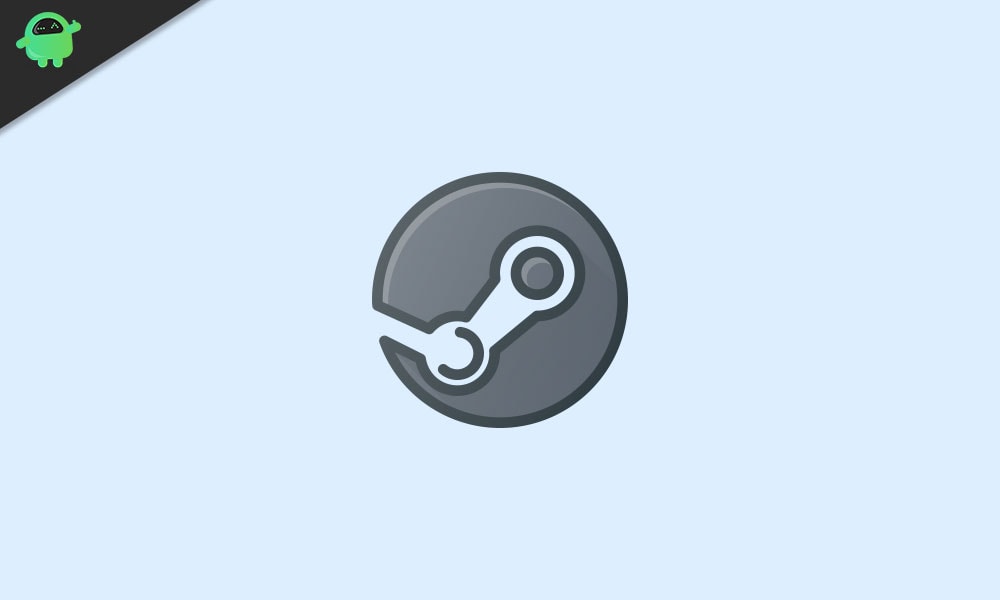 How to Stop Steam from launching at System Startup
The steps to stop steam from the launch/ startup are mentioned below in detail, by following which you can disable the Steam launching at your Startup.
Method 1: The General Method
As mentioned earlier, you can Disable the Launch at startup option for Steam from the Steam itself. However, in some cases, this might won't work; therefore, it is recommended to check the alternative method for Windows and Mac operating systems.
Step 1) Firstly, launch the Steam application on your Pc, by clicking on the Steam icon, then click on the Settings option at the top left corner in steam. If you are on Mac, go to the Preferences option.
Step 2) A Settings Windows or Preferences Windows will pop up at the center of the screen, there on the left pane, go to the Interface tab.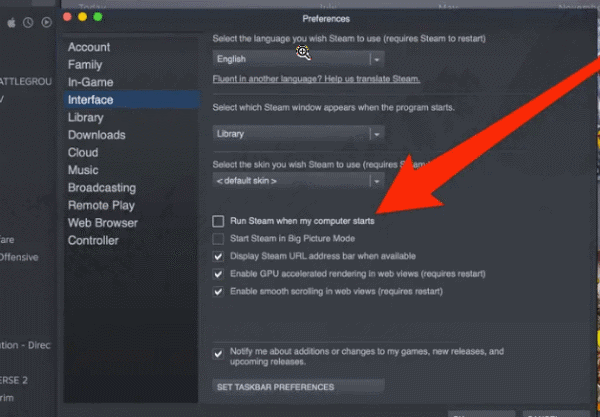 Step 3) Now search for the Run Steam when my computer starts option and uncheck it. Simply by unchecking the option, you will be disabling Steam from launching at Startup of your Windows and Mac operating system.
Method 2: Disabling Steam at Startup using Task Manager
In Windows, you can disable any Startup application using Task Manager. Though task manager can do a lot of things, this is one of them we will use to disable Steam at Windows startup.
Step 1) Go to the Windows Search Bar, type, and search for Task Manager. Then click on the Task Manager application from the result, which looks like a rectangle icon.
Step 2) Now, in the task manager, go to the Startup tab. There you will see all the list of applications that startup at your Windows launch.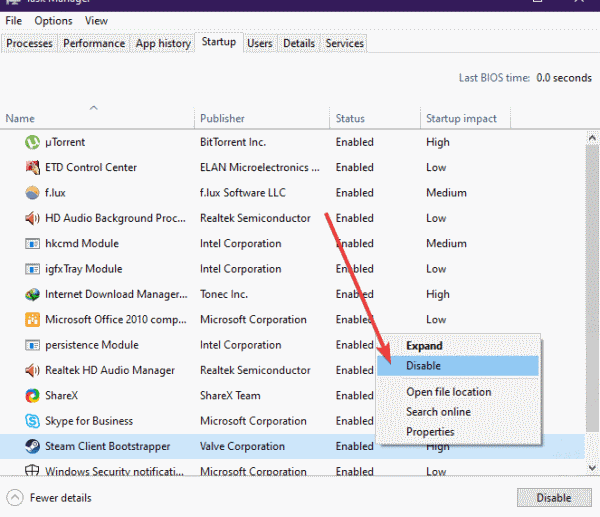 Step 3) Scroll and search for Steam in the application list, click on it and select steam, then click the Disable button below.
However, you can also right-click on Steam and select Disable from the menu. Now, you can close the task Manager, reboot your PC and check if it works.
Method 3: Disabling Steam from Startup from System Preference
Mac users will probably know that they can control startup applications, from the Users & Group settings. All you need to do is to exclude an application from the Login items, it's a very simple method. We will be using that to disable Steam on Startup on your Mac.
Step 1) Firstly, click on the Apple icon at the top-left, then select the System Preferences option from the menu.
Step 2) Now, go to Users & Group, and then in the Users & Group Window, click on the Login Items tab. To make changes, you must click on the Lock icon below, then type your password for authentication.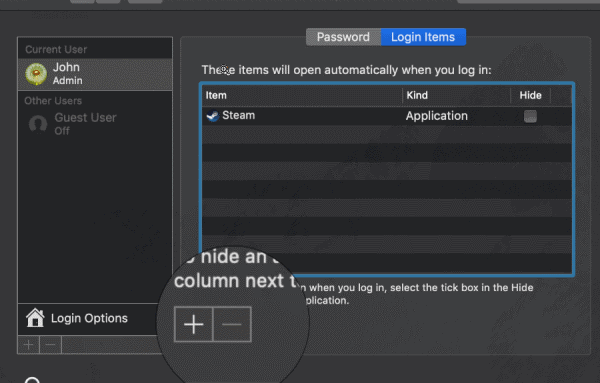 Step 3) In the Login Items tab, you will see a list of startup applications, select Steam from the list. Then click on the Minus button below the Startup applications box to disable it.
Now, you can just close the User & Group Window and reboot your Mac and check if Steam launches at startup.
Conclusion
To prevent Steam from launching at the startup of Windows and Mac, follow the above steps. In case pf any issues, make sure you have made necessary changes in the settings menu.