With the new 1.4 update, two new significant bosses have been introduced by Re-Logic in Terraria. These are Queen Slime and Empress of Light. In this guide, we will be focusing on the Queen Slime. This is an optional boss you can take on if you wish. Here we have our guide that will help you to find the Queen Slime and defeat her. Let's head on and read how you can find her and accomplish your goal.
Re-Logic's exciting action-adventure sandbox game, Terraria has been doing exceptionally well nine years into its release. With a large and dedicated fan base, the game is more popular than ever now. Originally released for Microsoft Windows in 2011, it has sold over 30 million copies by April 2020. There has been much praise for its focus on powerful combat and tactical mechanics while staying true to the sandbox genre. With the efforts of the developers and the love of the gaming community, the game went on to win the 2011 Indie of the Year Player Choice award on IndieDB. Now without any further ado, let's get started with our guide.
How to Summon the Queen Slime in Terraria 1.4?
First, you need to advance your game to Hardmode. This will result in the Hallow spreading out throughout your planet. Now move up to an Underground Hallow area and start searching the place for crystals. We're looking for a specific type of crystal known as the Gelatin Crystal. You can differentiate it from the other crystals in its surroundings by virtue of its comparatively more uniform shape. After finding it, extract it from the wall using your drill or pickaxe. It can only be used in Hallow areas, so head back up to the surface.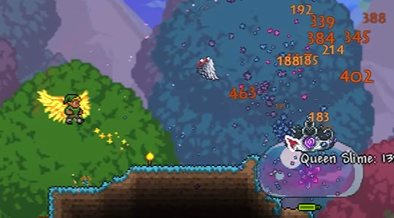 Once there, prepare a suitable arena for a boss fight in the Hallow area and brace yourself for the upcoming battle. Summon the Queen slime using your Gelatin crystal. The battle itself isn't too hard, because she predictably attacks by jumping at you just like the other slimes you must have encountered by now. However, in the second phase of the combat, the Queen Slime will grow wings that enable her to fly around and attack you with crystals. You can try firing projectiles in different directions, but make sure to avoid the falling debris generated as a result.
After you have defeated her, she will drop the following items for you to collect:
Sparkle Slime Balloon
Hooks
Lots of silver coins
Gold Silver Copper
This guide was to help the players of Terraria to summon the Queen Slime and defeat her. After following our guide, the players will be able to overcome her easily with strategy. We hope our guide helps you. If you have any queries or feedback, feel free to comment down below with your Name and E-mail ID. Likewise, check out our iPhone Tips and Tricks, PC tips and tricks, and Android Tips and Tricks for more such tips and tricks. We urge you to participate in the $150 giveaway by subscribing to our YouTube Channel. Good luck, players!