Re-Logic's exciting action-adventure sandbox game, Terraria has been doing exceptionally well nine years into its release. With a large and dedicated fan base, the game is more popular than ever now. Initially released for Microsoft Windows in 2011, it has sold over 30 million copies by April 2020. Moreover, originally released for Microsoft Windows, the game has been ported to several consoles and handheld devices owing to its popularity and demand. It has been praised for the profound nature of its gameplay, the challenging puzzles, and the feeling of accomplishment experienced by the players. The game went on to subsequently win the prestigious 2011 Indie of the Year Player Choice award on IndieDB.
The recent 1.4 update in Terraria has introduced the players to an exotic new category of Summoner weapons known as Whips. There are several types of Whips in Terraria, which can be acquired by a number of different methods. In this guide, we will be covering the process to obtain one of the most popular and useful Whips in the game – the Firecracker Whip. If you are a player of Terraria, then you must be searching on how to get this Firecracker Whip, and this made you land here. Well, you are in the right place, so let's get started.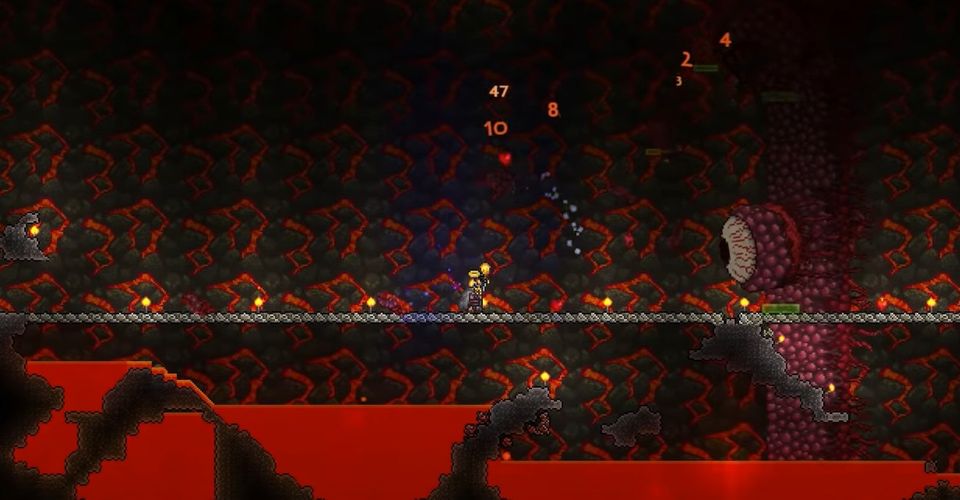 How to Get the Firecracker Whip in Terraria 1.4?
In order to win the Firecracker Whip in Terraria, you must defeat the Wall of Flesh. This is the last and toughest pre-Hardmode boss that can only be found in the Underworld. This fearsome behemoth takes up the entire vertical aspect of the screen and slowly sweeps across the map in a particular direction. You will be forced to retreat steadily to avoid being hit. It will also inflict the Horrified and Tongue debuffs upon all players within 1800 feet. The Horrified debuff prevents players from escaping and lasts until the player or the Wall of Flesh is decisively destroyed. The Tongue debuff will actively suck you into the monster's gaping maw unless you are vigilant enough.
The beast's body is invulnerable to attacks except for its ravenous mouth and two laser-shooting eyes. These are what you need to target in order to lower its health until it is killed. The eyes have less defense, so it is advisable to target them in order to cause as much damage as possible. Additionally, the beast belches out Leeches from its mouth, which will try to attack you. If you kill them, you can obtain Hearts to heal yourself.
You can obtain a number of items as drops after killing the Wall of Flesh. After you beat it for the first time, the world will convert to Hardmode. This will help you confront tougher enemies and obtain much better rewards. Now, you have a 12.5% to 25% chance of obtaining the Firecracker Whip after slaying the Wall of Flesh in Hardmode.
Details about the Firecracker Whip in Terraria
The Firecracker Whip has the following stats:
Damage: 40
Use Time: 30
Knockback: 2
Velocity: 4
Just like other Whips, your minions will powerfully target the enemies you hit with the Firecracker Whip. Additionally, if a foe is hit by a summon when they are afflicted by the burning effect of this Whip, they will explode with Blazing energy.
This guide was to help the players of Terraria in obtaining the Firecracker Whip in the game. After reading our guide, players will be able to get that. We hope our guide proves helpful in your quest to defeat the Wall of Flesh and obtain the Firecracker Whip in Terraria. If you have any queries or feedback, feel free to comment down below with your Name and E-mail ID. Likewise, check out our iPhone Tips and Tricks, PC tips and tricks, and Android Tips and Tricks for more such tips and tricks. We urge you to participate in the $150 giveaway by subscribing to our YouTube Channel. Happy Gaming!