Terraria is a sandbox action-adventure game that first came out in 2011 for Windows from Re-Logic. Terraria is a 2D sandbox game that supports both single and multiplayer mode. The game was welcomed with fairly positive reviews from the critics owing to its sandbox elements. Terraria has since been made available across other gaming platforms as well and has managed to sell over 30 million copies by April 2020. Our today's guide will help the players to make a house in the game for the non-playing characters.
The gameplay features exploration, mining, crafting, building, and combat that is set in a 2D world. Initially, players are equipped with a few primary tools, to begin with. With time and exploration of caves, players can gather metal ores and other resources that can be found across the map. With the right recipe, these resources are essential for crafting items and new gear at their respective crafting stations. Players can combat other players or bosses depending upon time, location, and other random events. Successfully winning a battle may lead to rare item drops and currency rewards. As our today's guide will deal with making a house, let's get onto it without taking any more time.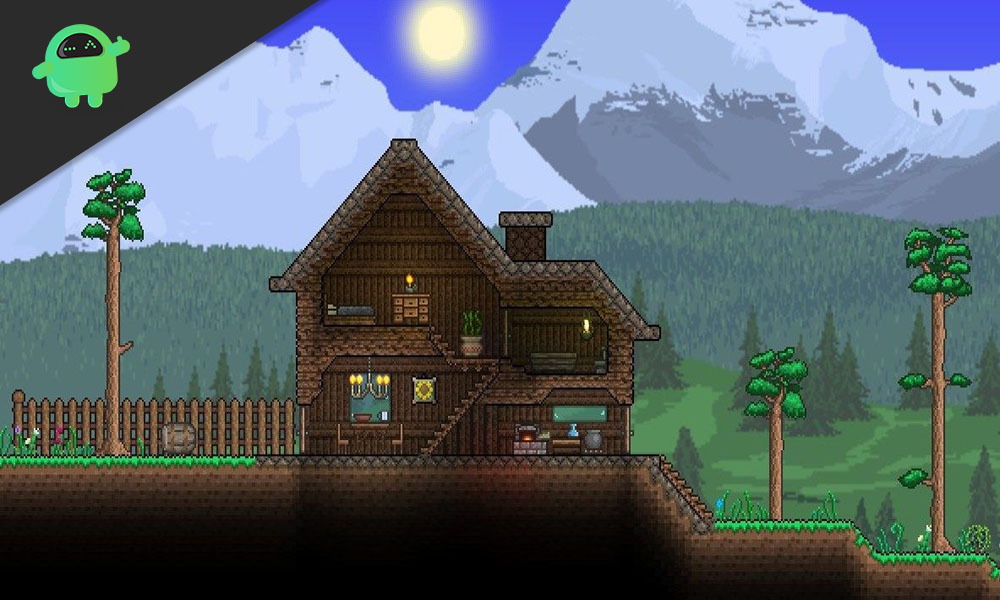 Making a House: Requirements and Basics
In Terraria, players can build houses for their NPC (Non-Playing Character) to spawn in. For each NPC, there must be one house, but not for all. The most commons NPC's that require houses are:
Guide
Angler
Mechanic
Stylist
Wizard
Tax Collector
In this guide, we will details how players can build their NPC's a house and what they need to achieve.
Minimum Requirements for a House in Terraria
Keeping the following in mind before building your house will make it much easier for a player:
Dirt Blocks – 25
Dirt Walls – 32
Wood – 19
Torch – 3
How to Make a House in Terraria
Players are advised to perform these tasks during daylight for an easier experience.
First, find the appropriate land to build the house on. Having a leveled-surface area is the best for building any house.
Then, proceed to collect wood and as much of it as possible. Using an axe, players can cut down any nearby trees and craft them using the 'Work Bench.'
Once the workbench is procured, place it into a 2×1 hole nearby and start crafting doors, tables, and chairs by standing next to it.
Then, head over to the house location and build a rectangular frame using the woodblocks. A minimum of 150 wood blocks are needed for this.
Keeping room for the door, once the wood blocks are in place, players can then place the tables and chairs around the house.
Now, wood walls are needed that will be placed in the background. These can be crafted at the workbench.
Lastly, once the wood walls are set up, players need a light source to complete their house.
Players also need to keep in mind the specific requirements when building their Non-Playing Character a house.
Framework
All house must be fully enclosed
Sidewalls can be made from Blocks, Doors, Platforms or Tall Gates
Floor and Ceiling can be made from Blocks, Trap Doors or Platforms
A house must have a minimum of 60 tiles and a maximum of 750.
A house must have at least one door.
Furniture
A house must have one light resource, flat-surfaced items, and one comfort item.
Only valid light resources such as Torch, Lamps, Chinese Lantern, Tiki Torch, Candle, Lantern, Christman Lights, Chandelier, Skull Lantern, Fireplace, Candelabra, Star in a bottle and a Jack 'O' Lantern can be placed inside a house.
Background Walls
A player must place all walls. Naturally occurring walls or support do not count.
Walls may have holes as long as they are not too big and placed within a suitable distance of each other.
This guide was to help the players of Terraria who want to make a house for their Non-Playing Characters in the game. Keeping the points above in mind will definitely make it easier for players to make a house in Terraria. We hope this guide helped you. If you have any queries or feedback, feel free to comment down below with your Name and E-mail ID. Likewise, check out our iPhone Tips and Tricks, PC tips and tricks, and Android Tips and Tricks for more such tips and tricks. We urge you to participate in the $150 giveaway by subscribing to our YouTube Channel. Happy Gaming!
More Terraria Related Guides
[/su_box