As Terraria is gaining momentum in the gaming industry now, more and more players are being attracted to its fun and engaging gameplay. The game contains a lot of items and accessories that can be found while playing, each of them serving a different purpose in the game. Finding these items can be a lot useful as they all showcase some ability that will help you progress further and easier in the game.
One such item in the game is the Lava Charm, which helps the players to float above lava for 7 seconds. So if you have these with you, you won't have to fear the lava every time as they will keep you from getting hurt for 7 seconds once you've fallen in lava. If you're desperate need these for yourself, then follow this guide to find them. So without any further ado, let's see how to get the Lava Charm in Terraria.
How to get the Lava Charm in Terraria
The best way to get the Lava Charm in Terraria is to find and go into the underground layer that has lava below. We suggest that you find a cave system with lava as places like this has a much higher chance of containing the Lava Charm. So, go into the underground layer where there is lava, preferably a cave with lava, and start to dig and explore. Keep digging and exploring, and you'll eventually come across a golden chest. This is where your search for the Lava Charm ceases. However, keep in mind that not all such golden chests will have the Lava Charm. But still, if you're in a cave system that has lava, you will most probably find it in the Golden Chests here.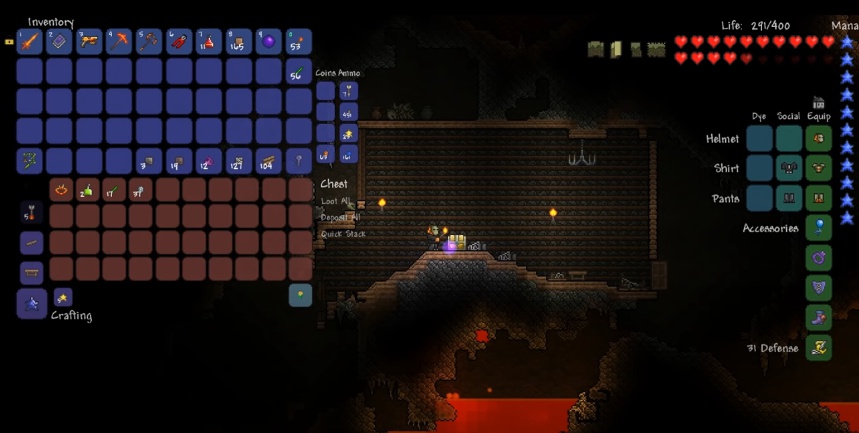 Summing up our guide, all you have to do is to go into the underground layer that's got lava. You'll have a higher chance of finding the Lava Charm in cave systems with lava. Once you're in, start searching for Golden Chests. Although not all golden chests have the Lava Charm, you'll find one that holds it if you search enough. That said, we hope reading the guide above has brought some valuable information and help to you. Please let us know by commenting down below if you have any further queries regarding the same.
Also, check out our iPhone Tips and Tricks, PC tips and tricks, and Android Tips and Tricks if you've got queries for it or want help. Thank you!