Windows Key in the keyboard works like a shortcut for many functions. But more than assistance, it can be a hindrance to many gamers. So they prefer to disable the Windows Key. The windows key, by default, bring up the start menu when you press it, even when you are on a different program or application. Accidental key presses are not an exception when you game, especially the windows key that lies right at the bottom line of keys.
So many gamers prefer to keep the Windows key turned off before they get into a session. Disabling the windows key is relatively simple, and here in this guide, we will show you a few methods that you can try to turn off this key. Without further ado, let's get into it.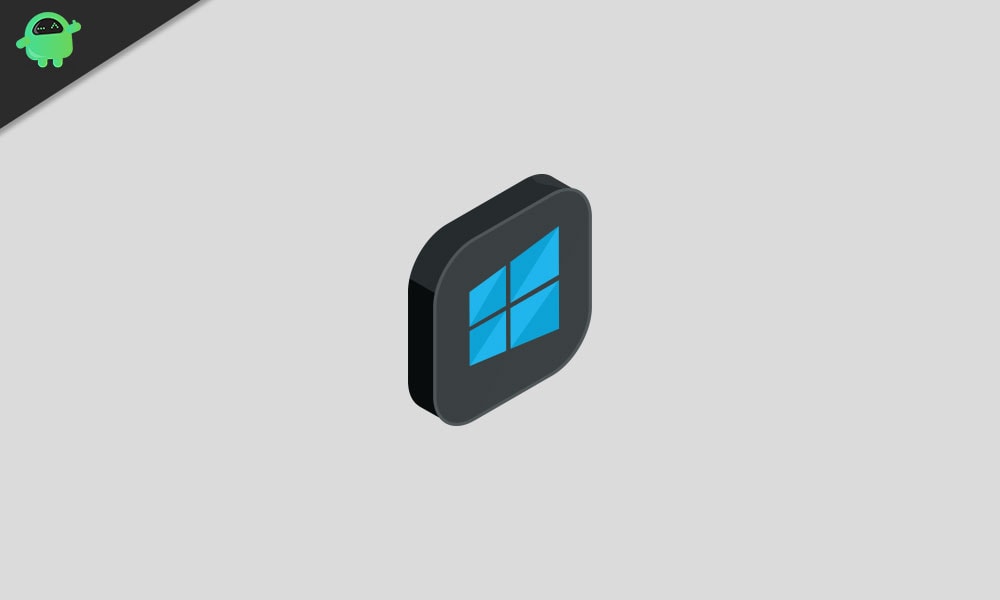 How to Temporarily Disable Windows Key on Windows 10?
You can make changes to your system, or you can use a third-party app to disable this windows key feature. We have listed ways to disable the Windows key temporarily using both methods.
Change your registry:
The registry in Windows controls a lot of things in the system. Making any change will affect the Operating system. And when it comes to windows keys, we can disable that too by making some small changes to the registry.
Press and hold Windows key + R, and it will open the Run dialog box. In the dialog box, enter "regedit" and hit the Enter button.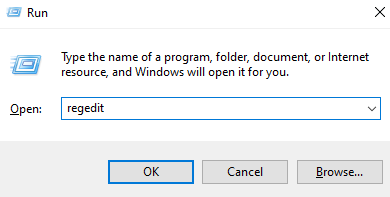 Now in the registry window, first create a backup. If anything goes wrong on in this process, then you can restore your backed-up registry settings from this backup later.
Click on the File and then Export. Then under export range, click on All. Enter the file name and then finally click on Save.
Then navigate to: Computer\HKEY_LOCAL_MACHINE\SYSTEM\CurrentControlSet\Control\Keyboard Layout.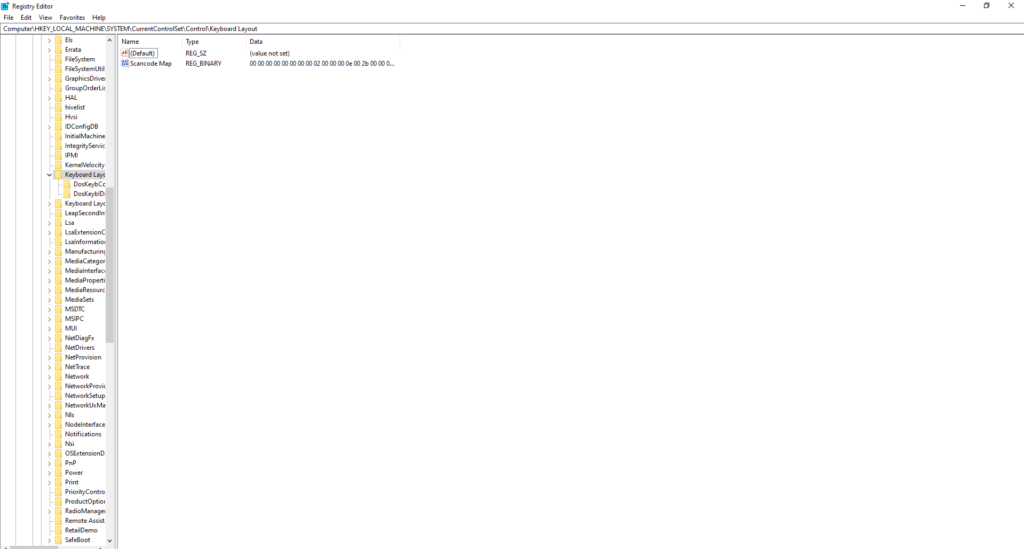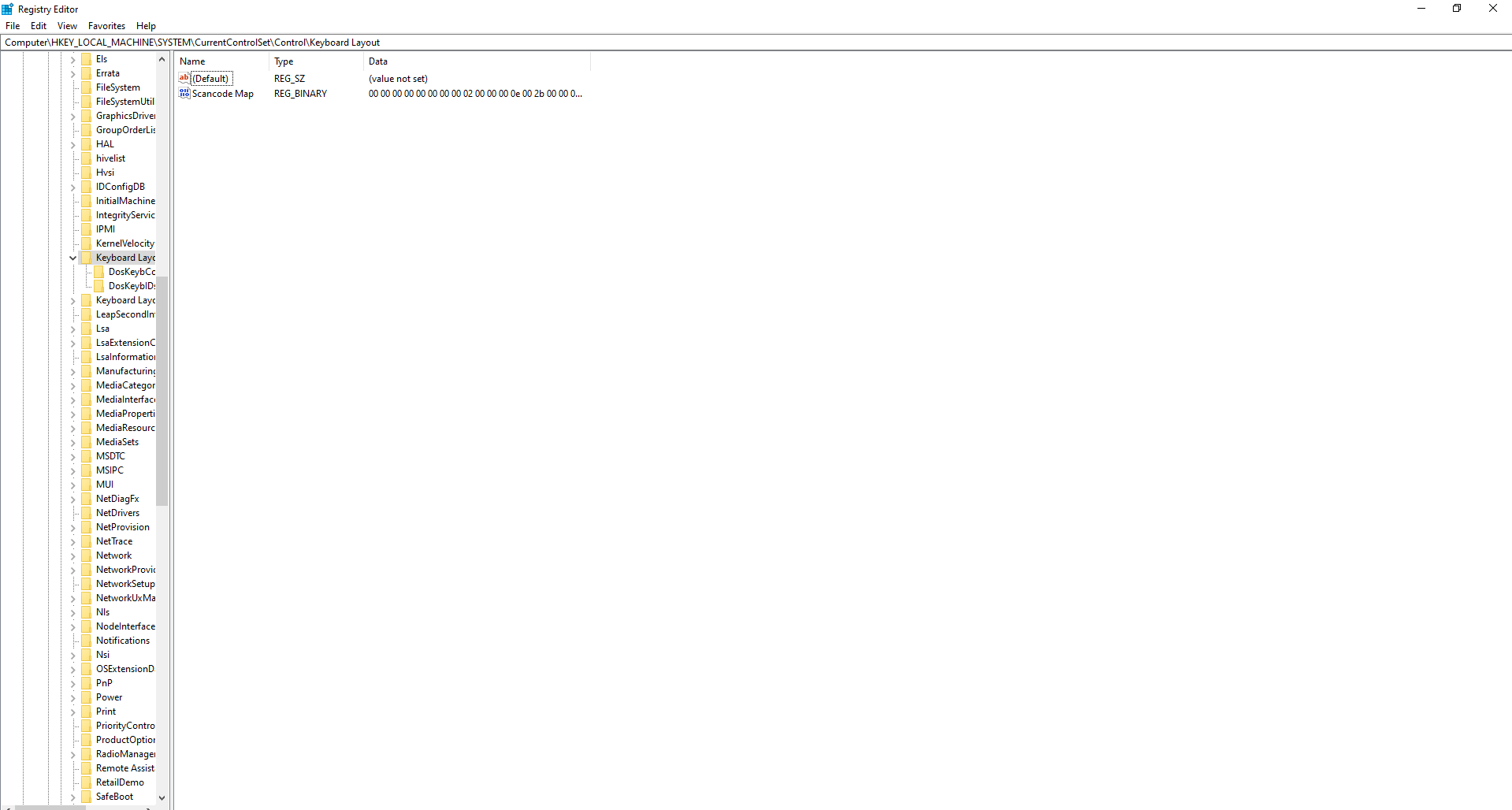 Right-click on the space on the right side, go to new and then choose Binary Value.
Double click on Scancode Map and then enter the following in the Data field and click on Ok.
00000000000000000300000000005BE000005CE000000000
Now close your Registry Editor and restart your system.
After the restart is complete, your windows key won't work. To enable it again, go to your registry editor and undo the Scancode changes that you just made. If this method seems like a stretch to you, then you can try the other ways mentioned below.
Use Gaming mode:
Nowadays, many laptop manufacturers now include a Gaming mode. This mode pushes the processor to the max and optimizes the system software to facilitate gaming. One of the tweaks you will get with gaming mode is the non-functionality of the windows key.
The manufacturers are aware of the issues gamers often have, and the gaming mode fixes it. So, perform a google search on how to turn on a gaming mode on your computer. If your computer has the mode, then you can turn it on and disable the Windows key functionality.
Use Registry Editor to disable Windows Key hotkeys:
Another thing you can try to disable the windows key is using a different way with the registry editor.
Press and hold Windows key + R, and it will open the Run dialog box. In the dialog box, enter "regedit" and hit the Enter button.
Navigate to: Computer\HKEY_CURRENT_USER\Software\Microsoft\Windows\CurrentVersion\Policies
Right-click in the space on the right side. Choose New>DROID (32-bit value). Set NoWinKeys as the name of the new DWORD.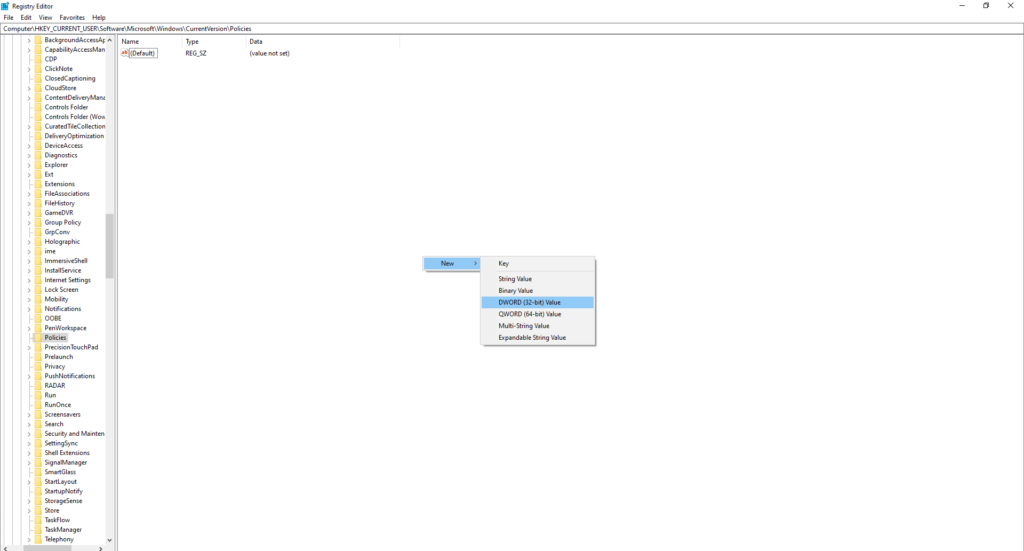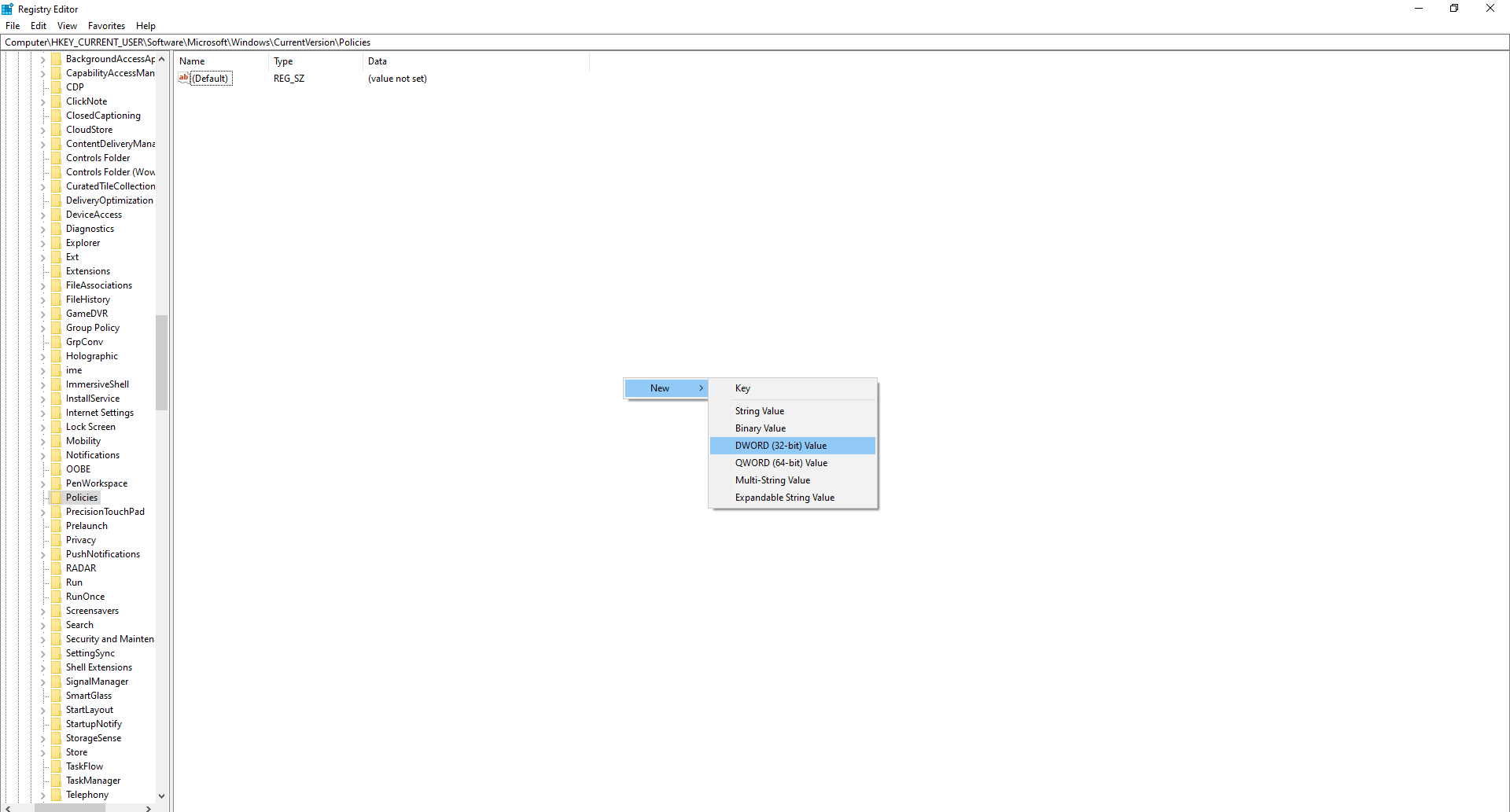 Open the new DWORD's properties by double-clicking on it. Set the value data field as 1 and then click on Ok to save the changes.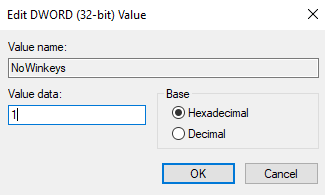 Now close your Registry Editor and restart your system.
Now you won't be able to use the Windows Key shortcut at all. If you want to use the Windows Key shortcuts again, then undo the changes you just made to your registry.
Use Group Policy Editor:
Another way to disable the Windows Key is to use Group Policy Editor settings.
Press and hold Windows key + R, and it will open the Run dialog box. In the dialog box, enter "gpedit.msc" and hit the Enter button.
Go to User configuration>Administrative Templates > Windows Components > File Explorer.
Now on the right side, double-click on "Turn off Windows Key hotkeys."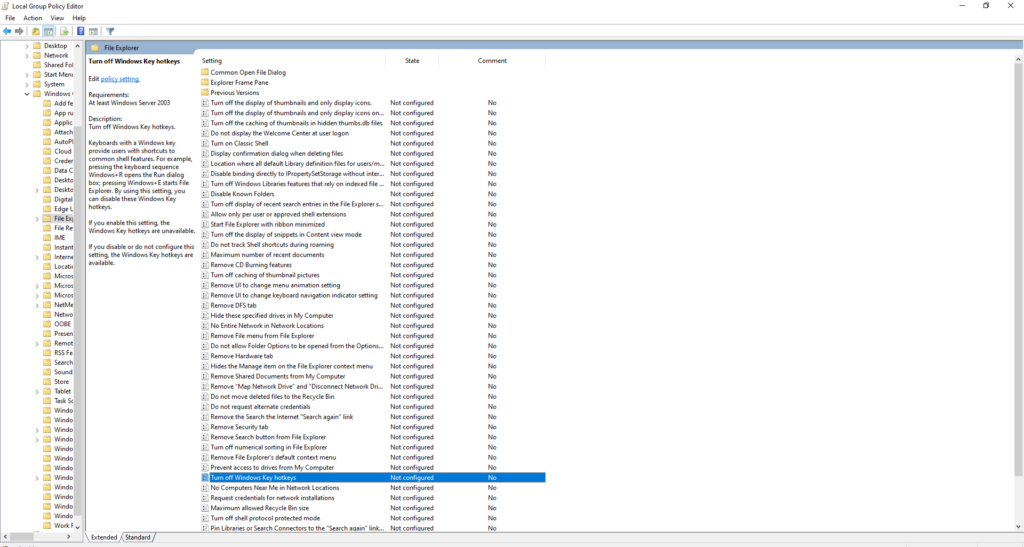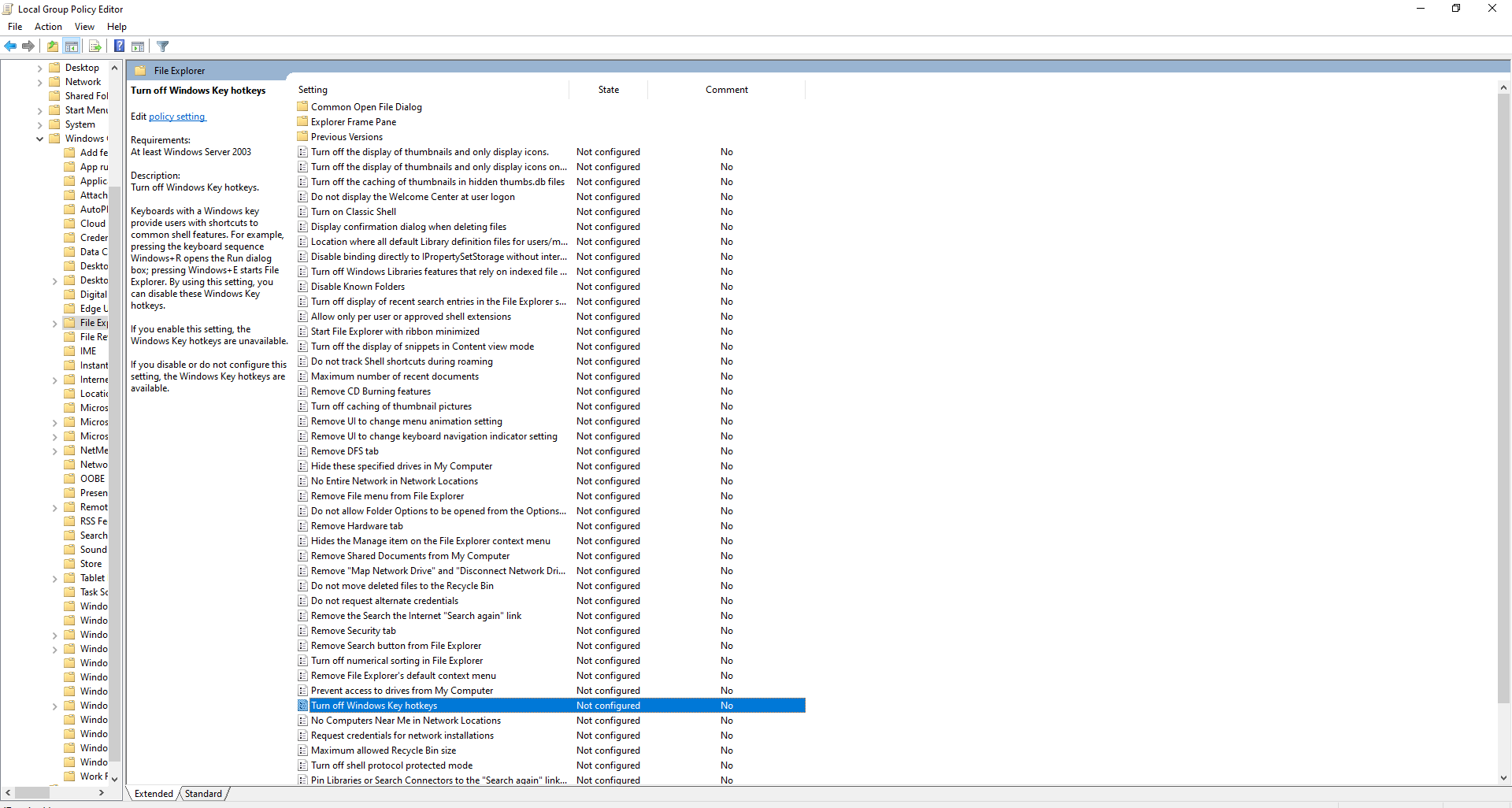 In the window that pops up, select Enabled, then click on Apply and then Ok.
This is a quick tweak that can easily disable your windows keys shortcut functionality. If you want to enable it again, then retrace these steps mentioned above. If even this did not disable your Windows Keys functionality, then try the next method.
There are some third-party applications too that can disable the Windows key function. It will be much more comfortable with the use of these applications.
Use Winkill:
Winkill is a small and portable application that will stay in your system tray. You can click on it to enable it, and once it is on, your windows key shortcuts won't work. There is a toggle in the application by which you can quickly turn it on or off. So using this application, you don't have to worry going through different steps to disable or enable the Windows Keys.
Use Wkey Disabler:
Another third-party application that you can download to disable Windows Key is the Wkey Disabler. Unlike the Winkill, there is no toggle to turn the program on or off. As soon as you open the Wkey Disbaler, the program will start, and your Windows keys will stop working. If you want to turn on the Windows Key functions again, then the only thing to do is disable the program entirely.
There are some other third-party applications too that you can use to enable or disable the Windows Key functionality temporarily. If you want to use the Key again, then retrace your steps. If you used an application, then try uninstalling it, and if you made tweaks to your system registry, then undo every change that you made. That way, you can quickly turn the Windows Key functionality on or off as per your need.
If you have any questions or queries about this guide, then comment down below, and we will get back to you. Also, be sure to check out our other articles on iPhone tips and tricks, Android tips and tricks, PC tips and tricks, and much more for more useful information.