As we know recently, Apple rolls out the new macOS Monterey update for their Macbooks. Well, in my opinion, the update is great and bring a lot of features with it. However, some of the features are very impressive, including the Shortcuts app, improvements to FaceTime, Universal Control, redesigned Safari, and other major changes.
But, with this new update, there are many flaws that bother users. One of the flaws that users are currently complaining about is the time machine backup on macOS Monterey taking a very long time. So, in case you are also facing the same error, then don't worry as in this guide, you'll get all the necessary details regarding how to fix this time machine backup error. Therefore, now without wasting more time, let's directly hover to the methods.
How to Fix Time Machine Backup on macOS Monterey Taking Long Time
Before we start with the guide, let me first tell you that it is not necessary that these methods will surely work for everyone as it totally depends upon how severe the problem is. So, now let's start with the methods to fix this annoying error.
Method 1: Restart The Backup
If you were stuck in the backup screen for a very long time and noticed that the backup percentage isn't increasing, we recommend you close the backup screen and restart it again. Many users reported that this helped them to fix the issue. So, you can also try this out.
Method 2: Exclude The Big Files
This totally depends upon the size of the file that you want to create a backup for. But, in case it takes too much time for completion, then you can check if it is set on battery power mode. If so, then try stopping the backup in progress and uncheck the box located in front of the Back Up Automatically. Also, exclude the large files that you do not need. So, to exclude, simply click on the Options and press the + button in order to add files.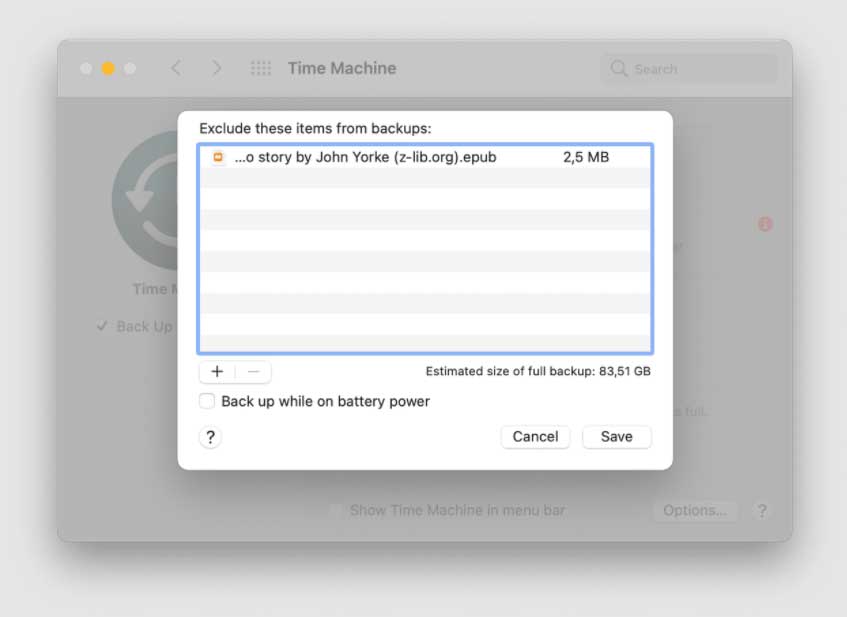 Also Read: Fix: High RAM Consumption Issue on Macbook After the Recent macOS Monterey
Method 3: Check You Antivirus
In case the issue is still there, then this means that your antivirus software is interfering with the Time Machine. So, you can try to exclude the external drive from the antivirus scans or for a temporary period; you can disable it (if needed).
So, these are some methods that will surely help you fix the issue. We hope this article has helped you. So, now you know how to fix the time machine backup on macOS Monterey, which is taking a very long time. So then, for whom you are waiting for? Go and try these methods and let us know which one works for you.