Have you been looking out for some good To-Do Apps for Windows? You're in total luck, read on to discover some of the best To-Do Apps for Windows that you can use for free in 2020!
Getting tasks accomplished is quite a gruesome task and always has been. However, thanks to the recent technological advancements, remembering the tasks at hand and getting them accomplished has been made way easier. We are always connected to our devices, and to one another through them. So what's the best way to getting your tasks done other than using a to-do app on your daily devices? We have already covered various to-do apps as well as note taking ones on our website before, and for various platforms such as Android and iOS. However, it is now time to take a look at some of the best To-Do Apps that are available for Windows computers out there. Before we get into the list though, let's have a look at how these to-do apps may assist your everyday goals and chores.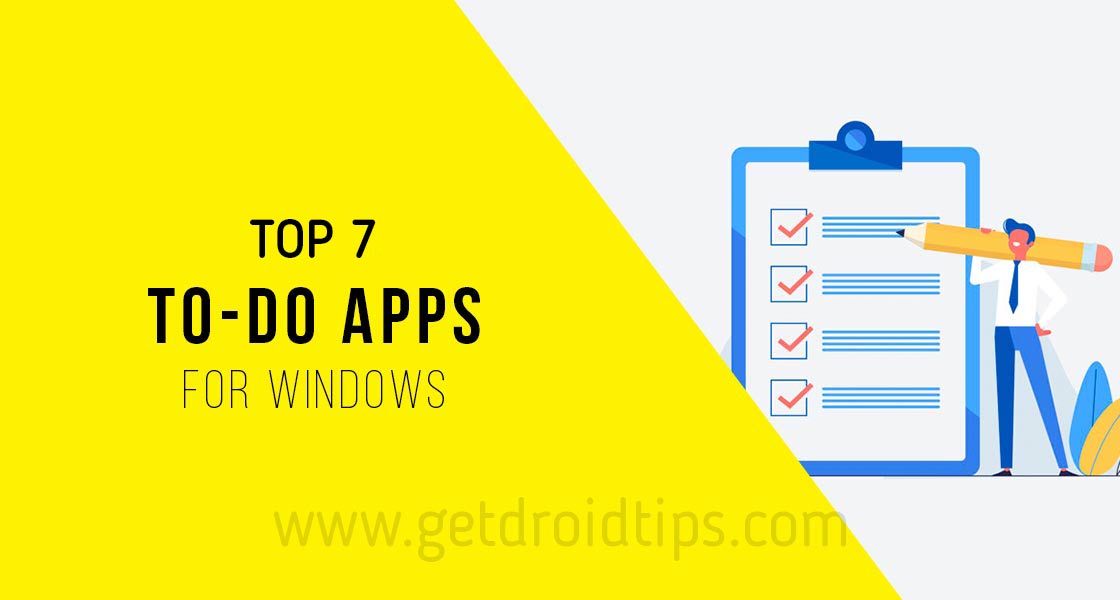 Most to-do apps that are available for smart devices such as our phones, tablets, or desktop computers and laptops come with a very intuitive user interface and many options to play around with. Most of the to-do apps are not only available to use as online web services, but they also have downloadable packages so you can use them offline or on other devices. With a to-do list app in hand, you won't need to worry about forgetting all of your chores for the day, week, or even the entire month. While different to-do apps sport different feature sets, the common features include reminders, tags, calendar dates, and even collaboration with other people. So if you are convinced of having the need for a to-do app for your Windows machine, then look no further! We have handpicked and enlisted some of the best To-Do Apps for Windows in 2020 that you must try!
Top 7 To-Do Apps for Windows in 2020
All of the apps mentioned below have been tried and tested by yours truly, and I recommend only those apps that provide a fulfilling user experience. As far as availability goes, most of the apps we've mentioned about below are free, to begin with, but run on a freemium basis which means users can opt into buying the premium versions which unlocks a whole lot of other cool features. Overall, if you don't plan on spending any money for any To-Do Apps for Windows, you can still enjoy most of the listings here too! With that being said, let's take a look on our top picks!
#1 – TickTick
First up is an application that is my personal favorite when it comes to note taking or to-do list management. TickTick is a great tool for those who want to get their messy lives together free of cost. This to-do list app has some seriously huge number of features and customization options to choose from, even with the free version. With TickTick, you can perform the normal to-do list tasks such as creating tasks or projects, fixing them up with a deadline, creating check lists when needed and so on and so forth. However, where TickTick really shines is its customization options. You can choose from a plethora of different color schemes for your theme, dark, light, blue or red and fine tune the way everything looks. Unlike most other to-do list apps, TickTick allows its users to add attachments in their tasks or projects without having to pay for the premium subscription. You can also use TickTick on various other platforms, and log into your account to enable sync from anywhere in the world. Another great aspect about TickTick is its powerful homescreen widget. You can customize the widget to how you see it fit, and even choose a 7 day style widget to see all of your tasks for the week in a glance.
We highly recommend this to-do list app to everyone who prioritizes customization and features over anything else. TickTick also has a premium subscription which further unlocks more themes and more exciting features to play around with. You can try TickTick out for your Windows computer or laptop by following the link to their official website provided below :
Try out TickTick
#2 – Evernote
Evernote is probably the best regarded note taking app in existence right now. This is all thanks to the elaborate formats and the sheer amount of customization that Evernote provides to its users. This note taking app is also highly recommended for those who work in groups and collaborator a lot with others. Evernote has a ton of group collaboration based features such as being able to assign tasks to someone particular, view live edits, and even create different labels for different people to sort things out the easier way. Evernote also has a powerful embed feature which will allow you to place any kind of media, be it a link, video or image right within your notes with ease. Thanks to its super intuitive user interface and ever updating and bug squashing developer team, this is one of the best to-do apps you can find for your Windows machine. Evernote does unlock even more features when you buy their subscription plans. This is greatly useful if you are constantly working in a group that requires quite a lot of note taking and collaboration, since you can even let your coworkers access your to-do notes and lists.
However, even the free version of Evernote grants you access to a buttload of features and customization options. What makes it even better is you can easily sync your notes and to-do lists between all of your devices, including your phone, laptop and computer. You can download or use the latest version of Evernote on your Windows or Mac device by following the link provided below :
Try out Evernote
#3 – OneNote
Coming up next, we have OneNote, which is probably the best to-do app for Windows when it comes to features and design. OneNote is Microsoft's answer to note taking and organization of all your data. The coolest aspect about OneNote is the user interface thanks to the modern looking look and feel of the service. It gives to its users some powerful embedding features, rich text editing, and superior organizing options, just like chapters in a book! Since OneNote comes straight from Microsoft, it also benefits from features such as text to speech, OCR, and also being able to perform complex mathematical functions. Best yet, if you own a Windows based machine, OneNote already comes pre-installed, and we highly recommend it since it shows up as an app instead of a web-based service. This means the app runs very smooth and is highly responsive to your actions. You can download or use the latest version of OneNote on your Windows or Mac device by following the link provided below :
Try out OneNote
#4 – Microsoft To-Do
This to-do and note taking app has been recently announced for platforms such as Android, iOS and Windows based devices. While Microsoft already makes OneNote that we recommend, that program is still geared towards the people who want more features than a typical to-do app sports. Microsoft To-Do on the other hand, is designed from scratch keeping in mind such needs of the people. The user interface of this app is very minimal, and it has all the options you would expect a good to-do list app to have. You can add or remove tasks, add reminders so you never forget about your chores, add tags to easily separate them from your other tasks and so much more. This app is also available for Android and iOS devices, and with an account set up, you can easily sync all your notes and to-do lists in a jiffy. For Windows devices, it comes as a downloadable app from the Microsoft Store, and blends well with the Metro UI that Windows 10 runs atop of. Overall, if you've been looking for a minimal yet functional to-do app for Windows, then we highly recommend you give this one a shot. You can try Microsoft To-Do out for your Windows computer or laptop by following the link to their official website provided below :
Try out Microsoft To-Do
#5 – MeisterTask
Our next mention on this list is a to-do list app that has a really clean and minimal white interface, with everything you need neatly laid out as options which you can customize. This app solves the number one issue found in Microsoft To-Do which is the lack of collaborations with other people on a specific project. With this app in hand, you can invite others to your projects and track their activities as well as assign them new tasks readily. There is also a huge dashboard with all the information about your upcoming tasks with the due dates condensed for a quick glance. Like any other to-do list app, you can use this one to create check lists as well, so things like shopping for groceries is now done simple with MeisterTask. With every task that you add, you can also leave comments based on how you accomplished the task, this is useful for projects which has several people collaborating in it. Lastly, you can also enable notifications so that the app can notify you timely about all of your tasks ensuring you don't fall behind schedule.
MeisterTask has a clean card style layout, and we feel people who love organizing their chores will really be fond of this to-do list app. It is free to download on the Microsoft Store, and you can unlock even more features such as file attachments to your tasks and task automation with the pro plan. However, we feel that the free plan in itself is worth the download. You can grab the latest version of MeisterTask for your Windows computer or laptop by following the Microsoft Store link below :
Try out MeisterTask
#6 – ToDoist
Coming up next on the list is ToDoist, which is my personal favorite out of the bunch. While you might have seen ToDoist being used by a lot of people on their Android or iOS phones, very little people actually know that they also distribute a Windows client. Not only that, if you are an avid Chrome user, you can simply use their web version which closely resembles the same app that is available to download on the Windows Store. ToDoist has been around since quite some time now, and has undergone some very useful changes. It has a wide array of features when it comes to sorting or organizing all of your tasks, and even offers you a bit of customization if you use the same app on your smartphone as well. Talking a bit about the features it sports, you can add tasks like usual, but can also add a date and time to schedule it as per your demands. You can also add tags to your tasks by using the hashtag symbol followed by the name of the tag you'd like. This is not only useful in organizing tasks, but it comes in handy when you want to quickly search for one.
You can create different labels too, so organizing them is a breeze. ToDoist also has a bit of intelligent software working behind all the time. Instead of manually entering the date and time of your tasks, you can just type it in like you were talking to someone about it. For example, instead of setting a task to finish your homework and then manually choosing Tuesday as a reminder, you can quickly type in "Finish your homework on Tuesday" and the app will automatically create a task called "Finish your homework" that is scheduled for Tuesday. There are many other great features within ToDoist, and we highly recommend you try it out! You can grab the latest version of ToDoist for your Windows computer or laptop by following the Microsoft Store link below :
Try out ToDoist
#7 – Habitica
Ending out list of some of the best To-Do Apps for Windows that you must try out in 2020, we have Habitica. This task manager is definitely one of the most interesting ones that you will ever see. Habitica follows the principles of a game in order for you to get things done more efficiently. Previously known as HabitRPG, this to-do app helps you get your tasks done by adding a competitive element to your life. When you first open the app, you get a character which levels up whenever you get your tasks done on time. However, if you skimp out on any of your tasks, your character will also level down. It is this competitive element that keeps you entertained but also at the same time, focused to get your tasks done on time.
Habitica also has a collaborative mode where you can invite your friends or colleagues to complete their tasks on time as well. All of your characters level up when you finish a task, but they also take damage if you decide to miss any tasks too. Occasionally, you also get to take part in a boss battle with all your friends. Overall, thanks to the rather intuitive and creative approach that this to-do list app has, I found it highly intriguing. It is available for Android, iOS, MacOS and web but unfortunately does not have a Windows app that you can download. You can grab the latest version of Habitica for your Windows computer or laptop by following the Microsoft Store link below :
Try out Habitica
That's all folks! We hope you enjoyed our roundup of some of the best To-Do Apps for Windows in 2020. Which one among the list is your favorite, and how many of these note taking services or apps have you already known or have been using? Know other good Windows To-Do Apps that you feel people might find interesting? Do let us know in the comments section below, we'd be delighted to hear from you guys!