If you have been looking around for some competent remote accessing services for your desktop PC or laptop, then you are absolutely in the correct place. Read on to discover some of the best TeamViewer Alternatives to Remote Access and control your PC.
Remote Accessing allows users to easily view or manage content on their computers from anywhere in the world. The need for this service arises mostly in places full of employees who require viewing content from a host PC, or even for some individual requirements. Whichever might be the case, many services have shown up in the recent past claiming to solve all these needs. One such has been TeamViewer. It is by far the most popular and widely used remote accessing service, with over 1.5 Billion registered devices that talk to one another over the air. TeamViewer is not only used by big corporations in the IT and service industry, but is also used by many individuals who find the need for remote accessing and controlling their desktop or laptop from a distance far away.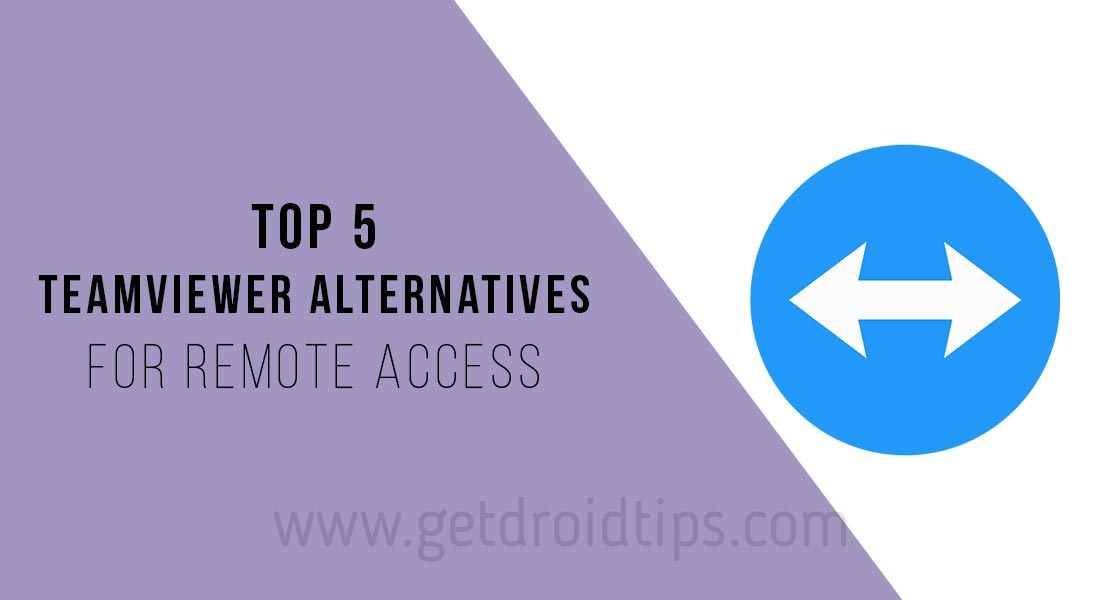 While most of the people using TeamViewer are satisfied with what the service has to offer, some might not like it as much. People have different preferences for remote sharing and accessing services. Maybe you don't like the user interface as much, or prefer a less pricey remote accessing service. If that's the case, you're in total luck! We have broken down some of the best TeamViewer Alternatives that we could find, and have listed everything intuitive with each of them. Read on to learn more about some great alternatives to TeamViewer and find which one suits you the best!
Top 5 TeamViewer Alternatives for Remote Access
All of the apps mentioned below have been tried and tested by yours truly, and I recommend only those apps that provide a fulfilling user experience. As far as availability goes, most of the apps we've mentioned about below are free, to begin with, but run on a freemium basis which means users can opt into buying the premium versions which unlocks a whole lot of other cool features. Overall, if you don't plan on spending any money for a TeamViewer Alternative, you can still enjoy most of the listings here too! With that being said, let's take a look on our top picks!
#1 – Supremo
The first mention goes to Supermo Remote Desktop Control. Not only is it incredibly fast and easy-to-use remote desktop, but it has a very user friendly UI, possibly the best in all remote accessing services. It is lightweight, simple and inexpensive software for remote desktop control, access, and assistance. To activate Supremo, it is not necessary to install or configure a router or firewall. Just run the app & enter the required details. Once setup, you can start remotely accessing your computer from anywhere on this planet!. We highly recommend trying out Supermo Remote Desktop. You can try it by the following link provided below :
Try out Supermo Remote Desktop
#2 – RealVNC
Next up is a remote sharing software for all your enterprise needs – RealVNC. While the software can also be used by individuals, its true power really shines when you require a widespread use case scenario, in a company for example. It is a great choice for enterprises dealing with IT solutions, and thanks to its advanced security, you can trust all your data with it. However, bypassing the firewall when using RealVNC has been a reported issue, and one must keep in mind this shortcoming before your try this service out. However, the powerful collaboration tools and cross platform support of this service makes it a viable option for those looking for a good remote accessing software. Overall, for those who are looking for an all-in-one team solution which has reasonable pricing, then we highly recommend RealVNC. You can try out RealVNC on your Windows computer by following the link provided below :
Try out RealVNC
#3 – AnyDesk
AnyDesk is yet another great solution to all your remote sharing and controlling needs. With features such as high grade security, and connection verification, AnyDesk is recommended for those who value security of their content the most. Moreover, the user interface of this service is one of the best and easy to use on our list. Other unique features such as providing the best bandwidth efficiency and access restrictions to specific devices or locations make AnyDesk a very compelling alternative to TeamViewer. With over 100 million downloads, and one of the best cross platform supports (Android, iOS, Windows, Mac, Linux and many more), AnyDesk is one of the best remote sharing services out there. The pricing of this service also suits most of the individuals or enterprises very well. You can try out AnyDesk on your Windows computer by following the link provided below :
Try out AnyDesk
#4 – Zoho Assist
Next up we have Zoho Assist, which is a very capable remote accessing and controlling software that you can use for your computers. It is one of the best known alternatives to TeamViewer, and is widely regarded as the best tool when it comes to IT solutions in large corporations. You can expect the best remote connectivity when it comes to Zoho Assist, and can control your computer from your Android or iOS devices (and vice versa) wherever and whenever. When it comes to features, Zoho Assist knock other remote sharing services out of the park. With top notch security and connection verification features, Zoho Assist is highly recommended for those with sensitivity to their work needs and environment. When it comes to pricing and availability, Zoho offers a good tier of them, and you can most definitely find one that suits you the best. You can try out Zoho Assist on your Windows computer by following the link provided below :
Try out Zoho Assist
#5 – Chrome Remote Desktop
The last alternative to TeamViewer on this list is Chrome Remote Desktop. While this service is very limited when it comes to being contrasted against the likes of TeamViewer and others, I still would recommend this to those who have individual requirements to fulfill only. Chrome Remote Desktop is cross platform, and requires you to have Google Chrome installed. The setup process is pretty simple, and once done, you can remotely manage your desktop computer or laptop from anywhere in the world. When it comes to features, the only thing you can do with this service in hand is remotely view and control your desktop. If your needs only require you to do this much, then we cannot recommend a better substitute to Chrome Remote Desktop. Since it comes as an extension, it doesn't take up much of your storage and starts almost instantly when compared to other services. You can try out Chrome Remote Desktop on your Windows computer by following the link provided below :
Try out Chrome Remote Desktop
That's all folks! We hope you enjoyed our roundup of some of the Best TeamViewer Alternatives to remotely access and control your PC. Which one among the list is your favorite, and how many of these software have you already known or have been using? Know other good TeamViewer Alternatives that you feel people might find interesting? Do let us know in the comments section below, we'd be delighted to hear from you guys!