Have you been on the lookout for some good productivity applications for your Android or iOS device? If that's the case, you would love our article with some of the handpicked Top 5 Microsoft To-Do Alternatives for Android. Read on to learn more about such apps!
Productivity is a term best defined as the most amount of work done in the least time taken. Nowadays, with an increase in technological gadgets and entertainment sources, it is quite difficult to stay composed and focus on our work. This is where the amazing section of productivity apps comes into action. There is a plethora of productivity apps available on all kinds of platforms, be in Linux, Windows, MacOS, Android or iOS. These productivity apps are of many kinds, be it note taking, focus based apps, news readers and more. One of the most popular categories of productivity apps is to-do list apps.
Microsoft To-Do is one such to-do list app that's available for both Android and iOS. It offers a clean user interface and a powerful list manager. It has been around for quite some time, and many users who have been using it love it. It also syncs well with your Microsoft account, so if you have a Windows computer, you can manage your tasks on the go or while at home using your computer or laptop. However, there are a lot of omissions within Microsoft To-Do such as the lack of project management, collaborating with other people, and viewing detailed statistics at the end of a week or a month regarding your productivity throughout the time period.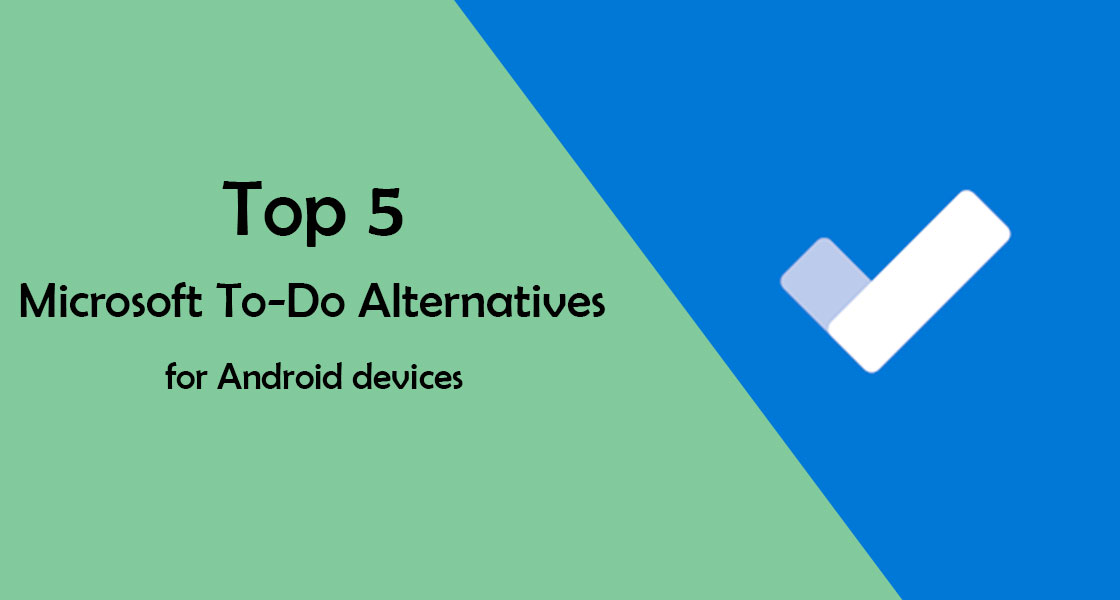 Lucky for you, the Google Play Store is home to many such applications that ease away tasks by providing powerful to-do list apps and task managers. Most of the to-do list apps we've mentioned below are either more powerful than Microsoft To-Do, or have unique features that some people would really find interesting. So sit back, and enjoy our list of some of the best Microsoft To-Do Alternatives for Android devices.
Top 5 Microsoft To-Do Alternatives for Android
All of the apps mentioned below have been tried and tested by yours truly, and I recommend only those apps that provide a fulfilling user experience. As far as availability goes, most of the apps we've mentioned about below are free, to begin with, but run on a freemium basis which means users can opt into buying the premium versions which unlocks a whole lot of other cool features. Overall, if you don't plan on spending any money for Microsoft To-Do Alternatives, you can still enjoy most of the listings here too! With that being said, let's take a look on our top picks!
#1 – MeisterTask
Our first mention on this list is a to-do list app that has a really clean and minimal white interface, with everything you need neatly laid out as options which you can customize. This app solves the number one issue found in Microsoft To-Do which is the lack of collaborations with other people on a specific project. With this app in hand, you can invite others to your projects and track their activities as well as assign them new tasks readily. There is also a huge dashboard with all the information about your upcoming tasks with the due dates condensed for a quick glance. Like any other to-do list app, you can use this one to create check lists as well, so things like shopping for groceries is now done simple with MeisterTask. With every task that you add, you can also leave comments based on how you accomplished the task, this is useful for projects which has several people collaborating in it. Lastly, you can also enable notifications so that the app can notify you timely about all of your tasks ensuring you don't fall behind schedule.
MeisterTask has a clean card style layout, and we feel people who love organizing their chores will really be fond of this to-do list app. It is free to download, and you can unlock even more features such as file attachments to your tasks and task automation with the pro plan. However, we feel that the free plan in itself is worth the download. You can grab the latest version of MeisterTask for your Android device by following the Google Play Store link below :
[googleplay url="https://play.google.com/store/apps/details?id=com.meisterlabs.meistertask.native&hl=en"]
#2 – TickTick
Next up is an application that is my personal favorite when it comes to note taking or to-do list management. TickTick is a great tool for those who want to get their messy lives together free of cost. This to-do list app has some seriously huge number of features and customization options to choose from, even with the free version. With TickTick, you can perform the normal to-do list tasks such as creating tasks or projects, fixing them up with a deadline, creating check lists when needed and so on and so forth. However, where TickTick really shines is its customization options. You can choose from a plethora of different color schemes for your theme, dark, light, blue or red and fine tune the way everything looks. Unlike most other to-do list apps, TickTick allows its users to add attachments in their tasks or projects without having to pay for the premium subscription. You can also use TickTick on various other platforms, and log into your account to enable sync from anywhere in the world. Another great aspect about TickTick is its powerful homescreen widget. You can customize the widget to how you see it fit, and even choose a 7 day style widget to see all of your tasks for the week in a glance.
We highly recommend this to-do list app to everyone who prioritizes customization and features over anything else. TickTick also has a premium subscription which further unlocks more themes and more exciting features to play around with. You can grab the latest version of TickTick for your Android device by following the Google Play Store link below :
[googleplay url="https://play.google.com/store/apps/details?id=com.ticktick.task&hl=en"]
#3 – Success Life Coach
This one is a bit different from the other to-do list applications we've talked about on this list. Success Life Coach is a health betterment app before it is a to-do list one. Consider it as an all in one goal planner and achiever app that will improve the quality of your lifestyle free of cost. It is a relatively newer application on the Play Store and is improving day by day, however we found its concept and features really cool and powerful. The app itself has several tabs representing the different functions it can undertake. The first tab displays all of the information from the rest of the tabs condensed into neatly laid out cards for you to have a glance over. The My Goals tab has long term goals that you can create, and it keeps you motivated to follow your goals step by step. The tab in the middle is your usual to-do list section, wherein you can add tasks and get them timely done. There is also a Journal tab where you can note down any important or fun happenings during your day for you to mesmerize at a later date. Lastly, you also have a habit tracker which will enable you to quit bad habits or create better ones with a day by day tracker.
The app might seem complicated to use at first, however the more you use it, the easier and more fun it becomes. We highly recommend this app for those who wanted an all rounder application to improve their lifestyles. It is free to download for Android users, and also has a premium subscription that you can avail. You can grab the latest version of Success Life Coach for your Android device by following the Google Play Store link below :
[googleplay url="https://play.google.com/store/apps/details?id=com.way4app.successwizard&hl=en"]
#4 – Productive
The 4th app on our mention list is called Productive. This one is a fully fledged habit tracker and not quite a to-do list app. However, it has a really intuitive user interface and experience that makes it a joy to use. It has a clean design, with big bold icons and a minimal load screen. With this habit tracker, you can not only get rid of bad habits but also create those which are beneficial to you. Productive allows you to create new habits, name them, and even allows you to select a tiny vector icon to better represent what it is about. This makes using the app even more enjoyable and appealing. You can choose specific timings for all of your habits, and even choose if you want the app to send you notifications throughout different times during the day. You can also use the powerful statistics tab of this app to view how you've been keeping up with the promises you've made and where you've fallen short. This makes it easier for you to recognize your weaknesses better for a more healthy lifestyle. While there is also a to-do list section within this app, we find that most people downloading this would love the habit tracker.
Overall, if you've been wanting to build better habits or crush bad ones, an app like Productive can really help you build up a better lifestyle. Tracking your habits is a good way to fight bad ones and keep yourself in check. You can grab the latest version of Productive for your Android device by following the Google Play Store link below :
[googleplay url="https://play.google.com/store/apps/details?id=com.apalon.to.do.list&hl=en"]
#5 – Boosted
The final app on this list of the best alternatives to Microsoft's To-Do is Boosted. I have personally been using this app since the past few months, and it is an exceptional task manager for those who value time over everything. With this app in hand, you can create new projects, assign them a bunch of tasks, and even schedule them for later. However what truly sets this app apart is the fact that it values time over everything. Instead of checking off a task or a project after it's done, this app makes you track the time you've taken to accomplish that said project or task. This makes it important for you to finish your tasks as quickly and efficiently as you can. You can also customize a bit of how the app looks like, and choose a dark or a light theme based on the time of the day. Boosted also integrates well with your Google account so you can backup and restore your tasks and projects between various devices. Lastly, what makes Boosted so powerful is the fact that you can view detailed reports about your productivity like never before. Since Boosted tracks all of your tasks in real time, you can view just how much time you've spent in a week or a day or even over a customized duration of time doing your tasks. You can view your reports in colorful pie charts, bar graphs and other pictorial representations.
Overall, if you've been wanting to increase your productivity by ten folds and also track all the time you've taken to accomplish your tasks and projects, we highly recommend you try out this app. You can grab the latest version of Boosted for your Android device by following the Google Play Store link below :
[googleplay url="https://play.google.com/store/apps/details?id=com.boostedproductivity.app&hl=en"]
That's all folks! We hope you enjoyed our roundup of some of the Best Microsoft To-Do Alternatives for Android devices! Which one among the list is your favorite, and how many of these to-do list apps have you already known or have been using? Know other good Android Microsoft To-Do Alternatives that you feel people might find interesting? Do let us know in the comments section below, we'd be delighted to hear from you guys!